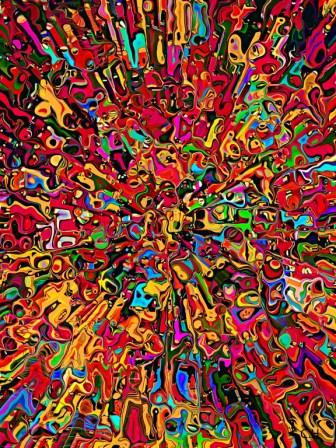 One thing ArtPrize does well is draw in artists whose creativity surpasses expectations. Last year these artists put a monster in our river, let loose thousands of paper airplanes from the sky, and adorned a bridge with dinning room furniture big enough to comfortably seat Shrek.
This year is no different as artists have garnered attention with their out-of-the-box ideas and innovative ways of filling space. The following are some of the artists whose work has explored what lies beyond the painted canvas and sculpted steel, to reveal imagination and ingenuity.
Ice sculptors Randy Finch and Derek Maxfield are no strangers to competition, but the contests they're used to don't allow them as much free reign as ArtPrize.
"In ice sculpting [competitions] there are so many different rules and handcuffs that are put on the artist," Finch said. "ArtPrize took all the chains off and freed us and let us fly. We could use color and fix it and take time and change it."
Their ArtPrize 2010 entry, Frozen in Motion, showing at the B.O.B., is a behemoth 3,000 pounds of ice sculpted into a whimsical fairy with woodland creatures and surrounding greenery. Adding color is something Finch said was not allowed in the ice sculpting competitions he and Maxfield have competed in. It's a form of expression they took months preparing.
"We wanted to step up the skill level," Finch said. "Throughout the competition we will be changing and adding things. The only way to have this on display is inside a freezer truck that has a temperature of well below freezing, but also heated windows so you can see through them."
Finch and Maxfield have also been featured on several TV shows. Their 35-foot working Mouse Trap game landed them a spot on the Discovery Channel. They've also just finished filming a pilot for their own reality show slated to air on the Food Network.
Another work that has transcended the norm is Mr. Escher's Tetris in MC Theory, showing at Grand Rapids Art Museum. Created by Chris Henre, a self-taught artist who specializes in abstract expressionism, the entry was made using a technique he calls photografadigitalism.
"It's taking the realm of photography and transcending it into another world where it's not really photography at all but graphic design and abstraction," Henre said. "It's being inspired by the world of painting and animation."
His entry, along with all of his work, is created by tapping in to the caverns of his subconscious.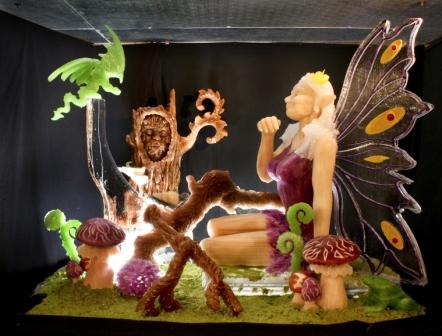 "You're going off from something inside of you," he said. "It's a feeling; you're moving off of the stroke. You start to see an image and you go off it and it becomes something."
The name for his entry came about once he realized it started to resemble a game of Tetris, meshed with MC Escher's evolving geometric style.
"The goal of my art is for people to see many different things," Henre said. "You can see many different caricatures, forms and geometric shapes. Lines will come together and form a creature or imaginative being and if you look at it again you might see something else. That's an ever-evolving thing."
Photos: (TOP) ArtPrize 2010 entry, Mr. Escher's Tetris in MC Theory. Courtesy of Chris Henre, (BOTTOM) ArtPrize 2010 entry Frozen in Motion, shot by Victoria Fanning.