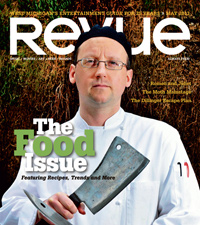 View the complete May 2013 issue below.
The Food Issue:
We all have to eat, so we might as well enjoy what's on our plate and all that comes along with it. In our third annual Food Issue, we take a look at the recent gluten-free rise and how restaurants accommodate it. We also check in on some local farmers market updates, talk to a "Top Chef" and take a look at the food incubators that help entrepreneurs get their ideas out of the kitchen and into the market.

On the Cover: Mathew Green, executive chef of Reserve, shot by Katy Batdorff.
Also: Romeo and Juliet, Aziz Ansari, The Moth Mainstage, Willie Nelson, and The Dillinger Escape Plan.