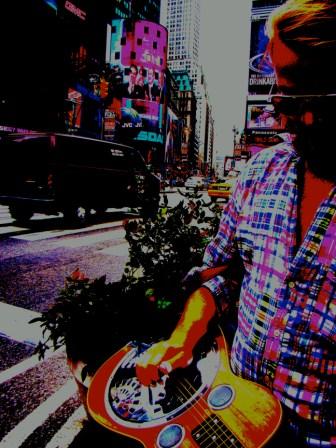 Mark Lavengood, fondly known as "Huggy Bear" by his Founders co-workers, is one of the nicest guys you'll ever meet. He's also a great dobro player, and it's about time you knew that.
The dobro, a resophonic guitar with a distinctive sound commonly heard in bluegrass or blues that Lavengood plays on his lap using a steel bar, drives the melody of Lavengood's new album, From Dust to Steel. Predominantly an instrumental record, Lavengood's composed a series of upbeat tunes good for barn parties, picnics and hammock listening. Featuring several guests on strings, percussion and woodwinds, the album is laden with extremely technical solos and good-time melodies.
Lavengood has been playing guitar for several years, and has some percussion experience from high school and college, but began playing dobro three years ago, after being introduced to the instrument by Lansing American roots band Steppin' In It. He said he's spent this time trying to "soak up all this music that's been thriving through the veins of Michigan," citing Chance Jones, Seth Bernard and Michael Beauchamp as stand-outs who influenced him to take his music more seriously.
Over the past winter, Lavengood worked in the vineyards of California. Prior to the move and piecing together the album, he had participated in a number of bands, including Wire in the Wood, Michael Beauchamp & the Barn Roughs and Winter/Sessions. Knowing he'd be spending the summer in Grand Rapids, Lavengood decided to use that time to focus on his own music, and put together a tangible collection of work.
"As far as my own tunes, I've never really had a cast or ensemble to work them out with," Lavengood said. "Nobody has a clue about this project. Nobody even really knows about me as a musician, other than that I can play some cool riffs on the dobro behind some other people. This is a great opportunity for me to bring my compositions to a new level with musicians that inspire and influence me."
Mark Lavengood
Album: From Dust to Steel
Genre: Bluegrass/Folk
Sounds Like: Steppin' In It

Red Sea Pedestrians CD Release
Founders, Grand Rapids
July 17, 9 p.m.
$5
Lavengood scored all the songs himself and brought fully finished arrangements to his contributors, and rerouted dates to align with everyone's busy schedules.
"This project that was supposed to be done in a week's worth of time in a cabin in Michigan turned into two Sundays, all live recording, minimal overdubs," Lavnengood said.
While everything sounds precise and clean, the lack of production works well with the style of music, and gives the impression the players could actually be in the next room. Lavengood said one of his intentions was to make a name for himself as a dobro player, mentioning Founders' open mic as a place where he had previously been able to shine as an instrumentalist. His dobro-playing is peak on the album, and he clearly has an ear for a catching melody. He also plays guitar, banjo, piano and lap steel on the album.
From Dust to Steel will be available alongside Kalamazoo's The Red Sea Pedestrian's new album, Adrift, at its CD Release party July 17. The event is also the official after party for Bike Stock.