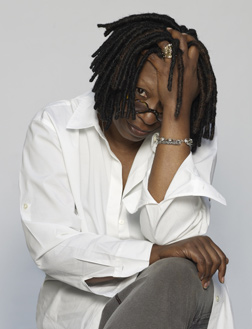 Today, Gilda's LaughFest announced the headlining artists for its second festival, running March 8-18, 2012.
Following in the footsteps of Betty White and Bill Cosby, Whoopi Goldberg is the main headliner of this year's festival. Goldberg is not only a comedienne, but an award-winning actress, talk show host and part of an elite group of artists that have EGOT-ed (Emmy, Grammy, Oscar, Tony).
Paying homage to the late Gilda Radner -- who Gilda's Club was founded after --  Gilda's LaughFest is bringing in "Saturday Night Live" alumni Martin Short, Kevin Nealon and original "SNL" writer Alan Zweibel, who worked with Radner.
New to the festival this year is the Laughter Rx Series, which features speakers and activities that focus on the health benefits of laughter. Headlining this series is Patch Adams, founder of the Gesundheit! Institute. Adams, famous for bringing humor to hospital patients and orphans around the world, went from being well-known to a household name when Robin Williams portrayed him in the 1998 film, Patch Adams.
Additional "Seriously Funny" acts announced include Amy Schumer, Anjelah Johnson, Anthony Jeselnik, Bo Burnham, Jim Gaffigan, Laurie Berkner Band, Marc Maron, Mike Epps and Rodney Carrington.
For 2012, LaughFest will include more than 40 venues in downtown Grand Rapids, as well as host additional venues in Lowell and on the lakeshore. Events not only include stand-up and lectures, but improv, films, dance showcases, musical acts and activities for people, pets and kids.
Ticket packages for 2012 LaughFest will go on sale Friday, Nov. 18 at 9 a.m. online or by phone at (616) 735-4242. Individual tickets will be available for purchase in January, which range in price from $7-$77.50.
Gilda's LaughFest was created in 2011 by Gilda's Club Grand Rapids. Gilda's Club is a free emotional health program where children, adults, families and friends can find laughter in the midst of a cancer or grief journey. 100 percent of the profits from LaughFest will go to Gilda's Club Grand Rapids.