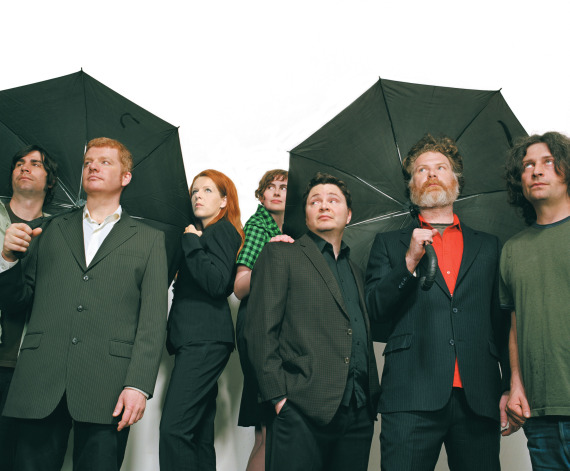 It looks like Calvin College students will be able to check out The New Pornographers in a live concert in Grand Rapids after all. They'll just have to travel 1.3 miles off campus and pay a bit more to do it.
REVUE has learned that the Orbit Room has reached an agreement to present the critically acclaimed indie rock band, whose Oct. 15 show at Calvin was canceled earlier this week due to a controversy over the band's name. Citing pressure from some in the Calvin community, the Grand Rapids-based Christian college cancelled the show, noting in a statement that "the irony of the band's name was impossible to explain to many."
Instead, the Canadian band will now appear at the Orbit Room on Friday, Oct. 15. Tickets, which go on sale tomorrow at 4 p.m., are $20 in advance and $23 the day of the show.   While it is an all-ages show, there are no discounted student tickets. At the Calvin show, tickets for the college's students were available for $10.
"We're a good venue for the band, and we're close to Calvin so that should work out for students who want to go to the show," the Orbit Room's Ted Smith said. He shared that the venerable Grand Rapids live music venue received lots of emails and contacts following Calvin's announcement that the show was cancelled.
The re-booking of the band at the Orbit Room puts a cap on a few days of international media attention about the show's cancellation, including stories in Pitchfork, The New York Times, The Huffington Post, Toronto Sun and dozens of other media outlets and blogs.
Formed in 2000 by a collection of prominent indie musicians in Vancouver area, The New Pornographers have won a slew of awards and critical praise over the past decade. They've released five records, including Together (Matador Records) in 2010. Guitarist-songwriter Carl "AC" Newman has said the band's name comes from a darkly satirical Japanese film called The Pornographers.