While comedian Jim Norton continues to tour the country packing large theatres, he hasn't lost touch with his roots: Small comedy clubs.
The 47-year-old New York-based comic still hits the smaller rooms on a regular basis in his never-ending journey of honing his craft. "It's the only way to get new material that feels good," Norton said. "I go out almost every night."
That's the standard schooling of a respected "comedian's comedian." You've got to pay your dues. Even after they've reached the big leagues, they can't turn their backs on the hole-in-the-walls they came from. Norton now tours non-stop while also co-hosting a hit satellite radio show, the Opie with Jim Norton Show. This success is a long way off from his earliest venture in comedy: Razzing classmates in the school lunch room.
"I grew up in central New Jersey in a town called North Brunswick," Norton recalled of his formative high school years. "I was funny and had no sense of who I was. I didn't really fit into any group. But I could hang out with the punk rockers, the black kids and the jocks. I was OK with all of them because people want to be nice to you when you're funny. They don't want you humiliating them in front of their friends — they didn't want to get embarrassed."
While he wasn't hitting the textbooks too hard, Norton was seeking out comedy legends and, perhaps unknowingly, learning the craft of making people laugh. "For me it was Richard Pryor and George Carlin," he said. "I loved Woody Allen's standup. I also really loved Robert Klein — he's so underrated.
"I got to hear these albums because my mother worked at the library and would bring them home for me," Norton added. "I would either buy them or my mother would bring them home. She'd bring the Woody Allen Nightclub Years home. But Richard Pryor was something you'd listen to with your friends. Same with Robin Williams — I think Robin was my first dirty album in 1979."
Jim Norton at LaughFest
Fountain Street Church, 24 Fountain St NE, Grand Rapids March 12 $30-$39.50, laughfestgr.org
With his mind focused on cracking jokes, the future comic struggled with traditional education. "I didn't even graduate high school, I dropped out my senior year," he said. "I went to one semester of community college and I did very poorly. I was a real idiot."
Book smarts aside, when Norton turned 21 he had the smarts — and guts — to gravitate toward his true strength: Being funny.
"It was all I ever really wanted to do — get on stage and be a comedian," he said. "The first place I performed at was called the Varsity Pub in Sayreville, N.J. I wasn't particularly good but I was just happy to be on stage. The fact that I did it is still a surprise to me sometimes. I am shocked I'm a comedian."
From there, it took years of stage work and writing before Norton truly found his comedic voice — which is raunchy, yet smart and naturally conversational — something that sounds easier in theory than reality.
"It takes maybe three to four years before you start to feel good about yourself — a little bit longer before the audience starts to feel good about you," he said. "It just kind of happens. You don't even see it happening because you're too close to it."
During his early years, Norton cut his teeth on the road alongside a small crew of fellow funnymen.
"I was doing road work very early on," he said. "I'd go out with guys like Jim Florentine and Bob Levy. I'd mostly go to Pennsylvania, Boston, Florida and Maryland. There were a bunch of East Coast clubs you could drive to in a day."
After a 1997 appearance on The Louie Anderson Show, things began to pick up. Hard work started to pay off. "From that show I met Andrew Dice Clay. Dice was really good to me and took me on the road. From there I met Opie and Anthony."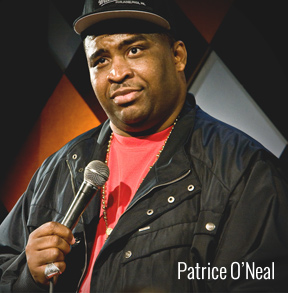 Norton's close friendship with the late actor/comedian Patrice O'Neal (who passed away in 2011 following a stroke) was also an inspiration for Norton, both personally and professionally.
"Patrice was so honest and conversational," Norton recalled of O'Neal's comedic style. "He was patient on stage. You'd watch him and know that's a guy who's taking his time and doing exactly what he wanted to do. Watching a guy like Patrice you learn about patience. He didn't rush to get where he wanted to go.
"You also learned from Patrice: Don't expect to go onstage on time if you're after him," Norton said with a laugh. "He always babbled for a long time. But he was so natural on stage, just great. He was just a big softy when it came to animals or anybody weaker than him. Patrice wasn't a bully. He was a jackass sometimes, but he was not a bully. That's what I loved most about him."