Muskegon is a city that works hard and plays hard. While some of the businesses have moved away, others thrive at the hands of entrepreneurs and idealists who keep the city lively. Grab your best pair of jeans and a t-shirt and you can hang out with violinists, painters, bikers, activists, industrialists and paupers all under the Taj Mahal of the lakeshore: the beer tent.
The Muskegon Motorcycle Gang has big bikes and big hearts. In the late 1970s, a group of men and women came together to ride motorcycles and raise money for charity. They jokingly started to call themselves a gang and the Muskegon Motorcycle Gang name stuck. Over the past three decades, the group has grown to be one of the largest and most recognized motorcycle clubs in the area. The club has patched members from their early twenties into their 80s and everybody rides hard and hangs out. Besides riding, the club raises money for charities like Every Women's Place and the Special Olympics. Its biggest event is the Freedom Run on July 9, which begins 11 a.m. at Hot Rod Harley-Davidson in Muskegon. Held to honor fallen riders, organizers expect more than 500 bikes to make the run. Last year, more than $20,000 was raised for Webster House Youth Services and Gilda's Club. This is a public event and everyone with a motorcycle and an ability to help is welcome.
Whether charitable or churlish, all bikers end up at Pat's Roadhouse (157 S. Getty St.). Grab your best leather jacket and head over to the Muskegon landmark. Pat's Roadhouse offers classic pub grub, frosty Buds and stiff drinks with a laid-back vibe. If you like your bars a little more upscale, try the Tipsy Toad Tavern (609 W. Western Ave). This classic tavern boasts a wood bar, hard rock on the sound system and a roof deck during the summer. Let General Manager Darlene Krause walk you through the menu and get you one of the bar's cheap drinks. The cheeseburger I had there was the best in town.
After grabbing a brew, head over to watch the Muskegon Lumberjacks play in the L.C. Walker Arena (955 Fourth St.). The Lumberjacks were established in 2010 and play in the United States Hockey League. This is junior hockey, which means the players can develop their talents while maintaining their amateur status. The young team plays fast and physical hockey with the players always dictating the play. Muskegon is a great place to watch games. The city has an 80-year hockey tradition, fans are passionate, the arena underwent a multi-million dollar upgrade and the team is stocked with many Michigan players. High-scoring rookie Ryan Lomberg (99 goals in 57 high school games) will be fun to watch under the tutelage of new assistant coach Steve Palmer.
The Muskegon County Museum of African American History (7 East Center St.) in Muskegon Heights developed out of the county's civil rights movement in the 1960s. As times changed, the organizers wanted to go beyond protests to make a difference in Muskegon. "You can demonstrate and yell, but unless you know your history, you will never make any progress," said Museum Chairman Dr. James Jackson. Recently expanded in 2010, the museum puts on exhibitions, conducts research and hosts meetings. The Obama Corner is a permanent exhibition co-curated by students in the Muskegon Heights Middle School. Other exhibitions explore the Underground Railroad, Black Panthers and the migration of black people to Muskegon. On Saturday afternoons, the museum screens documentary movies like Slavery and the Making of America by PBS. The Museum of African American History is open to people of all walks of life. "African American history is American History," Dr. Jackson said.
Continue your study of African American culture around the corner at Rite Way Communications (60 E. Broadway) in Muskegon Heights. Formerly called Harold's House of Music, the storefront has an incredible selection of classic R&B, Jazz, Soul and Gospel music as well the latest Hip Hop hits. People from Detroit shop there for the great selection and low prices, with albums starting at 50 cents. The knowledgeable staff will help you navigate the stacks and racks filled with the vintage albums, cassettes and CD boxed sets. Young bucks coming in for the latest joints of Hova or Weezy may leave with seminal tracks by Coltrane and Gil Scott-Heron. Go and explore.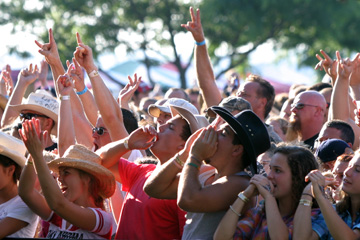 The Muskegon Summer Celebration (Heritage Landing) transforms a county park into "The Big Party" July 1-4 and July 6-9. Started in 1993 as a 10-day festival with a $170,000 budget, Summer Celebration has grown into an 11-day all-star extravaganza with a $600,000 music budget. The festival also includes a fine art show and craft market, fireworks, community picnic and midway located along the shore of Muskegon Lake. This year, the Main Stage will rock out with Trey Songz/Hot Chelle Rae for the kids, Theory of a Deadman/Skillet for mom and dad and Charlie Daniels Band/Aaron Lewis (of Staind) for the blue hairs. Local acts like Deadwood Stone and Troll for Trout perform as well. Recharge in the Snake Pit with schwag beer and the famous Station Burger. Tanya Gonzalez, the festival's assistant executive director, tells of how a patron was impressed that the Porta-Johns had a purse holder. "The holder was actually the urinal," she noted.
The West Michigan Symphony is part of a proud musical tradition in Muskegon. Mr. Palmer Quackenbush and a group of 40 musicians founded the West Shore Symphony Orchestra in 1938 to perform classical music in city schools. The group was renamed the West Michigan Symphony in 2009 and has gained national recognition under current Music Director Scott Speck. When asked about why the symphony is special, Speck said, "These are some of the best musicians to be found anywhere in the tri-state area. Not only do they perform with jaw-dropping technical virtuosity, they play with passion." See that passion with the Cirque de la Symphonie (March 2 and 3, 2012), which will be a circus-like extravaganza. Beethoven and Blue Jeans (March 23 and 24, 2012) will feature a Philip Glass Violin Concerto by soloist Timothy Fain, who was featured in the movie Black Swan. The symphony really shines when performing in the historic Frauenthal Theater.
The Muskegon Museum of Art (296 W. Webster Ave.) is old Muskegon. At his death in 1905, lumber baron Charles H. Hackley established the Hackley Picture Fund to purchase paintings for Hackley Library, which was operated by the Muskegon Public Schools. The school board hired Chicago architect Solomon Beman to design a Classical Revival gallery to house the collection, which opened in 1912 and was expanded in 1980. Must sees include the cinematic New York Restaurant by Edward Hopper and the jewel-like landscapes of Saint Jerome in Penitence by Flemish artist Joos van Cleve. Elizabeth Catlett's otherworldly bronze Glory is a hidden treasure. The museum's Regional Exhibition (through Aug. 3) reflects its service to the artistic community. Now in its 83rd year, the annual juried exhibition recognizes amateur and professional artists and is hailed for its competitive nature and professional presentation. Classically trained Thimgan Hayden of Plainwell won the Best of Show prize of $1,000 for her haunting painting Cedric and Chickadee.