Anyone who has been following the rise of the craft beer scene knows that drinking a Bell's Two Hearted IPA is nothing like drinking a Miller Lite. The flavors are more pronounced and the potency is much stronger. Now, it appears that marijuana is going down the same road.
Ask anyone who has smoked marijuana lately and they'll tell you it's more potent. Like, melt-your-face strong.
"The biggest reason (marijuana is getting more potent) is that they're breeding that into it," said Chris Paholak, a clinical coordinator with Advantage Health and Holistic, based out of Mount Pleasant. "It's the difference between what's natural, what's recreational and what's considered medicinal."
Paholak told REVUE that in the '60s and '70s, much of the weed brought into the United States was from southeast Asia and Mexico. The THC levels were between four and seven percent. He said when the federal government started growing pot in the late-'70s, those levels got to about 11 percent.
"Today you're looking at between 16 and 25 percent, (which is) astronomically high," he said. "There are strains though, that if grown properly and grown with the right nutrients, the right amount of lighting ... you can get up around 25 percent."
Jonathan Bassett, a lab technician at Cannalytics, a marijuana testing facility in Lansing, said 25 percent would be about the highest strain imaginable. He characterized most of the weed he has been testing to be around 13 to 25 percent, and that mass-distributed (non-medical grade) pot from about a decade ago was considerably lower.
"People just didn't take as good of care of it," Bassett said.
As the potency of pot gets higher and its effects become more pronounced, Paholak said people in his field pay attention to more than just THC levels when testing and studying what different strains will do to a person when smoked or ingested.
"You can have cannabis that's got 11 percent THC and it gives you more of a narcotic effect than cannabis with 20 percent THC because of all the other cannabinoids in it," Paholak said. "There are a lot of other cannabinoids that play into the overall effects."
Paholak mainly pointed to cannabinols (CBNs) and cannabidiols (CBDs), which are other parts of the plant that create the overall feeling one gets when using marijuana.
"THC basically gives you that high, euphoric feeling. You may hear somebody say, 'Hey, I'm really high ... or I'm really stoned or sedated,' well that's more from CBN or CBD than THC," Paholak said.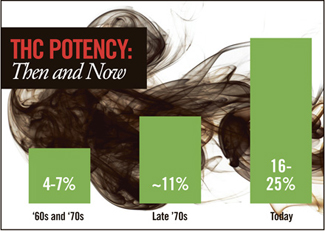 Much has been said lately that the weed may be TOO strong. Gavin McInnes, one of the co-founders of Vice magazine, wrote a piece in April for Taki's magazine called "Has Pot Become a Hard Drug?" McInnes writes about his time while high on a strain called "Master Kush," which he compares to doing heroin or MDMA. At the end, he said it made him reconsider his stance on legalization. The piece went on to be slammed by veteran drug war reporter and Reason magazine contributor Mike Riggs.
"(He) chose the equivalent of butt-chugging two shots of Bacardi 151, and then turned that bad decision into a disjointed screed against legalization, when really it's just a cautionary tale about over-doing it," Riggs wrote.
Paholak told REVUE that in his work he has been hearing some talk that the pot may be too strong, not that people necessarily want it to be less potent. He explained that many of the more intense strains include a higher CBD concentrations, which tend to have more medical uses, but does not create the feeling of euphoria that users desire.
"I have seen a trend of people wanting less THC, more CBD," Paholak said. "Other people want the opposite though. A lot of people that are on narcotics, they want to be able to function and be in an alert state. THC is in some ways like caffeine. It acts as a stimulant and gives you a little energy."
Both Paholak and Bassett stress education about the strains of marijuana being consumed as vital for anyone using it.
"We encourage testing (the strains of pot) and to engage yourself to make sure your medicine is safe for everybody," Bassett said.
While Bassett said that there have been cases of people getting sick from bad strains or improper use, they are few and far between.
"Right now it's basically up to individuals to be guinea pigs and kind of give people an idea how this stuff works," Paholak said. "I don't have a whole lot of concerns (though), because it's not going to kill you."
Illustration: Craig Horky