Summer breezes have faded, ladies are donning thigh-high socks and somewhere, Frank Sinatra is crooning "September Song." This month is all about lamenting summer's end and relishing the season change, so rev your engines, stomp grapes, spit blood and escape to Armadillo Acres.
The Great American Trailer Park Musical
Beardsley Theater, Muskegon
Sept. 20-Oct. 5, show times at 3 and 7:30 p.m.
muskegoncivictheatre.org, (231) 722-3852
Theater doesn't have to be high-brow. While not exactly the Wild and Wonderful Whites of West Virgina, this show promises to take you on a romp through Armadillo Acres, deemed "Florida's most exclusive trailer park." A married couple, Jeannie and Phil, find their life shaken up when Pippi, a stripper on the lam, enters the scene. A love triangle ensues, complete with song and dance, a Greek chorus and an abundance of stereotypes, which make for a wacky evening that spans musical genres, from county and pop to rockabilly. With a set filled with retro-styled trailers and dance routines incorporating lawn chairs and pregnant gals, this will be a night of theater unlike any other. Unless, of course, you recognize some of your own neighbors in these fictional characters.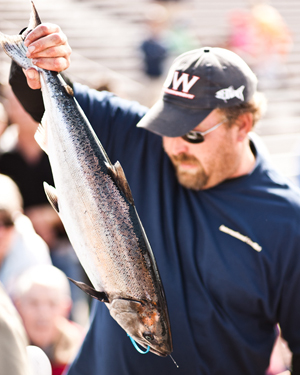 Grand Haven Salmon Festival
Downtown Grand Haven
Sept. 13-15
grandhaven.org
This year marks the tenth anniversary of the Grand Haven Salmon Festival, which pays tribute to much more than the annual salmon migration. The three-day event pays homage to the end of summer and serves to ring in harvest season, while also celebrating the waterways and the abundance of natural resources in Michigan. "I really think it's an opportunity for people to be able to come together," said Marci Cisneros, festival director. "It's an outdoor event and generally we have wonderful weather." Along the waterfront you can enjoy everything from a gourmet salmon cook-off contest, the Big King Salmon fishing contest and the Fresh Catch Fish Boil, to live jazz, a merchant market and beer and wine tasting. Several of Michigan's top wineries will be present and if sipping isn't enough, patrons can get in on wine stomping, too. Additionally, an abundance of family friendly activities will keep the tots happy. "We have non-profits that are environment and community related and they bring an educational component to the event. They are able to engage the kids and parents, offering activities and education. We are encouraging the get-outdoors concept and being good stewards of the environment," Cisneros said. On top of fun ways to learn about nature and delicious victuals, the festival strives to become increasingly more sustainable with each passing year by focusing on compostable products and recyclables. For these efforts, officials have partnered with Chef Container, which weighs the event's compost. Last year, the festival was able to "reduce trash by more than half," Cisneros said.

9th Annual Creston Car Show
1560 Plainfield Ave., Grand Rapids
Sept. 7
11 a.m.-3 p.m., 9 a.m. car registration
Free
crestoncarshow.com, (616) 364-6222
The annual Creston Car Show is back and taking over the North Quarter for the ninth year, bringing you cars, trucks and motorcycles from bygone days and modern times. Check old-timey antique vehicles, showy muscle cars, hot rods, custom jobs and foreign imports along with brawny choppers and hogs. More than just a car show, the event seeks to highlight local businesses along the stretch of Plainfield, which will be conveniently closed to traffic, creating a street party atmosphere. Kiddos can keep busy with activities and games like Air Hoops, with fun prizes to be won. And, Red Jet Café is offering up decadent pies for their pie eating contest. The afternoon ends with a car cruise through the grounds of Grand Rapids' Home for the Veterans. Proceeds from the afternoon will be donated to a local charity.

Zombie Walk
Adado Riverfront Park, Downtown Lansing
Sept. 28
10 a.m.-3 p.m. (9 a.m. registration)
Free to public, $20 for participants
runwalkjog.com/wecandoit
The Lansing Zombie Walk is in its fourth year, but this time the moaning lurchers are getting whipped into shape. Instead of terrorizing the runners, the zombies are set to sprint, jog and dash alongside regular folks. Following the race, participants can enjoy a three-legged zombie race, an obstacle course and maybe even a special zombified Zumba workout. The day wraps with a giant group photo at the Capitol Building. This year, the event benefits the Downtown Lansing Women's Center.