Way back in 1964, "Twilight Zone" host Rod Serling warned, "Being like everybody is the same as being nobody."
It appears that younger people are taking that advice to heart. As new generations embrace their own ideas of self-expression, tattoos and piercings have become an increasingly relevant part of the identity equation.
That's evident in recent Pew Research Center statistics that show 38 percent of 18- to 29-year-olds have at least one tattoo and nearly half of those millennials have been inked between two and five times. Additionally, 23 percent have a non-earlobe piercing, a figure approximately six times the amount in the 30-plus demographic.
As millennials and their predecessors continue to push tattoos and body piercings into the mainstream, it begs the question: How necessary are workplace restrictions on these visible forms of identity?
Here are the stories of three West Michigan residents who must balance self-expression while living and working in what's still a conservative environment.
KEEPING IT CONCEALED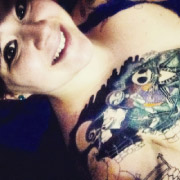 Leah Bader had always planned for a career in the medical field with the ultimate goal of becoming a forensic psychologist. But the 25-year-old Grand Rapids native and 2007 Grand Valley State University graduate never dreamed of the lengths she has to go to keep her self expression covered up as part of her job as an urgent care registrar at an area hospital.
Bader has a number of tattoos, almost all of them with "a good story behind them." Of her ink, one of her favorites is a large scene-scape of characters and imagery from Tim Burton's A Nightmare Before Christmas, which begins on one side as a quarter sleeve and stretches across to the adjoining chest piece.
Her company's human resource policy prohibits visible tattoos, abnormal hair color and non-religious, nontraditional piercings when working with patients. Since Jack Skellington's bony hand sometimes still peaks out from behind her dress code-mandated black blazer, Bader has to accessorize to keep it fully concealed.
"Unfortunately, because of how far my chest piece comes, I have to wear a scarf whether it is winter or summer because most shirts don't conceal all of the way across where it is," said Bader, who has three bachelor's degrees in biomedical sciences, bio-psychology and psychology.
Her supervisor offered an explanation on the conservative dress code policy. In short, she said the company didn't feel its older patients "understand or appreciate" tattoos, nor does the organization think tattoos are part of a professional look.
But after two years of working there with elderly patients, Bader said she doesn't get what all of the fuss is about.
"I don't think they realize how many people in the older generations have (tattoos) and understand them, or if not, how easily they're adapting to the new generations," she said. "Granted, a lot of older people don't condone it, but they know younger people do it and that it's becoming more of a norm."
She says it's frustrating to feel limited in her ability to freely express herself, but she also understands it comes with the territory.
"I'm not an artist, but to be able to carry someone else's art in my own way — with my own feelings behind it — is something I take a lot of pride in," she said. "I don't ever see them being a problem. I think I've been able to find a nice balance between my ability to have that artistic expression of how I feel, while still achieving and being as successful as I can in my own professional life."

NO REGRETS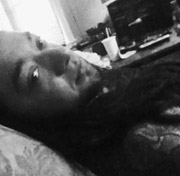 For Cosme Castanon — Cisco to his friends — a long relationship with tattoos started when he got a small tribal symbol on his shoulder shortly after turning 18.
These days, you can't see it very well as it's obscured under a dense, colorful half-sleeve. However, he has no trouble remembering when he got it.
"I was 18 and my dad kicked me out of the house for a few days. I was like, 'Alright, here we go,'" he said with a smile.
Now, at age 38, Castanon has accrued a tattoo sleeve on his other arm, too. He is tattooed on his forearms, ribs, legs and feet. Even the sides of his nose are adorned with discreet white-inked spirals.
He doesn't regret any of his tattoos — not the tribal mask on his back, and especially not his twin daughters' footprints that he's got on the top of each foot.
However, Castanon has been considering a gig at a particularly swanky downtown Grand Rapids' restaurant and worries whether he can pull off a buttoned-up look.
"A friend of mine is the sous chef and he really wanted me in there because of my knowledge in the industry," said Castanon, who boasts 16 years of bartending and restaurant management experience.
The job would be a remarkable addition to his already stacked resume, but Castanon doesn't know if he would fit in the more formal environment.
"I'm juggling with whether I can really put forth that effort and do it on a professional scale and still feel like me, still feel good," he said. "I'm so used to having my sleeves rolled up and still looking clean-cut, but still showing me, not just being a robot or a sheep."
Currently, he's finding plenty of work between jobs at Mulligan's Pub, The B.O.B. and Grand Rapids Brewing Co. For the most part, his tattoos and piercings — which include his ears, septum and labret — have never acted as a barrier to leaving a good impression on potential employers or customers, he said, noting that he lets his strong sense of self guide those interactions and ignores any judgments passed on him at first glance.
"I've always felt kind of out of place," Castanon said. "Being that I went to a predominately white high school and was the only Hispanic, I dealt a lot with feeling out of place. With racism and all that, I've always felt looked at. From then, I learned so strongly just to be myself, and this is me.
"Luckily, I've been in the industry long enough to meet a lot of great people and create good networks and I think it finally got to the point where I was accepted for me. They saw the professionalism beyond my cover."

A PROFESSIONAL OUTLOOK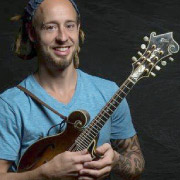 Jason Wheeler understands a thing or two about what happens when self expression and career collide.
But as the public relations coordinator at Grand Rapids-based Orion Construction, Wheeler, 34, has found ways to fulfill his passion for ink with being a professional.
His body art is more than a passing phase, he said, noting that it tells his story. He describes the decision to begin a traditional tribal tattoo as a "fully conscious, engaged process."
"We talk a lot about family and the things that are important to you in your life, the places you've been," Wheeler said. "It's just one, long tattoo I've been working on for about five years now."
Aside from his PR gig, Wheeler also teaches music lessons on the side, so the collision of body art and business is a familiar, but welcome challenge.
"It does help me to stay conscious of the fact I need to take myself seriously in business stations because I need other people not to judge me based on those things," he said. "Anybody who has a unique view of the world is bound to shape things within their lives, including their bodies, in a unique way. But if you want to be in the world of business you do have to be conscious of the fact you sort of represent the un-normal."
He says walking that line is part of the reality, but maybe not quite as tricky as it once was in West Michigan.
"I think you see more unique individuals walking around in the city and hopefully owning more businesses and being part of the professional world," he said. "It's not that it's a movement or anything like that, but it's another reminder that we need to be more conscious of what we're producing and the kind of people we are to each other, not so much just about what we look like."
What does your tattoo say about you?
People often use tattoos to tell their story. But at least for milliennials, having tattoos can also predict other characteristics. According to Pew Research statistics, if you're a millennial with a tattoo:
You're more likely to have skipped higher education. About half (47 percent) of those under 30 reporting at least one tattoo have no college education. That compares with 30 percent of college-educated millennials who have one or more tattoos.
You're more likely to be a Democrat. Forty-three percent of millennials who identify themselves as liberals have a tattoo, versus 32 percent of conservatives. Of adults under age 30 who identify as Democrats (or independents leaning toward democratic), 44 percent have at least one tattoo, whereas 31 percent of Republicans (or independents leaning toward republican) have at least one tattoo.