Hayley Hungerford is a self-described "floral stylist, illustrator, photographer, writer, stone collector, and musician that likes lighting candles and looking for the moon." I first met her when we found ourselves figure modeling together at Kendall College of Art and Design. That day, I caught a glimpse of the eclectic life she leads, and the unique and compelling art she creates. I sat down with Hayley to discuss her artistic approach, life philosophy and plans for the future.
I first met you in a figure-modeling class. Do you still model?
I do, though slowly and surely I find that I am phasing figure modeling out of my routine.
When we met, I recall that you were sketching in a notebook. Tell me about your art.
I carry my sketchbook with me often, creating visual records of the places I've been. I most enjoy drawing from life when I'm able, but because I am heavily influenced by flora and nature-scapes, it becomes a bit more challenging to work with what's accessible to me while I am rooted in the city. I usually draw as I'm sipping coffee, trying not to spill on the page.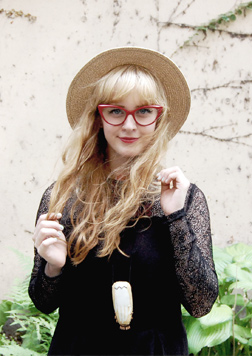 What's your illustration process like?
I usually work in black and white, using micron pens in a cross-hatch fashion. Start a line, start another, carry on with the first, continue the second while starting a third. Even the way in which I draw feels like I'm multi-tasking, because I get so excited to make new marks while carrying on with prior areas of the drawing. Various times in my life, I have questioned if I'm living my truth. When I'm drawing, I know that I am with great certainty.
How did you get started creating your signature mandalas with objects from nature?
My interest for creating that body of work comes from my obsession with Andy Goldsworthy. Goldsworthy is an environmental site-specific sculpture artist and photographer from Scotland. Earth artists fascinate me. I am moved by artists that are spiritually intertwined with the landscape. After watching Goldsworthy's documentary, Rivers and Tides, I realized a part of myself needed to interact with my artwork in a different way. I needed to touch what I was making, instead of interpreting it by the means of ink. That's when I began utilizing plant trimmings, flora and found objects more frequently within my work.
Can you explain how photography plays a role in your mandalas?
Photography is essential if I want to share what I'm making. (But) sometimes I'll make a mandala on the beach or within a hiking trail and without photographing it. I'll leave it as a gift to the landscape or the passersby exploring the place. The art of what I'm making isn't the art itself, nor the after-image following, it is the act of creating what is temporary.
I know you're also a musician and a singer. How does music mesh with your other artistic work?
My music is very separate from my artwork. I used to write music often. I've played music in various local bands during the past few years. From those experiences, I've realized I work best alone in my creative endeavors.
How does your work at Sparrows Coffee Tea and Newsstand blend with your creative life?
I am a barista and have just taken on the role of social media strategist and gallery curator. I'm also coordinating workshops for Lamp Light Music Festival 2016.
But how do you balance all that with your personal creations?
Anyone that lives a creative life is probably familiar with the way it feels when you're overflowing with ambitions and inspired to take on a million and one projects. But as long as you can stay on top of it all and remember to put yourself first from time to time (so as not to burn out), you can manage it. It's just important to keep a positive inner dialogue and reevaluate who you are in relation to your involvement from time to time.
I see you have some botanical projects and collaborations coming up. Tell me about those.
I am actually very excited for new botanical projects and collaborations coming up with Alyssa Ferguson behind Fleurology Designs, a floral company based here in Grand Rapids, MI. I've only known Alyssa for a short while but it's certain we are kindred spirits. I may be taking on some illustration work with her to help promote her company, and soon I will be working alongside her at a different floral company with a woman named Joan, owner of Merci Beaucoup Floral Design in Caledonia. I'm very much looking forward to collaborating with Alyssa and anxious to finally be getting my hands into some dreamy florist work.