There's a lot of ways to love, and everyone does it different. Inspired by the popular book The Five Love Languages, we put a local spin on author Gary Chapman's five ways to express and experience love. I mean, it's hard enough to find someone — let's make keeping them around as easy as possible.
RECEIVING GIFTS:
If love for your significant other means there's a bow on top, visit Art of the Table in Grand Rapids. Not only does the store provide free gift wrapping for any occasion, it offers themed gift packs for Valentine's Day. In the past, this has included cutting boards, wine and chocolate. Owner Amy Ruis has an intoxicating suggestion: "Make Manhattans and drink them together. It's romantic and it's a warm, wintery drink to sip by the fire." Pair them with caramels and make sure to grab premium bourbon, quality cherries and good, sweet Vermouth. The store can help you out with those ingredients and while perfect for gifting, it's a great treat to have on hand for guests. "I'm a gift-giver. It warms the heart that somebody thought of you when you weren't together," Ruis said.
QUALITY TIME:
For some people, heartfelt time spent doing something meaningful is the key. Once a month, Little Lucy's Café in Grand Rapids brings people together with its food workshops and classes. On Feb. 18, you and your significant other can celebrate Mardi Gras by learning how to make paczki and king cakes. Classes consist of around 20 people and can range from $25 to $35. This event includes an adult beverage and you get to take your goodies home. "It's like team building," said co-owner Larry Zeiser. "It's wintertime in Michigan — get out of the house and do something together. It's fun to learn something new."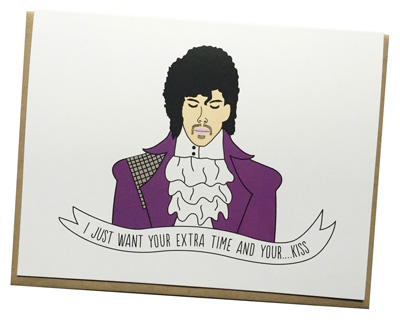 WORDS OF AFFIRMATION:
For those who savor affection, you could compose a sappy poem or spill your guts out in a card that reads: You Are My Favorite Ginger. If you choose the latter, Arthur's Plaid Pants cranks out cards that speak to the cutesy, lighthearted and pop-culture side of your love. Maybe the late musician Prince can say it better in a card that reads: I Just Want Your Extra Time and Your…Kiss. Owner and illustrator Jen Husted-Goss started making the cards to fill the gap in what existed in the card realm, including cards for same-sex couples. All of her creations, once filled with your sentiments and declarations, "take more effort than a text or an email," she said. You can find these cards at Rebel, The Made in Michigan Store and West Elm in Grand Rapids and at Bailey & James in Rockford, as well as arthursplaidpants.com.
ACTS OF SERVICE:
Whether it's making a small car repair or shoveling snow from the sidewalk, when you offer love and care through your actions and service, it can be a huge turn-on. Simply put, actions speak louder than words, so it's always good to clean the house for your main squeeze. Harvest Health in the Grand Rapids, Cascade and Hudsonville area carries natural cleaners and higher-quality brands that eliminate toxins hazardous to your health. Choose from lines like Dr. Bronner's, Seventh Generation, The Honest Company and Shark Tank's Better Life. "You can actually eat those cleaning products," said Harvest Health Director of Marketing Silvia Atsma. The store even carries essential oils to create your own homemade cleaning solutions. "Anything citrusy is a natural uplift and always makes you happy. Lavender is calming," she said. By using healthier cleaning products, you're saying that you care about someone's health. When it comes to acts of service, Atsma said, "We have to live a life of greater value than ourselves. It's easy to write a check, but it's harder to give your time and service."
PHYSICAL TOUCH:
If you're reading this, there's a good chance you stick to foot rubs and meager 10-minute neck massages with your significant other. If you want to up the ante, reach out to a professional masseuse to show your sweetheart what you really wish for them when it comes to a healing touch. At Reds Salon in Grand Haven, owner Sue Pierog recommends indulging in the Reds' Classic Everyday Massage or the Sweet Feet deep touch therapy, working primarily on the feet. "It releases stress and puts you into a good mood and it's great for runners," Pierog said. Another great option is the Hot Stone Therapy that she said is "nice during the wintertime and cold weather" and can be customized with your favorite essential oil. Ladies, look into the Reds Guy treatment featuring a hot towel facial and soothing face, neck and shoulder massage followed by a haircut. "It's very popular," Pierog said. "You're relaxed and leave feeling a lot of energy."