Kaci Muller is the owner, creative director and lead designer at Damsel Floral, a shop that offers organically-inspired garden florals.
Flowers are her art — using colors and textures to express emotion, Muller is in the business of helping people celebrate. From full-event floral design to individually-ordered custom pieces for Valentine's Day, she's a florist who believes that if you're giving flowers, you're committed to bringing something special to the table.
"I try to get to the heart of why you want to send it," Muller said. "What is the personality of the person receiving them? I try and bring that out in flowers."
We asked Muller to explain her approach with a few floral prompts.
I discovered flowers as my passion when… I started in the wedding planning world and flowers are a big part of that. With flowers, I was bringing the design aesthetic full circle. When I think of flowers, I try to integrate things that speak to the location and seasons — flowers come from all over the world. That's the reality of it.
The best part of giving flowers to the people you love… They're not very practical, are they? Maybe it's because they are perishable. So it's telling someone they are special and giving them something that's artful and meaningful. It's a living product.
My favorite elements to work with… Nothing is off the table. You can use vegetables, grass, begonias (from a planter box), etc. I started using poinsettias that you see around the holidays and not in a floral arrangement. I like to make people look twice at something. Because I'm using unusual ingredients, I have to communicate with my clients that the flowers might not last seven days, maybe only four.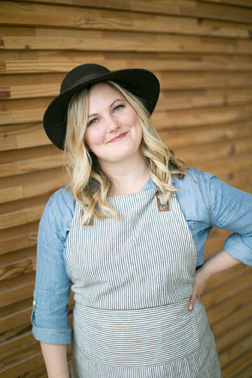 Things I steer clear of… Every florist thinks "baby's breath." Hydrangeas have their place, but if you use that same product over and over again, you get bored. I try to stay away from things that I see a lot of. That's not fun.
My take on flower containers and vases… Containers are half the piece, half the story of the arrangement. The right vessel really accentuates what you love about that flower. If you love the outdoors, something wrapped in birch bark might be more airy and less compact. A personality piece can use an heirloom if it holds water and doesn't damage the flowers. A tin can could work!
My suggestion for flowers for a deeply romantic couple… Flowers that are hyperfeminine tend to work well, things that smell really pretty. Again, it depends on the person. Do they like orchids, peonies, tulips? Sometimes more is not more. Let's say you have a budget — high-end flowers in a unique vessel will tell the story without needing to jam it full.
In a second life, I'd come back as… A dahlia. They are so beautiful and showy and come in every color, even tones of blush and a coffee color. There's one called the cafe au lait dahlia. It's the queen bee of flowers. It's not going to live for seven days, but who cares? It's gorgeous.
For the rest of my life, the one lone floral arrangement on my table would be… A big mix of peonies and poppies.
Damsel Floral is located at 1801 Breton Rd SE, Grand Rapids. (616) 734-3456, damselfloral.com