We all know the struggle — you look over at your canine or feline companion sitting in the most adorable pose, but as soon as you go to snap a photo, they scurry away. It takes an eye for detail and a quick hand to capture those priceless memories. If you're looking to get some professional prints of your favorite furry family members, you're in luck — Revue sat down with some of our favorite local pet photographers to get some tips and tricks on how to prepare.
Buddies Pet Photography
237 Andover St. SE, Grand Rapids
buddiespetphotography.com, (616) 350-8977
Buddies owner Sara Lowthian-Hanna moved to Grand Rapids from Indiana University in 2014, when she started volunteering at the Humane Society of West Michigan.
"I was taking happy, bright and colorful photographs in the hopes of increasing the chances for a speedy adoption," Lowthian-Hanna said. "It was right around then that I adopted two dogs myself, as well as decided to combine my love for animals and my master's degree in photography, specializing in pets."
When it comes to sessions, Lowthian-Hanna takes time to position and pose. She also makes sure to have plenty of training treats and a squeaker to get your fur baby's attention.
"The technical requirements are expertise and knowledge of photography, more specifically action photography," Lowthian-Hanna said. "The emotional requirements are a love for animals, a deep and soulful respect for the relationships we have with our furry family members and their welfare."
Since pets can be unpredictable at shoots, Lowthian-Hanna likes to photograph pets where they are most comfortable, whether that's at a client's home or at a park close by. It helps if owners can bring along their pet's favorite treats or toys to grab their attention while she is snagging that picture-perfect moment.
"Pets have their own idea of how a session is going to go, so plan on bringing extra patience for your pet's new modeling gig," Lowthian-Hanna said.
Our furry companions are truly members of the family, which is why Lowthian-Hanna encourages people to get professional photos.
"(Pets) are there when you wake up and when you get home and love you unconditionally," she said. "They are as much family as anyone and a forever portrait in their forever home will always make you smile. They are not on this earth long enough, but with a photoshoot you will have a memorable portrait of your family member to cherish forever."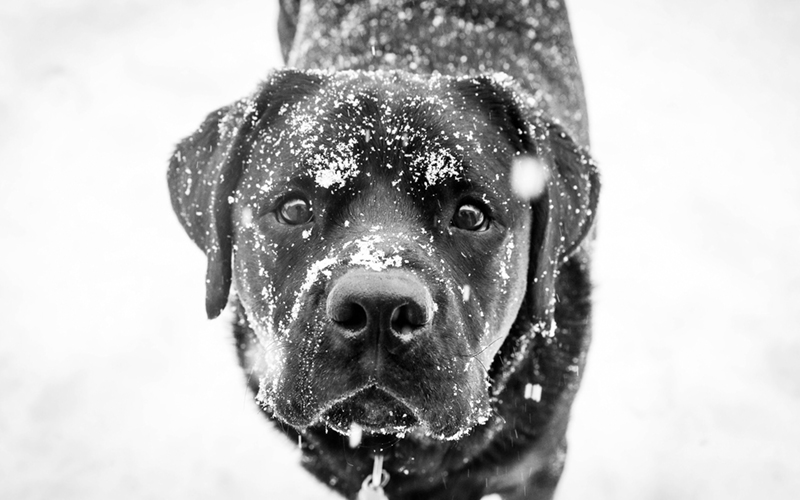 Courtesy of Green Dog Photography
Green Dog Photography
greendogphotography.com, (616) 262-4525
Nidal Kanaan started Green Dog Photography back in 2014 and has been capturing people's most important moments ever since.
Before becoming a professional photographer, Kanaan was a volunteer at the Kent County Animal Shelter.
"(The shelter) started to do cell phone pictures. They put the photos up on Facebook and the website," Kanaan said. "After doing that for a while, it became a passion and I decided to get a real camera and learn how to actually shoot."
Now a professional behind the lens, Kanaan says the key to being a pet photographer and getting those adorable shots is to have a go-with-the-flow attitude.
"You might not be able to get the pose the exact way that you want, but be patient and wait for something (the pets) give you that's just perfect," he said.
Along with having patience and perfect timing, it doesn't hurt to have some silly and tasty tricks up the sleeve.
"I make a lot of funny noises," Kanaan said. "I have cookies and even little bacon strips. You have to find the one thing that works because it just takes a split second to get that face. I haven't met a dog where absolutely nothing works."
Pet owners can help prepare for a session by letting the photographer know what special treats or noises get their fur baby to sit still or pose. Either way, Kanaan guarantees that first and foremost there is a lot of fun to be had at the sessions.
Kanaan still takes the time to volunteer and help shelter dogs through his photography. Similar to his 2017 ArtPrize entry, Nike, which helped cover more than two dozen adoption fees, Kanaan recently started "Project One in Ten" to help do the same.
"The project is called that because only one in 10 dogs get a home, and that always just breaks my heart," he said.
One-hundred percent of the profits from the project will go to cover adoption fees in West Michigan.
"My favorite thing is being at the shelters and rescues, because I like to be a voice for those who don't have it," Kanaan said. "If there are things that I can do to help them get exposure and get them out there, that's my biggest passion."
Other Pet Professionals
Happy Dog Mom
happydogmom.com, (616) 322-5589
Owner Jennifer Waters of Happy Dog Mom, formerly known as Grumpy Pups Pet Photography, continues to provide the area with adorable, high-quality pet photos under the new name.
Tailwagger Dog Photography
tailwaggerphoto.com, (517) 990-5630
The goal for Tailwagger Dog Photography is simple: celebrate the bond with your pets through beautiful artwork.
Finkanie Photography
finkanie.com, (269) 377-2462
The Kalamazoo-based Finkanie tackles just about every kind of photography, including pets!