Downtown Grand Rapids is making space for pups to run, play and socialize.
Located across the street from Founders Brewing Co., the Downtown Dog Park is an 8,000-square-foot space that gives your dog the freedom to safely explore a part of town that was mostly just concrete before.
The park, owned by Maplegrove Property, is funded by the Grand Rapids Downtown Development Authority and is maintained and operated by Downtown Grand Rapids Inc. We sat down with Stephanie Wong, project manager at DGRI, to talk more about the new addition.
What went into the decision to open up a dog park downtown?
According to our market research, more than 5,000 households own at least one dog in the 49503 zip code. That's a lot of dogs. Before this project came to life, we only had two public dog parks, and neither were conveniently walkable for downtown residents. In an effort to make downtown better for people and pets, the Downtown Dog Park was born.
What does a dog park bring to the area?
The park aspires to add a new lifestyle amenity for the growing number of people and dogs in downtown Grand Rapids. Dog parks are a fun and unique way to build community and a place for pets and pet owners to gather.
Does the park have any special features?
The Downtown Dog Park has two distinct areas for small and large dogs, plenty of seating, greenery and color. We wanted to create a place that people would want to spend time in. Bold colors for the planter boxes, flowers and unique fire hydrants make the space a little more vibrant.
Do you plan to hold any special events there soon?
There are no upcoming events at the moment, but you can stay updated on park happenings by following the Downtown Dog Park GR on Facebook. We're also open to hear any event ideas the community might have. We also encourage other dog-friendly businesses to use the space as their own.
You've said the park may not necessarily stay where it is. How does that work?
Aside from the fence, all the amenities can be moved and relocated to another 'pop-up' location. As we bring more creativity to downtown spaces, a pop-up can be a great way to test ideas and see how the community responds. In this case, we are … evaluating how it performed after one year. Other cities like Austin, Cleveland and Raleigh have experimented with pop-up dog parks and found that their residents found a lot of value from it.
Downtown Dog Park
210 Market Ave SW
downtowngr.org
(616) 719-4610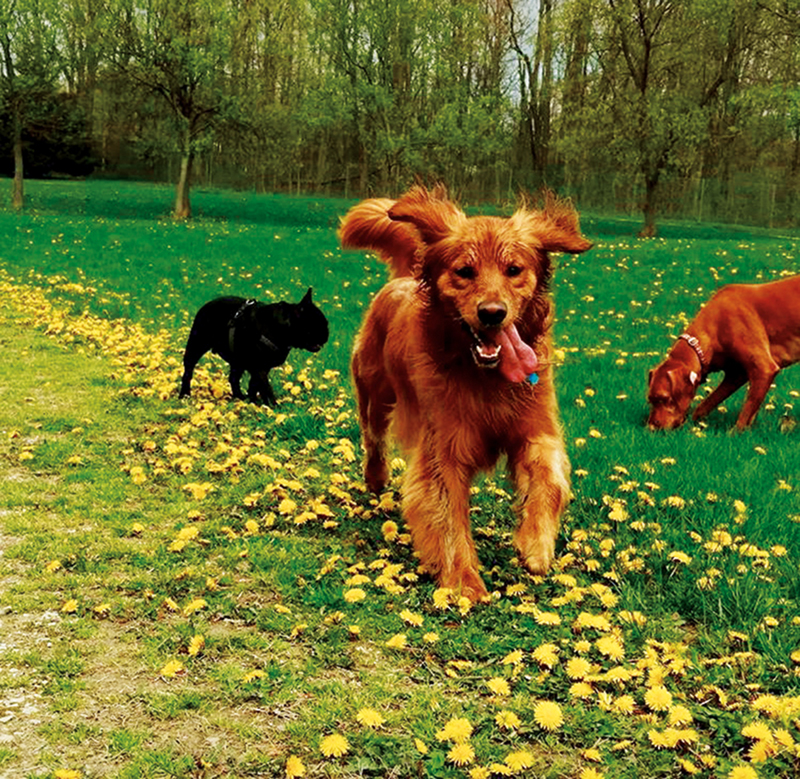 Shaggy Pines Dog Park. Courtesy Photo
Other Paw-some Parks
Grand Ravines Dog Park
3991 Fillmore St., Jenison
Let your pup run, play and socialize with other furry friends in more than 20 acres of space. This off-leash park is wide open and free to the public, with miles of wooded trails to walk as well. Even if you're pet-less, it's a great place to visit.
Kruse Park
3205 W. Sherman Blvd., Muskegon
Perfect for the water-loving pups, Kruse Park offers nearly 1 mile of Lake Michigan beach where pets can splash and play all day long.
Kirk Park Dog Beach
9791 N. Lakeshore Dr., West Olive
With 210 acres available for swimming, picnicking and playing, both you and your dog are sure to have a good time.
Shaggy Pines
3895 Cherry Lane Ave., Ada
This private, membership-based park offers 16 acres of fields, forests, ponds and more. Recently, the park added Doggy Day Play to its services, in which your fur baby is shuttled to and from the park for a very special kind of monitored daycare where the pups can run free all day. All dogs are required to be vaccinated and friendly, so you know they'll be safe and healthy.