Game designers just about never move to West Michigan to follow their dreams, but Finji isn't your typical game company.
Adam and Bekah Saltsman are the husband and wife duo behind Finji, a progressive, indie game company that loves to break industry norms. They've both designed and published some of the most influential games around — Adam's Canabalt was the first auto-runner (ala Super Mario Run or Temple Run) to really blow up; Night in the Woods is an adventure game with a huge following; Wilmot's Warehouse is a colorful puzzle game "for people who like organizing things."
After working from home for years, the Saltsmans got a beautiful office space for their small, but growing team in Grand Rapids — then the COVID lockdown hit. Still, Finji is here to stay. In fact, the company celebrated its 7th anniversary this month, so let's look at where they started and how they got here.
LEVEL ONE
Adam has been designing games for at least 15 years, going back to projects for old Nokia phones and advertising Flash games. Most notably, his game Dikembe Mutombo's 4 ½ Weeks to Save the World was made for a highly praised Old Spice ad campaign that won a Cannes Lions award.
In 2013, there came a crossroads: The world was moving away from Flash games, the iOS market was becoming largely free-to-play, and the second child had just arrived. By 2014, they had stepped away from all the advertising/iOS work and launched their own company: Finji.
The name comes from a nickname for their son, Finnegan — the only downside being that they can never again call him "Finji," but there are plenty of other cute nicknames to work with.
Now, Finji is a fully realized company with a story and culture. The team designs their own games, but also works to publish other games with a fitting philosophy. Adam said it's kind of like being a band that also has a record label, so they can set their own rules for making their own art while also providing a platform for other creators.
"The main thing honestly, is to make beautiful things in a sustainable way," Bekah said. "Adam has to make things, and we needed to provide a structure where Adam could make things with cool, creative collaborators.
"There are so many other people in the industry who just want to collaborate, make something cool, and then make something cool again, in a way that doesn't kill us all."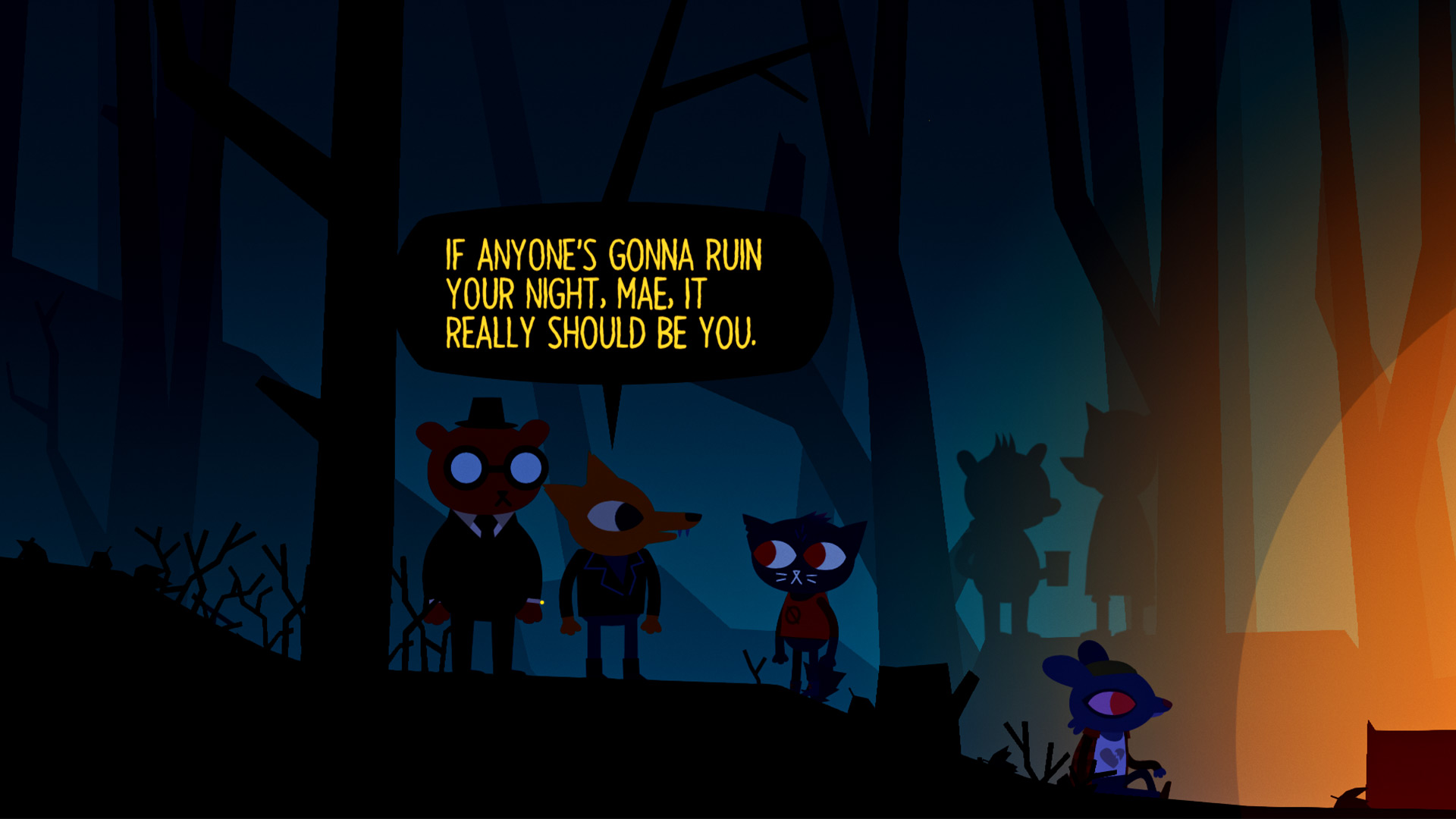 Screenshot from Night in the Woods.
NEW NORMS
Finji's focus isn't just on making games, but how games are made. "Crunch" is a massive issue in the industry, with designers frequently working 100-hour weeks to ship a game on time. It takes a massive toll both psychologically and physically, and Finji won't allow it. They may work odd hours occasionally, but pay, benefits and time off are all crucial to how the team runs.
That progressive mindset extends to the games they publish and design, which aren't afraid to grapple with politics and social issues but also try to be welcoming and friendly, even to "casual" gamers.
It also extends to the publishing side of the business, where Finji does everything they can to give more money to the developers than they'd typically get. Adam broke it down: ""I think a really normal thing as a developer is, you put your $10 game on a store. The store collects the first $3 of that game, you're left with seven. And then your publisher collects 30% of that, which is about $2.
"So the developer gets about $5, which they then split up between everybody who worked on the game. So you can pretty easily have a team of like four people who essentially each get $1 per copy sold at the end of the day. And as a developer, it always kind of feels like … I'd love to get like $1.50, or a little more."
It helps that Finji doesn't have any big investors to pay back, so they're beholden only to their own ideals, which they often have to remind themselves.
"Not to sound self-centered but sometimes we forget to put this around us and make sure we were doing it our way," Adam said. "Any time we run into business problems or creative problems, it's always because we've forgotten about that again."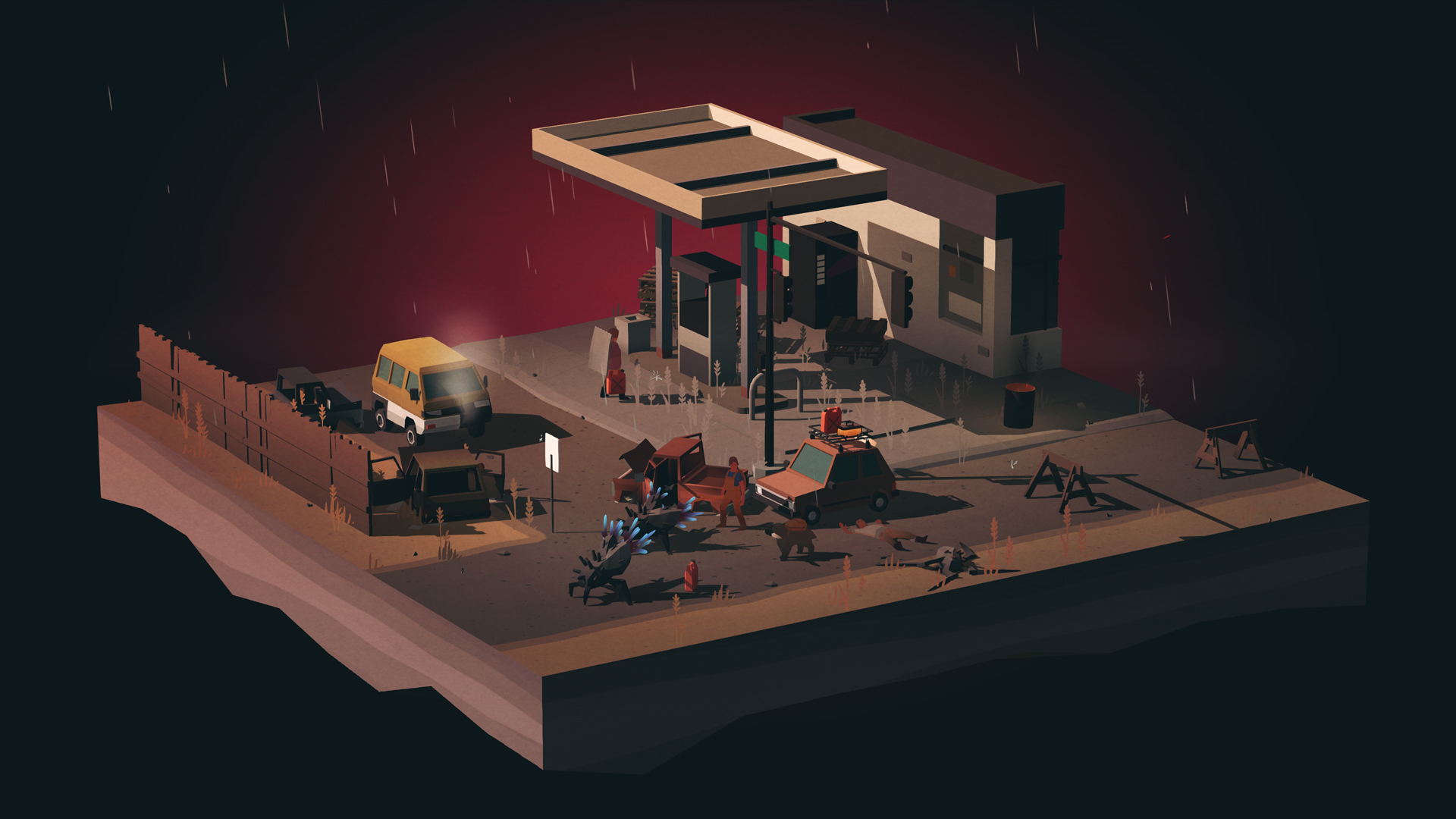 Screenshot from Overland.
EAST TO WEST
Adam and Bekah both grew up in separate rural towns in Michigan, meeting as pen pals for Spanish class. They remained dating even while Bekah went off to BYU, and ended up returning to her home state and attending the University of Michigan with Adam. After graduating there in 2003, they moved to Austin, Texas, "and were promptly notified that nobody in Texas gives a crap about University of Michigan."
At the time, Austin was both incredibly cheap and a tech hub full of companies like Dell, Ion Storm, Retro Studios and more. They were eventually able to get jobs while working on the aforementioned projects, but by 2016, property taxes and just about everything else in Austin had skyrocketed in price. Plus, all their friends were super busy in the fast-paced city.
Their families had moved to Grand Haven, however, and the Saltsmans saw the pros in coming to the area: four seasons, beach access, not too expensive, good education, and grandparents available for free childcare.
Over the past five years, they've fallen in love with the area while living and working in Grand Rapids, especially thanks to great opportunities for the kids. Bekah said "Blandford Nature Center has been an absolute godsend," as their children absolutely love the nature programs and summer camp there, especially their oldest son. "When he's at Blandford, it's like a Disney movie about a 10-year-old that plays in the major league," Adam added.
Then there's Frederik Meijer Gardens, which has provided a place to enjoy world-renowned artists, play Pokemon GO and revel in nature. "Right before shutdown, our oldest had a really rough day at school with some bullies. And I picked him up and I was just like, 'You know, we only have like, 35 minutes, we're gonna go to the butterfly exhibit at the gardens, where there's nobody right now.' And I took him in, and he's covered in butterflies. What a cool thing to just be able to take your kids to."
The Saltsmans themselves are huge fans of Long Road Distillers (especially the deviled eggs), along with San Chez's bar seating, Ginza Sushi & Ramen, and Schuler Books. Then there's Madcap, which they knew about and loved long before moving here, not to mention Squibb, which has "some of the best baristas in the city right now."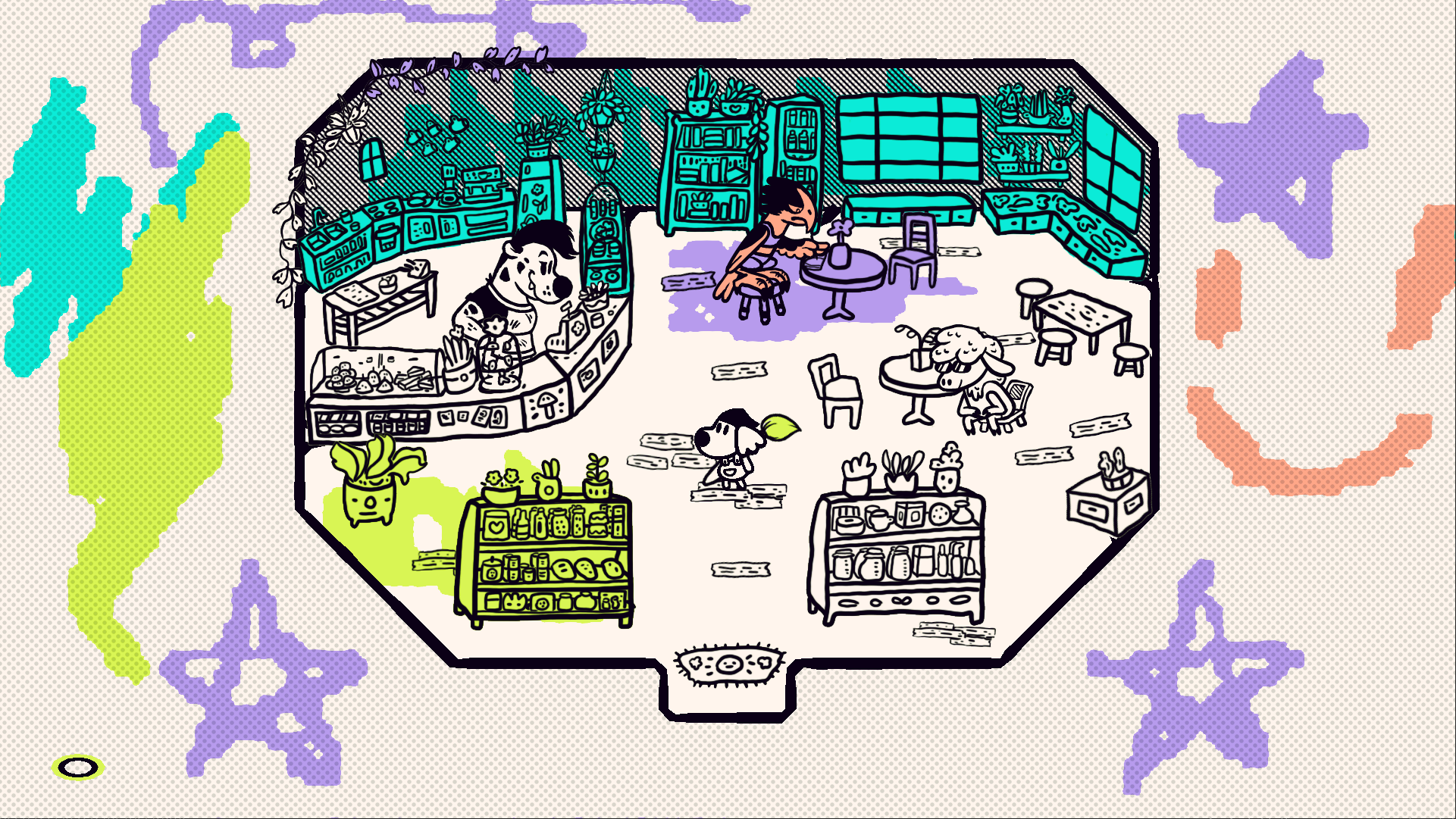 A screenshot from Chicory: A Colorful Tale.
FUN & GAMES
Of course, the best part about Finji isn't the local connection, but their catalogue of amazing games which have earned them a passionate fanbase.
The most recent game developed and published by Adam is Overland, which follows a group of travelers traveling across the country in a post-apocalyptic world. Not everyone survives. "It's a game about these survival puzzles where you're always trying to decide how much to loot, and how much to not die. A lot of strategy games, it's like, kill everything and then get the loot. But Overland, every level is like a little burglary, and that's the balance in the game."
The next big publishing release for Finji is Chicory: A Colorful Tale, where you're a dog wielding a magic paintbrush! You can draw on anything and use your paint to solve puzzles, reach new places and all the other fun stuff games let you do. The game is coming out "soon" on PC, Mac, PS5 and PS4 — and it looks cute, vibrant and dense all at once, with an art style that feels straight out of coloring pages.
Let's see if Adam can explain it better: "It's like if you take some of the ideas of Link's Awakening, with the density of that world and the way it's got a lot of NPCs, and combine that with some of Splatoon, where you can just put paint everywhere and it's interactive in a fun way. Except it's also a 10- or 12-hour long story about figuring out what it means to take care of people. It's a weird set of ingredients, and they go together really, really well."
Coming in the distant, eventual future are also TUNIC and I Was A Teenage Exocolonist. The former is a much-anticipated action-adventure game starring a fox with a sword. What more do you need to know! The latter is a sci-fi life sim that takes place in humanity's first extrasolar colony. Battle, study, cultivate, collect and more while pulling on memory from your past lives. And someday, Finji will publish the next title from Glory Society, the new co-op from Scott Benson and Bethany Hockenberry.
While the Saltsmans may largely think of themselves as some Midwestern parents, they're clearly a force for good in the game industry. As these projects progress, the Saltsmans can't help but enjoy all the jaw-dropping moments that come from seeing their fellow designers' work for the first time.
"It' such a wonderful experience," Bekah said. "I know if I'm having that and I'm pretty jaded, then our players will have that when they see it for the first time, and it's gonna be very cool.
"I'm so excited for our players to get to have that experience."
Follow Finji here:
Twitter
Website
Add Chicory to Your Wishlist!