Look cool and stay warm. It's possible, and we've gathered the gear to prove it. Learn to layer up and love it outside while loading up on outerwear like your life depends on it. Because a lot of times, it does.
THE MITTEN STATE: Cover your ears with a product that's made in the USA featuring vintage appeal and bright, perky colors. "I love how you feel like there's a story behind them," says Creative Director and Co-Founder Will Bransdorfer. "It's a great way to wear your state pride."
THE OUTPOST OF HOLLAND: In Michigan, we should never feel bad about owning too many coats. "I talk with customers about something windproof," said Mike DeVisser, buyer and sales associate at The Outpost of Holland. A lot of jackets are highly water resistant, but windproofing stops wind from coming through the material and chilling the body. Choose from trustworthy brands such as Patagonia, Black Diamond and Arc'teryx or look into The North Face's new technology, Thermoball. It's as close to down as a synthetic has become. The look is lightweight, yet warm. If you look slightly like the Michelin Man, you're doing it right.
THE PEAPACK MITTEN COMPANY: While thick mittens closely resemble the Hamburger Helper mascot or an oven mitt, you can still find fabulous versions. Like wearing your favorite sweater on your hands, these mittens are cozy and colorful—which helps in white-out conditions. Pick them up at Landsharks in Saugatuck.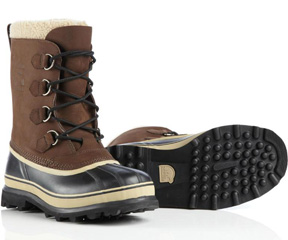 LEE CROCHET: You have to have a sense of humor in this weather. Introducing the long Hooded Scarf (with or without pockets) and the Bear Hooded Cowl. Both items cover and protect your neck and head. They're fashionable, made with thicker yarn and come in custom colors. For added layering protection check out the Katniss-inspired huntress cowl sweater.
BILL & PAUL'S SPORTHAUS: Cold, wet feet kill the mood. Make sure you go for waterproof boots with some hardcore insulation. "In footwear, we're using wool or felt or synthetic insulation," said Buyer Matthew Dobrowolski, who recommends the warm and popular Sorel Caribou boot. This classic design has an ageless look that's the farthest thing from a moonboot.