We've rounded up fashionable people, places and things from around West Michigan, including boutiques, designers, makers, curators and more.
Elyse Marie Welcher
Leather Worker
As a leather worker operating a handcrafted accessory line called Littlewings Designs, Elyse Welcher, 27, makes handbags, belts and accessories available at her collective, Parliament the Boutique, 120 S. Division #125, Grand Rapids. "All of my work is crafted by myself or under my supervision," she said. In a world filled with so many things, Welcher works with intent — in small batches and with natural dyes. She's also developing a collection of belt pouches and bags for this summer's festival circuit. littlewingsdesigns.com
Kelley Howley
Owner, Hunt & Gather, Grand Rapids
When your home has been featured on Design*Sponge, A Beautiful Mess and Driftless Magazine, you've obviously got a strong design bone. Kelley Howley, 28, is the owner of Hunt & Gather, a hybrid retail/interior design space specializing in modern-vintage home décor and accessories.
She curates cool scouting treasures, photographs them, posts them to social media, delivers furniture while meeting with clients. She deserves mad props for designing two different sorority houses for 20 to 30 women living in one house.
"I've picked up items from Detroit mansions, high rise apartments in Chicago and in scary basements in the middle of nowhere," Howley said. huntandgatherGR.com
Spring Sweet
Boutique
Spring Sweet, 35, owner of a shop with the same name, operates under the slogan "Hominibus opus decoris," which translates to "The world needs beauty." Sweet's lifestyle boutique is proof of that. Located at 56 E 8th St., Holland, the store offers women's clothing, home décor, gifts and fresh flowers.
Bonus: The second floor is a wedding gown shop. "I'm a firm believer in only buying and selling things I love. It has to speak to me," Sweet said. In May, the store celebrates its fifth anniversary. Instagram @springsweet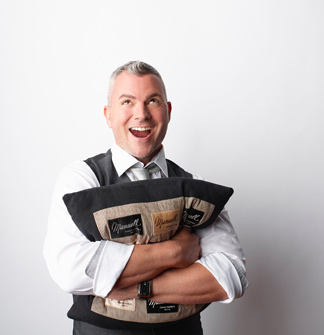 Tylor Devereaux
Interior Designer
Have you visited Anna's House? That's Tylor Devereaux Interior Design. His style blends modern, country farm, '50s diner and industrial chic into a hip breakfast hangout — complete with a toaster wall. "I love the fresh color palette that is so not-your-typical breakfast chain/coffee house look of boring browns, burnt orange and blah," he said.
Devereaux, 45, Traverse City, specializes in modern interiors for homes, condos, restaurants and offices. His world consists of wild patterns, vivid colors and of-the-moment trends. The HGTV star is currently working on a new restaurant in The B.O.B. along with a secret 16-suite boutique hotel in Grand Rapids. tdinteriordesign.com
Kathryn Chaplow
Interior Designer
Personal style is everything. This is how Chaplow rolls. As owner and interior designer of Kathryn Chaplow Interior Design, a full service firm, she helps clients explore colors, patterns, style and objects that resonate with them. Chaplow also creates designs to nurture, refresh and inspire. "If you design something that improves someone's life, it's pretty awesome," Chaplow said. She's about to design an event space in a 1920s boat warehouse up north and a custom wine cellar. More philosophical thoughts? Work with joy. "We encourage the use of original artwork. It really gives a space a soul." kathrynchaplow.com
Sarah Cooley
Candles and more
Sarah Cooley, 28, is the founder and creative director of Simply Curated, a Grand Rapids-based candle company. She understands that sense of smell is a powerful thing. "It's so deeply tied to memory," Cooley said. "Scent is a great way to enhance the way your home feels." Her favorite Simply Curated scent is Guava Fig — "it's fruity but warm," she said. In the spring, Cooley plans to launch a new floral scent with a limited-edition pattern from a special designer collaboration. simplycurated.com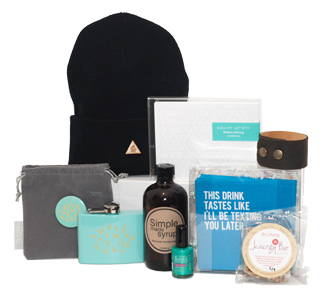 Kristina Barberini
Founder, TheMIbox
It's cool to think inside the box again. TheMIbox explores Michigan by way of gift boxes filled with Michigan-made goodies, shipped directly to your door. Each box is curated by "an eclectic Michigander," and some feature products from specific cities. The goal is to appeal to both sexes of any age with items such as snacks, wardrobe accessories or a piece of art or décor.
It's an opportunity to shop local and "have a sense of connection to the maker," said Kristina Barberini, 40, of Grand Rapids. Barberini is also looking to venture into Motor City territory with her next project: TheMIbox Detroit Edition. theMIbox.com

Kelly Toland & Chelsea Kobus
Owners, Le Bon Macaron
Kelly Toland, 30, and Chelsea Kobus, 24, are the owners of French bakery Le Bon Macaron, 951 Cherry St. SE, Grand Rapids. Inspired by patisseries in Paris, the sweet, meringue-based confections are hand-crafted in the East Lansing location and brought to Grand Rapids weekly. Light, airy and in a rainbow of colors only found in dreams, their goodies of grandeur have been a siren call to style bloggers — not to mention the shop's crisp, neutral, Parisian-like interior is romantic and chic. Le Bon is working on rose and champagne flavors, as well as the introduction of cream puffs in Grand Rapids (Vanilla Bean is a must have). lebonmacaron.com
Michelle Callaghan-Hale
Food Stylist
Imagine Gisele Bundchen as a steak and you can understand the mindset of a food stylist. Michelle Callaghan-Hale, 47, of Grand Rapids, makes food look pretty via prepping and styling so her subjects can shine, literally (Karo syrup on a hamburger works wonders). Her styling graces calendars, magazines and commercials. Inside scoop? "Pizza shoots are difficult," Callaghan-Hale said. "I use Pine-Sol to keep the pizza looking shiny." This foodie fashionista styles a lot of drinks and shares a beverage tip: "Beer looks better when warm. The foam lasts longer." callaghanfoodstylist.com