Sure, jewelry is fun — but can it tell the world who you are? Pieces of Me thinks so. The jewelry company creates cuff bracelets and earrings that empower people by building their self-confidence. With 30 different icon designs each representing a specific personality trait (easy-going, leader, passionate, sassy, strong, etc.), "you see the icons and they are a reminder of your strengths. It's a boost of positivity," said Elsa Vogel, founder of the company.
"You know that's who you are. If it's a gift, someone sees those positive traits in you. It's a time to remember your self-worth," Vogel said.

You can purchase single cuff bracelets with one personality stamped all the way around or cuff bracelet sets, such as the True Friend set, which has both a loyal and a compassionate cuff.
Custom cuff bracelets even let you pick four traits to show off at once. Material options include 14K gold-filled, brass, rose gold and sterling silver. They're perfect for gift giving, especially for milestone occasions such as graduations, birthdays or bridal showers. Head to buypiecesofme.com and start your jewelry journey.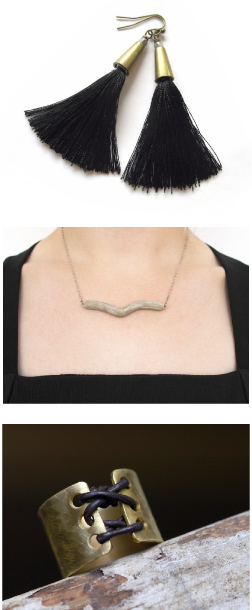 ---
< Featuring black tassels, antiqued brass and oxidized silver components, these lightweight earrings from Luminous Creation are fun to wear and make a big impact (available in other colors). $17, etsy.com/shop/LuminousCreation and Dear Prudence, Grand Rapids.
< Sable + Company, a lifestyle brand, makes this necklace with real wood and sterling silver. The simple design highlights the natural beauty of the branch. $65, Dime & Regal, Grand Rapids.
< Talk about a statement piece. Feel sexy in this hammered bronze ring with hand-tied Greek leather creating a mini, knotted corset. It's edgy with a femininity that grabs you. $68, Studio Jewel, Grand Haven. studiojewel.com.
*TESTIMONIAL: I own this ring and it's like a talisman, sending shivers of beauty and strength through me with every wear. Pictures don't do it justice. Ladies, you've got my style seal of approval here.