If I'm sitting poolside, please trust that I'll be wearing my loud and colorful, cheeky summertime fashions as I adjust my sunglasses and refresh my pina colada. This rule is rigid.
Clothing in the summer has everything to do with having fun, so whether it's a sequined flamingo on your purse or pineapple earrings, you need to work that festive angle. Aim for anything that screams "garden party on steroids," along with headache-inducing neon and fun fruit accessories.
The best example to provide is the clothing company Lou + Marie, who wants to make you the talk of the pool, the beach and the season. The Hudsonville boutique is known for affordable clothing, focusing on tops, dresses and accessories that aren't exactly tame.
"We like too many different styles," said co-owner Kirsten Warners. "We dabble all over with bright boho style and fun pieces for women."
It's the kind of stuff you wear on date night.
"We look for stuff we would wear and things you don't see everyone else wearing," said co-owner Cassie Beel. The dynamic duo is pumped for summer and has plenty of pieces with pom-poms, tassels, pops of color and romantic florals.
Be an ambassador of summer with the exaggerated pom-pom pink dress ($37) and the super comfortable stretchy cotton dress in a statement-making juicy orange pattern ($35). These styles and more are offered at Lakeshore Marketplace in Holland, or check out Lou + Marie on Instagram.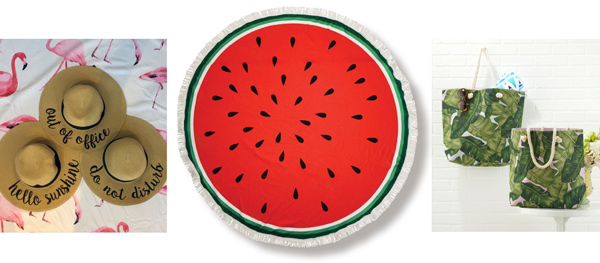 Take some shade under a script beach hat and laugh as you watch everyone reading it. Jean Marie's in Holland and Grand Haven, $24.99-$29.99.
Happy accessories like this trendy round watermelon beach towel get you in the mood to cannonball. Karla's Place in Holland, $26.
Lug the one million things you need at the pool in a punchy palm print tote with nautical rope handles. Blacklamb in Grand Rapids, $42.