You can believe the hype when it comes to Locker Lifestyle's Wrist Locker. This wristband can stash your cash, cards, keys, phone, an ID, pepper spray, fitness tracker, lip balm and more. CEO and Founder Katarina Samardzija designed this product because she was sick of lugging her entire wallet to the gym and struggling with lockers that didn't lock and cubbies open for thieves.
With the wrist locker, life became hands and hassle free, and this life hack means "having your belongings on your person instead of worrying where they are all the time," said Samardzija, who uses her wrist locker beyond fitness-related activities, like concerts, festivals, walking the dog, shopping (never set your purse down and forget it) and traveling. "I can fit my boarding pass and ID in my wrist locker and I don't have to rummage through my backpack, and I can go through security with it on."
She also has the headband, Head Locker, and the smallest wristband, Little Locker (it even adjusts to a dog collar to fit doggie bags or treats). All the active lifestyle products are made of high-performance, dry-wicking athletic fabric that's machine washable. They come in various sizing options and colors, including the popular charcoal color. "I haven't found someone who wouldn't get use out of the product."
You can find more info at lockerlifestyle.com. Products range from $18 to $24.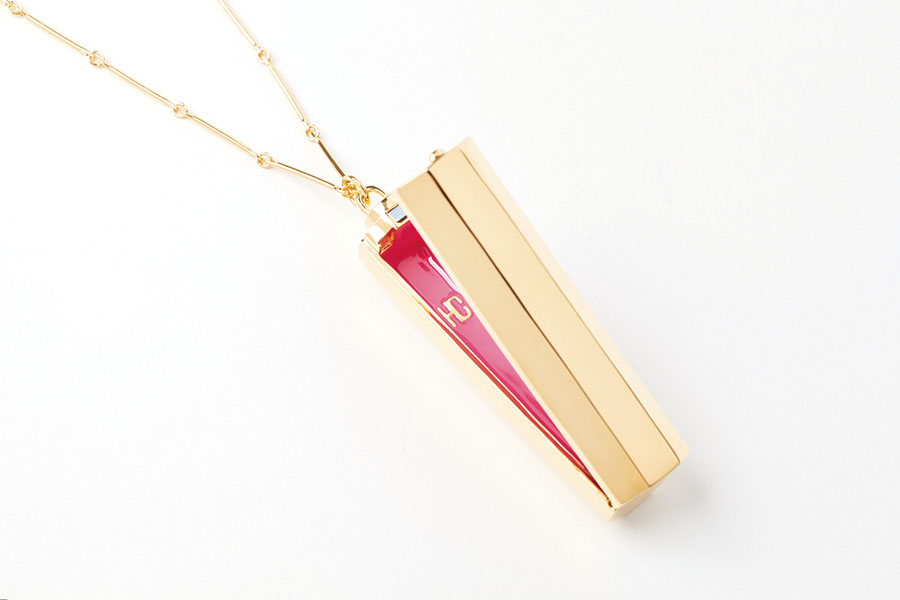 LIP SERVICE
Bulging pockets are so last season. If you want to carry your chapstick or lipstick with you (always!) then the Cosmetic Hideaways necklace is going to win your heart. This jewelry allows you to navigate the day's adventures free and easy by carrying your chapstick or travel-size lipstick to your power luncheon or night out with friends.
"It literally starts conversation," said owner Christine Abdoo, who runs from meeting to meeting and wanted to feel more put together. "I always feel that having my lipstick completes the picture for me and makes me feel more confident." We're totally here for the Dusk Paragon, rhodium with rose gold two-tone pendant. Just remove the chain on this one and attach the hideaway to a handbag or work tote for an elevated charm look.
There's even a new sporty version coming out, Flex, that fits a full-size lipstick for $14.99. Tailored more for the athleisure bunch, this style is made of silicone with a more casual appeal.
Grab your new favorite accessory at cosmetichideaways.com or at A.K. Rikk's and Humanity Boutique located inside the JW Marriott. Prices range from $98 and $108.