Somewhere between winter and spring, in a perpetually thawing purgatory of strong winds and even stronger whiskey, there is the month of March. Cozy up to a film while you await spring.
FRESH FACES
Liz Merriman has played a lot of different roles in her tenure as a filmmaker – from production manager to photographer to makeup and wardrobe, she wears a lot of hats. So when Merriman decided to create a new production company, she combined her multifaceted work ethic with positive nature, and Happy Hat LLC was born.
Merriman is no stranger to the local film scene, her name attached to a whole host of other film-related endeavors in West Michigan. A graduate of Grand Rapids' Compass College of Cinematic Arts, she has not only been on an impressive number of rosters, but has also done work with the West Michigan Film and Video Alliance and she said the idea to create her own production company was, in part, born from those experiences.
"Getting to the core of it is, I love the film and media industry," she said. "I love learning new tools and tricks of the trade. I love making people's visions for things a reality and I always will."
Happy Hat specializes in producing, production management and photography – and though they haven't gotten a lot of work off of the ground yet, she said she'd ideally like to make films and documentaries that capture the human experience – people in pursuit of their passions, and the all-too-familiar struggles they face along the way.
She hopes Happy Hat can be a self-sustaining business one day; a company that produces feature films, short films and documentaries off of its own time, using its own facilities and hiring the kind of fresh-faced filmmakers that Merriman herself is right now.
"I want to lift people in their lives and careers, take my blessings and pay them forward, and ultimately help others bring their dreams to life," she said. "I think I can do that through Happy Hat."
Keep up with Happy Hat LLC on Facebook.


IN THE WORKS
PegMar Productions – another new kid in the local filmmaking scene – is teaming up with the fellow aforementioned newcomer Happy Hat LLC to bring you the story of Buster Mathis Sr. in their upcoming feature-length documentary, From Tokyo to Ali.
Ashley Mathis, the creator of PegMar Productions and co-producer of the film, wanted to tell a narrative of the boxer's journey not only through the lens of his achievements, but by helping audiences foster an understanding of his hardships. Buster Mathis Sr.'s career was one that blossomed in struggle as he faced scrutiny from his peers for learning disabilities, and ended in abrupt heartbreak when Mathis Sr. sustained an injury that kept him from competing in the 1964 Tokyo Olympics. Buster Mathis Sr. is the great uncle of Ashley Mathis, so the film (like their genetics) runs in her blood.
"This film is my dedication to Buster, who was so unfairly treated during his career," Ashley said. "I want to give him the recognition he deserves and celebrate the sweet demeanor within Buster that caused him to give so much back in so many ways."
Right now, the producers are just starting to film, but hope to premiere From Tokyo to Ali locally before hitting the festival circuit.


LE FESTIVAL DU FILM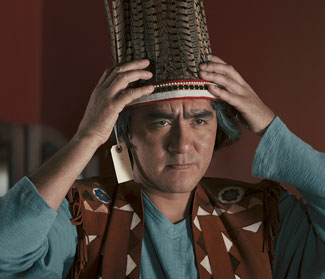 This month, Western Michigan University's Little Theatre presents the four-day Francophone Film Festival. The festival was spearheaded in 2001 by WMU Associate Professor of Foreign Language Vincent Desroches, and runs from March 20-24.
In 2010, the festival forged a friendship with Alliance Française of Chicago, collaborating to bring in films and filmmakers from Africa, North Africa, the Caribbean, Quebec and Europe.
"[The films] are nearly never shown to the U.S. public," Desroches said. "They show a great vitality and diversity, and will challenge many assumptions and stereotypes."
Last year's Gold Kazoo feature film winner was Monsieur Lazhar by Phillipe Falardeau. It went on to be nominated for a Foreign Film Oscar. In this year's lineup, Desroches said audiences should keep an eye out for Mesnak – the first Native American film made in French, filmed in Quebec and presented by Yves Sioui-Durand and the premiere of a Burkina Faso film called The Weight of the Promise by Daniel Kollo Sanou, who Desroches said is coming in from West Africa to present his film.
"The Francophone Film Festival presents images and moving stories coming from countries about which the American public knows little," he said. "And so we can educate ourselves about other cultures and broaden our views."
Tickets are $5 for students and $8 for general admission, with festival passes – which will get you unlimited access to all screenings and events – are $18 for students, and $40 for the rest of 'em.