If elements of paranoia, dark comedy and lower-class rage are a few of the things you look for in a movie, look no further than the work of local filmmaker Joel Potrykus. The Grand Rapids-based director/writer/actor populates his films with characters like drug-addled werewolves and pyromaniacal stand-up comedians, who are all caught up in strange (even surreal) situations in the Midwest. There's no easy way to pigeonhole Potrykus's work, as he eschews conventions and generic genres, but he does have one rule when it comes to making films.
"What it ultimately comes down to is I'm making movies that I want to see, that don't exist," Potrykus said. "Like, I really want to see this movie about a guy who's into horror movies and he's cheating his company. Those are just the kind of things that I like."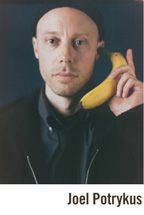 In Buzzard, Potrykus's latest feature film, he does just that. The movie follows slacker horror junkie Marty Jackitansky as he scams bogus checks from his temp office job, hitches a bus ride to Detroit to hide out and ultimately, slip further and further into a paranoiac rage. After garnering praise from the international film festival circuit and earning comparisons to cult classics such as Repo Man and Office Space, Buzzard will finally make its way home to West Michigan when the UICA screens the film on select dates through March 6-19.
A big part of the film's allure to critics and audiences alike is the method of guerrilla filmmaking Potrykus utilized while shooting the movie. For Potrykus, this meant filming on a very, very small budget with a small crew, utilizing local West Michigan scenery and collaborating with local friends to act in and assist with the production of the movie.
"[I like] the guerrilla style because it's full control, and it just kind of feels more real to me, but it also comes with a lot more headaches where you have to do a lot of everything yourself, and it can be kind of stressful," Potrykus said.
Teaming up with Potrykus in Buzzard is longtime collaborating actor, Joshua Burge, of local band Chance Jones. While Burge wasn't a trained actor when they first met, Potrykus knew from the start he was the actor for his movies.
"I would just go see his shows and think 'man, if I could get a little bit of that energy that he's got into a movie. I don't know if he can act or anything, but man, he's got a presence,'" Potrykus said.
Burge initially started working with Potrykus in his short film Coyote and quickly became a frequent collaborator, starring in both 2012's Ape, and now Buzzard. It worked out so well for Potrykus in fact that he now considers working with non-professional actors a bonus.
"I prefer to work with musicians or performers rather than trained actors who can sometimes come with a lot of baggage and little annoying traits that they've picked up on over the years, whereas with musicians, they sort of have this innate ability ... they have a persona established and they're able to bring it into a film," Potrykus said.
It all really comes back to Potrykus being able to make his own films on his own terms. Using musicians as actors, filming on a shoestring budget and exploring a darker side of the Midwest have all played a role in creating the ethos of his films up to this point, and he's fine with that.
"I'm spending a whole year of my life doing a movie, so I want to make sure that it's something that I really really want to see," Potrykus said. "I'm kind of showing the world a little different side of the Midwest, I guess. My Midwest."
To warm up for the release of Buzzard, the UICA will also be showing Potrykus's previous effort, Ape, on March 4. As an added bonus, Potrykus and his crew will be doing Q&A sessions after every screening of the film on opening weekend, and he hints that there may be goodies such as stickers, posters and other paraphernalia, so it's best to get there early. In any case, Potrykus is excited to finally be able to screen his film in his hometown.
"I'm pretty curious to see who shows up, what kind of crowd they are and what they think of their hometown being shown in such a weird light," Potrykus said.
In addition to select screenings, the film is scheduled for a digital release this month, so you can watch online or purchase from the Buzzard website.