It's entirely understandable if one were to feel a sense of unease upon entering the apartment of Nicholas Hartman, film coordinator for the UICA.
Lit by wax candles and decked-out with animal skulls, crucifixes and occult memorabilia, it resembles the set of a Vincent Price movie that never was — a horror fan's paradise.
"It's my life, I love that stuff," Hartman said. "When I was younger, every Saturday night my dad would come home with a box of pizza and a shitty horror movie."
It only seems fitting that Hartman honor his father by shooting some good old fashioned Satanic-cult mayhem in GR for his upcoming short film Blood for Thy Master.
Hartman said he got the idea for the film after seeing a friend of his post a video on Facebook of her surprising her parents with a visit. Being an ardent horror fan, Hartman decided to give the idea a sinister twist.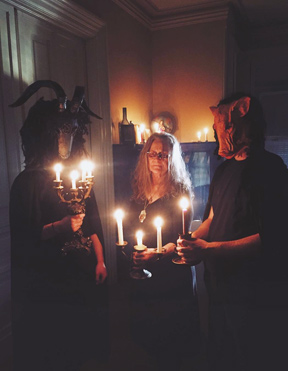 "I thought, 'What if I take that idea where someone's coming home to surprise their parents and I changed it from 2016 to 1989-94, that time frame?'" Hartman said. "So it's going to be shot with a VHS camera."
The film's plot revolves around a young man named John who has traveled home to surprise his parents by introducing them to his new girlfriend. The ill-fated girlfriend soon discovers a darker side of John's family and things get weird really quickly. Featuring plenty of creepy VHS splices and dark subject matter, it's a throwback to the golden era of horror film history.
Also, much like Ti West's House of the Devil (a film Hartman says was a major influence on him), Blood for Thy Master plays on tropes of satanic cults harkening back to the Satanic Panic of the '80s. Of course, Hartman's obsession isn't necessarily Satanism, but religion in general. "Any religion pushed to the extreme is terrifying," he said.
In any case Blood for Thy Master has been a long time coming. Despite facing a number of hurdles Hartman was able to get the project off the ground with the help of a friend.
"I contacted a friend I went to film school with, Alyson Jones. I got her on board and she paved the way for me," Hartman said. "She got all my actors, she got pretty much the whole crew for me."
Filming commenced in Grand Rapids in January, with the sets consisting of a creepy old Victorian style home and an even creepier basement. Hartman said he's excited to return to the director's chair, but he also admits that it took a lot of willpower to work on this short.
"It sounds bad because cinema is my life, but sometimes when I get out of work the last thing I want to do is be more involved in cinema. So I got into painting, I got into stuff that's not cinema," Hartman said. "But then I said, 'F--- that, I want to make a movie.' So I'm making this film to get back into it again."
Hartman plans to submit the finished product to various short horror film festivals. His previous two projects, The Four Riders and In the Shadow of the Horns (a short he hopes to turn into a feature film), have previously screened at the UICA's Open Projector Night.
While Hartman's love of horror films, black metal and the occult may seem jarring and subversive to some audiences, it's obvious after meeting him that he's really just a nice guy with some, er, peculiar interests.
"I don't want anyone to think that I'm this dark Satanist murdering children when they sleep, you know?"