Battle Creek Symphony
The Music Center
450 North Ave., Battle Creek
yourmusiccenter.org, (269) 963-1911
Featuring world-class artists, local and international stars and beautiful renditions for well over 100 years, the Battle Creek Symphony is one of the oldest orchestras in Michigan. Back for another season of spectacular shows, you won't want to miss the magical interpretations of Fantasia or jump into the Wonderful World of John Williams, the man who composed music for Jaws, Jurassic Park and Star Wars, just to name a few.
From Russia to Ravel, Oct. 6
Wonderful World of John Williams,
Nov. 10
Celtic Christmas, Dec. 8
Beethoven, May 4
Fantasia, March 2
Fontana Chamber Arts
359 S. Kalamazoo Mall Ste. 200, Kalamazoo
fontanamusic.org, (269) 382-7774
With the goal of bringing together and enriching the community through music, Fontana Chamber Arts has a range of contemporary, jazz and classical acts for its 2018-2019 season.
Branford Marsalis is a saxophonist, composer and bandleader, but more than that, he's "arguably the most respected living U.S. jazz instrumentalist" according to the Las Vegas Sun. Similarly, Time called Cyrus Chestnut "the best jazz pianist of his generation" thanks in part to his ability to mix styles.
Meanwhile, Kate Lindsey is a rising star mezzo-soprano joining forces with jazz pianist Baptiste Trotignon as they journey through three European languages, spanning classical music, opera jazz and Broadway in one night.
Multiple quartets are joining, including the Juilliard String Quartet, which was founded in 1946 and carries on the tradition after all this time. The New York Philharmonic is a classic, cohesive and balanced string quartet, while the Spring Quartet is a jazz supergroup of sorts, bringing a larger-than-life show to the stage with just sax, piano, drums and bass.
An Evening with Branford Marsalis, Oct. 6
Kate Lindsey and Baptiste Trotignon, Nov. 3
Cyrus Chestnut & Friends, Dec. 8
Curtis on Tour, Feb. 22
Juilliard String Quartet, March 16
Camerata RCO, April 18
The Spring Quartet, May 4
New York Philharmonic Quartet, May 11
Crybaby Concerts, Oct. 27
The Gilmore
359 S. Kalamazoo Mall Ste. 101, Kalamazoo
thegilmore.org, (269) 342-1166
The Gilmore is proud to present some of the best pianists from around the world this 2018-2019 season. On off-years from the Gilmore Keyboard Festival, the organization highlights both acclaimed master pianists and rising stars, who often go on to play the festival.
For instance, Gabriela Montero's unique improvisational gifts have won her a devoted following around the world. The New York Times described her playing as"crackling rhythmic brio, subtle shadings, steely power in climactic moments … and unsentimental expressivity."
Also, with a career that now spans more than 40 years, pianist Murray Perahia is definitely a legend in the piano world, and one of the greatest pianists of our time. The native New Yorker — who began playing at four and attended Mannes College — has received two Grammy Awards and several Gramophone Awards. His worldwide recognition as a musician of rare musical sensitivity is showcased in his extensive discography and seen at his performances all over the world.
Piano Masters Series:
Gabriela Montero, Nov. 15
Murray Perahia, May 5
Rising Stars Series:
Luca Buratto, Sept. 16
Zoltán Fejérvári, Nov. 4
Nikita Mndoyants, Jan. 13
Zhang Zuo, Feb. 10
Daniel Hsu, March 17
Katie Liu, April 28
Grand Rapids Symphony
300 Ottawa Ave. NW Ste. 100, Grand Rapids
grsymphony.org, (616) 454-9451
Once again, the Grand Rapids Symphony's 2018-2019 season lineup is brimming with variety, featuring a great mix of classical music, modern pops, holiday fixtures, movie scores, chamber music and more.
For one, GR Pops takes the symphony beyond classical music, delving into the iconic songs of musical legends like Paul McCartney and Frank Sinatra, as well as a tribute to ragtime, blues and jazz with trumpeter Byron Stripling. Then, Pops celebrates the holidays with shows like The Snowman, based on the award-winning children's book, Holiday Pops and Cirque de Noel. This series also includes full-length films scored by the orchestra, such as Pirates of the Caribbean, Nightmare Before Christmas, Home Alone and Harry Potter & The Goblet of Fire.
Of course, the GR Symphony also loves its classical music, with 10 shows spanning centuries of quintessential work. Beethoven's 7th Symphony premiered at a benefit concert for wounded soldiers, conducted by the master composer himself. Violinist Karen Gomyo joins this show as a soloist for Samuel Barber's stunning Violin Concerto. Then, Rimsky-Korsakov's Scheherazade instrumentally tells the tale of the storyteller in Arabian Nights. Legendary French pianist Jean-Yves Thibaudet joins to perform Khachaturian's Piano Concerto, a crowd-pleasing piece that pits soloist versus orchestra.
Later in the season, the symphony celebrates Bach, Leonard Bernstein, Tchaikovsky, Rachmaninoff and more, including Mahler's Symphony No. 3, which was named the "10th greatest symphony of all time" by professional conductors for BBC Music Magazine. Grammy Award-winning mezzo-soprano Michelle DeYoung, born in Grand Rapids, joins as vocal soloist.
The chamber series takes the orchestra to a more intimate setting, performing in the historic St. Cecilia Music Center, with aptly named shows like The Baroque Concert, The Classical Concert: Viennese Masters and The Romantic Concert, all preceded by smaller "coffee concerts" in the morning.
Classical
Beethoven's 7th, Sept. 14-15
Scheherazade, Oct. 5-6
Bernstein's 100th, Nov. 2-3
Mozart Mass in C Minor, Nov. 16-17
Rhythm of the Dance, Jan. 18-19
Tchaikovsky Festival, Feb. 8-9
David Lockington Conducts Elgar, March 1-2
Rachmaninoff and Shostakovich, March 15-16
Mahler's Symphony No. 3, April 12-13
Chopin and Brahms: Mother's Day with Maestro, May 17-18
GR Pops
McCartney and More, Sept. 21-23
Sinatra and Beyond, Nov. 9-11
The Snowman, Nov. 17
Wolverine Worldwide Holiday Pops, Dec. 6-9
Old National Bank Cirque de Noël, Dec. 19-20
Hansel & Gretel, Jan. 19
Ragtime, Blues and All That Jazz with Byron Stripling, Jan. 25-27
The Conductor's Spellbook, March 2
Pirates of the Caribbean: Curse of the Black Pearl, March 8-10
Ferdinand and the Bull, March 30
Sci-fi and Superheroes, May 10-12
Chamber
The Baroque Concert: Bach and Beyond, Oct. 12
The Classical Concert: Viennese Masters, Jan. 11
The Romantic Concert: Bella Italia!, Feb. 22
The 20/21st Century Concert: Celebrating Women, May 3
Specials
Grand Rapids Symphony at ArtPrize, Sept. 28-29
The Nightmare Before Christmas, Oct. 20
Home Alone, Nov. 29
Harry Potter & the Goblet of Fire, Feb. 1-2
Symphony with Soul, Feb. 16
Grand Rapids Bach Festival, March 17-23
Holland Symphony Orchestra
96 W. 15th St. Ste. 201, Holland
hollandsymphony.org, (616) 796-7680
Holland Symphony explores the classics for most of the season, starting with Classics Up-Close, which uses the intimate space of First United Methodist Church to put the audience as near to the music as possible. Then, Rach On! highlights Rachmaninoff's Piano Concerto No. 2 with Young-Hyun Cho on piano in a larger venue at Hope College's Jack H. Miller Center for Musical Arts.
The classics continue with Pulling Out the Stops, a show featuring organist and Hope professor Huw Lewis. For the uninitiated, a "stop" is the part of an organ that allows wind to travel to certain pipes, strongly affecting the sound accompanying each key press.
Later, the season also includes a holiday concert, a family concert and more classics.
Classics Up-Close, Sept. 8
Classics I: Rach On!, Sept. 29
Classics II: Pulling Out the Stops, Oct. 27
Holiday Concert: Sounds of the Season, Dec. 8
Family Concert: HSO & H2O, March 24
Classics III: Triple Threat, April 27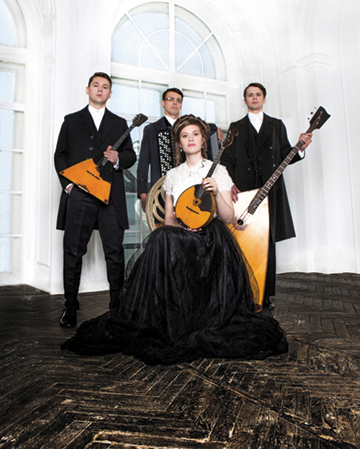 Hope College - Russian Renaissance. Courtesy Photo
Hope College Great Performance Series
141 E. 12th St., Holland
hope.edu/gps, (616) 395-7860
Hope College's Great Performance Series outlines its mission right in the name: bring great (amazing, even) performers to the Holland community, providing the lakeside community with internationally renowned music, dance and theater.
As far as the music goes, The Queen's Six kicks off the season with a huge repertoire that reaches from upbeat jazz and pop music to austere early chant, haunting folk songs and florid Renaissance polyphony. Established in 2008, the 450th anniversary of Queen Elizabeth I's accession, the six are all lay clerks of St. George's Chapel, which lies within Windsor Castle's walls.
Later, the 5 Browns will arrive with five grand pianos in tow. The quintet of siblings all attended Juilliard School simultaneously and have been performing together ever since, earning features on Oprah, The Tonight Show and Good Morning America. As The New York Post said, "When these kids do Rachmaninoff, they'll make you forget about Marshall amps."
Then, the unique Russian Renaissance closes the season with a wide variety of music played on classic Russian folk instruments, such as the balalaika, domra and button accordion. You'll hear songs new and familiar to you, performed on instruments you've likely never heard. Last year, the group garnered the largest prize for chamber music in the world, winning the $100,000 grand prize at the 2017 M-Prize Competition at the University of Michigan.
The Queen's Six, Oct. 18
Turtle Island Quartet with Cyrus Chestnut, Nov. 9
The 5 Browns, Jan. 18
Russian Renaissance, March 30
Kalamazoo Symphony Orchestra
359 Kalamazoo Mall Ste. 100, Kalamazoo
kalamazoosymphony.com, (269) 349- 7759
The Kalamazoo Symphony Orchestra's season knows no bounds, featuring world-renowned soloists, long-loved classical pieces and popular contemporary music like Star Wars: The Empire Strikes Back, Women Rock and The Phantom of the Orchestra.
Join the symphony's new conductor, Julian Kuerti, for classics like Ravel and Berlioz, with Di Wu on piano, or Tchaiokovksy's 5th, with Charlotte Markx on violin. Take in the classics with a beer or wine in hand at Classics Uncorked and Classics on Tap. And explore something different with Pablo Sainz Villegas playing guitar for Elmer Bernstein's lovely Guitar Concerto, followed by Schubert's 5th in the same evening.
If you're looking for something more modern, see Paul Shaffer, longtime sidekick and bandleader to David Letterman. He performs symphonic renditions of pop, R&B and jazz, interspersed with fascinating stories and memories from his eventful life. Or check out Women Rock, which celebrates the music of Carole King, Aretha Franklin, Janis Joplin and many more.
Ravel & Berlioz, Sept. 14
Beethoven Lives Upstairs, Sept. 30
Star Wars: The Empire Strikes Back, Oct. 11-12
Schubert's 5th, Oct. 27
Paul Shaffer in Symphony, Nov. 3
Sibelius & Dvořák, Nov. 17
Varèse Sarabande 40th Gala, Dec. 1
Sounds of the Season, Dec. 15
Classics on Tap, Jan. 18 + May 10
Classics Uncorked, Jan. 19 + May 11
Tchaikovsky's 5th, Jan. 26
The Phantom of the Orchestra, Feb. 10
Mahler's 5th, March 9
Jaws in Concert, March 30
Women Rock, April 12
Bartok & Stravinsky, May 17
St. Cecilia Music Center
24 Ransom Ave. NE, Grand Rapids
scmc-online.org, (616) 459-2224
St. Cecilia Music Center spans the spectrum with impressive chamber, jazz and folk shows all year.
The Trout Quintet performs diverse gems from the 19th century, from Beethoven's variations on a melody from Mozart to Schubert's Quintet in A major D. 667, a.k.a. the "Trout Quintet," from which the group takes its name.
Then, Russian Mastery traverses the historical landscape of Russia with music from composers like Rachmaninov, Tchaikovsky and Prokofiev. Finally, From Mendelssohn brings a group of artists together for an evening of amazing music from the German composer and music inspired by him, such as Schumann's Fairy Tales and Brahms' Sonata in E-flat major.
St. Cecilia's jazz series has trumpet great Arturo Sandoval, protege of Dizzy Gillespie, who has won 10 Grammy awards. The Kenny Barron Quintet has more than a few Grammy awards as well, including Best Jazz Album in 1992 and Best Jazz Instrumental Album in 2017. The pianist has been dubbed a "jazz master," mesmerizing audiences the world over.
Meanwhile, Joey DeFrancesco is known as one of the greatest Hammond organ players on the planet, performing alongside drums, guitar and saxophone. The final jazz show brings together the phenomenal talent of jazz singer Veronica Swift and the Benny Green Trio.
The folk series features all kinds of talent, including the young Pokey LaFarge, a talented multi-instrumentalist who seems plucked from a different time. His suits and music are both timeless, incorporating elements of early jazz, ragtime, country blues, Western swing and more. Leo Kottke is another highlight, a legend who captivates the audience with his lightning-fast guitar playing. His style traverses blues, jazz and folk, with fingerpicked, syncopated melodies throughout.
Chamber Music Society of Lincoln Center
The Trout Quintet, Nov. 15
Russian Mastery, March 14
From Mendelssohn, April 25
Spectacular Jazz
Arturo Sandoval, Oct. 11
Kenny Barron Quintet, Nov. 1
Joey DeFrancesco, Feb. 7
Veronica Swift & Benny Green Trio,
March 7
Folk Acoustic Cafe
Pokey LaFarge, Oct. 4
The Lone Bellow, Nov. 29
Bela Fleck & Abigail Washburn, Feb. 9
Milk Carton Kids, Feb. 28
Leo Kottke, April 18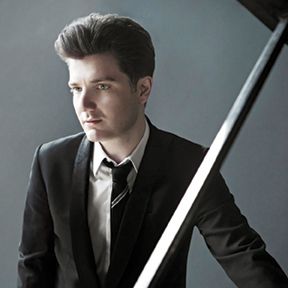 West Michigan Symphony - Alessio Bax. Courtesy Photo
West Michigan Symphony
360 W. Western Ave. Ste. 200, Muskegon
westmichigansymphony.org, (231) 726-3231
Music Director Scott Speck is keeping West Michigan Symphony's season interesting as always, kicking off with a show that celebrates "lush, powerful, celebratory and grand" classical music, such as Bernstein's Overture to Candide and Berlioz' Roman Carnival.
Then, the Scheherazade Showcase changes it up with marimba and tuba in the spotlight, each performing a concerto of their own before moving into the titular piece, which gives the entire symphony a chance to shine.
After the holiday show, pianist Alessio Bax joins to perform the elegant Mozart's Piano Concerto no.21 alongside Vivaldi's joyous and sunny Gloria, performed with the Chamber Choir of Grand Rapids.
The pops season brings Broadway's Golden Age to the stage, along with songs from Disney's classic movies. Then it's back to classical with guitarist Sharon Isbin joining for Beethoven's 7th and Vivaldi's Guitar Concerto. The season closes out with Slavic Fire, bringing in pianist Natasha Paremski for Chopin's ultra-Romantic Piano Concerto no.2 and Shostakovich's Symphony no.5.
Festival Season Opening, Sept. 28
Scheherazade Showcase, Nov. 2
Home for the Holidays, Dec. 14
Choral Fantasy, Feb. 1
Classic Broadway, March 15
Disney in Concert: Around the World,
April 26
Sharon Isbin & Beethoven's 7th, May 10
Slavic Fire, June 7 n