At last, arts exhibitions and performances have returned in full swing to West Michigan.
This season, there's heaps and mounds to look forward to in the year ahead. We have big Broadway shows like Hadestown, Six and Beetlejuice coming through; the return of live performances with symphonies and ensembles taking to the stage; and powerful art exhibitions exploring race, culture and the future.
With any luck and lots of work, all these amazing events and more will be coming to West Michigan in the year ahead — just remember to check with organizations to confirm details.
MUSIC
Grand Rapids Symphony
300 Ottawa Ave. NW Ste. 100, Grand Rapids
grsymphony.org
Richard and Helen DeVos Classical:
Beethoven's Fifth + Sarah Chang, Sept. 16-17

Strauss' Also sprach Zarathustra, Oct. 7-8

Timothy McAllister: The Saxophone Virtuoso, Oct. 21-22

Organ Symphony and Cameron Carpenter, Nov. 4-5

Night on Bald Mountain + Andrei Ioniță, Jan. 6-7

Rachmaninoff 3 + Sergei Babayan, Feb. 3-4

Ravel's Daphnis et Chloé, Mar. 10-11

Mozart's Requiem + Joyce Yang, Mar. 24-25

Dvořák 7 + Sitar Concerto, Apr. 28-29

Mahler's Titan, May 19-20
The Pianists:
Natasha Paremski, Oct. 2

Andrew von Oeyen, Mar. 5
Fox Motor Pops:
Dancing in the Street: Music of Motown, Sept. 30

The Polar Express in Concert, Nov. 18-20

University of Michigan Health-West Holiday Pops, Dec. 1-4

Pops Knockouts with Caroline Campbell, Jan. 20-21

Cirque Musica: Gershwin's Rhapsody, Mar. 3-4

Prohibition: The Rise of the Jazz Age, Apr. 21-22
Chamber Series:
Mozart's Paris, Sept. 23

Beethoven's First, Feb. 24

Haydn's London, Apr. 14
Special Events:
Harry Potter and the Deathly Hallows Part 1 in Concert, Jan. 27-28

Harry Potter and the Deathly Hallows Part 2 in Concert, Jan. 28-29

Brass Transit: The Musical Legacy of Chicago, Apr. 1
Fontana Chamber Arts
359 Kalamazoo Mall Ste. 200, Kalamazoo
fontanamusic.org
Catalyst Quartet, Sept. 30

Saint Lawrence String Quartet, Dec. 2

Immanuel Wilkins Quartet, Mar. 24

Chamber Music Society of Lincoln Center, Apr. 28
Frauenthal Center
425 W. Western Ave., Muskegon
frauenthal.org
Tiempo Libre, Oct. 22
Black Violin, Feb. 26
Holland Symphony Orchestra
96 W. 15th St. Ste. 201, Holland
hollandsymphony.org
Onstage with HSO, Sept. 10

Pulling Out the Stops: Huw Lewis, Sept. 24

Symphonie Fantastique, Oct. 15

Holiday Concert: Celebrate the Season, Dec. 10

Dance Into Spring, Mar. 19

Romantic Masterpieces, Apr. 22
Kalamazoo Symphony Orchestra
359 Kalamazoo Mall Ste. 100, Kalamazoo
kalamazoosymphony.com
Masterworks Opening Night, Sept. 24

Afternoon of Jazz, Oct. 2

Flora, Fauns & Beethoven's 6, Oct. 22

Bruckner: An Epic Symphony, Nov 12

Holiday Pops, Dec 3-4

Modern Marvels, Jan 29

Jurassic Park, Feb. 24

An All-American Celebration, Mar. 18

Brahms: A Requiem to Hope, Apr. 15

Afternoon on Broadway, Apr. 30

Season Finale, May 20

Takes on Tango, Jun. 4
St. Cecilia Music Center
24 Ransom Ave. NE, Grand Rapids
scmc-online.org
Chamber Music Society of Lincoln Center:
Beethoven to Beach, Nov. 17

Magical Schubert, Jan. 19

Delight & Drama, Mar. 23
Spectacular Jazz Series:
Rodriguez Martinez Duo, Oct. 13

Artemis, Feb. 16

Emmet Cohen Trio, Mar. 9
Acoustic Cafe Folk:
Janis Ian: Last North American Tour, Oct. 19

The Wood Brothers, Oct. 27

Mat Kearney, Nov. 18

Chris Thile, Feb. 5

Josh Ritter, Mar. 2
West Michigan Symphony
360 W. Western Ave. Ste. 200, Muskegon
westmichigansymphony.org
Music of John Williams, Sept. 30

Rachmaninoff and Tchaikovsky, Nov. 4

Clickity Clack Ho Ho Ho, Dec. 3

Home for the Holidays, Dec. 16

Mozart and Haydn, Mar. 3

Chaplin's Smile, Mar. 24

Louis Armstrong Tribute with Byron Stripling, Apr. 28

Brahms Symphony No. 2, May 19

Holst: The Planets, Jun. 9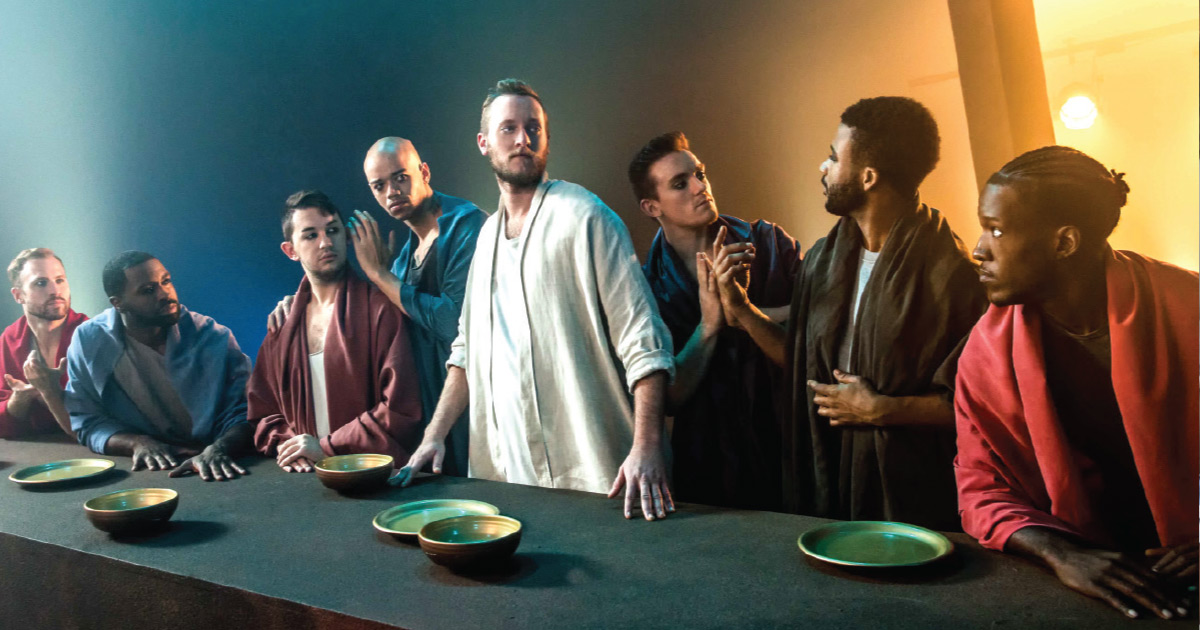 Jesus Christ Superstar at Wharton Center. Courtesy Photo
THEATER & DANCE
Broadway Grand Rapids
122 Lyon St. NW, Grand Rapids
broadwaygrandrapids.com
Tootsie, Oct. 11-16
Come From Away, Nov. 8-13
Six, Jan. 10-15
My Fair Lady, Apr. 11-16
Hadestown, May 9-14
Disney's Frozen, Jul. 11-23
Central Park Players
421 Columbus Ave., Grand Haven
centralparkplayers.org
Witch, Oct. 14-22
Guys on Ice, Dec. 9-17
Four Places, Mar. 3-11
Rumors, May 12-20
Farmers Alley Theatre Kalamazoo
221 Farmers Alley, Kalamazoo
farmersalleytheatre.com
A Gentleman's Guide to Love and Murder, Sept. 22- Oct. 9
A Swingin' Christmas: The Tony Bennett Musical, Nov. 18-Dec. 11
The Great Leap, Jan. 27-Feb.12
Becoming Dr. Ruth, Mar. 10-19
Chicken & Biscuits, Apr. 21- May 7
Rent, Jun. 23-Jul. 9
Frauenthal Center
425 W. Western Ave., Muskegon
frauenthal.org
The Nutcracker, Dec. 17
DETROIT '67, March 9-11
Festival Playhouse, Kalamazoo College
1200 Academy St., Kalamazoo
festivalplayhouse.kzoo.edu
Othello, Nov. 3-6
Gilmore Theatre/WMU Theatre
1903 W. Michigan Ave., Kalamazoo
wmich.edu/theatre
The Lightning Thief, Sept. 23-Oct. 8
The Tempest, Sept. 30-Oct. 9
The Thanksgiving Play, Oct 28-Nov. 9
Pippin, Nov. 11-20
Next Stop, Broadway!, Dec. 1-3
Dontrell, Who Kissed the Sea, Jan. 26-Feb.5
Conversations in the Gallery, Feb. 17-26
On The Town, Mar. 17-26
The Play That Goes Wrong, Apr. 7-16
Grand Rapids Ballet
341 Ellsworth Ave. SW, Grand Rapids
grballet.com
Elemental Movement, Oct. 14-16
The Nutcracker, Dec. 9-18
Romeo & Juliet, Feb. 17-19
Jumpstart 2023, Mar. 24-26
Ballet + Broadway, Apr. 21-30
Grand Rapids Civic Theatre
30 N. Division Ave., Grand Rapids
grct.org
The Revolutionists, Sept. 23-Oct. 9
Mary Poppins, Nov. 18-Dec. 18
Once On This Island, Jan. 20-Feb. 5
Puffs, Mar. 2-12
Ten For All, Mar. 17-19
Something Rotten!, Apr. 28-May 21
Jewish Theatre Grand Rapids
2727 Michigan NE, Grand Rapids
jtgr.org
Crossing Delancey, Sept. 28-Oct. 9
The Creation of the World and Other Business, Feb. 2-12
Indecent, Apr. 20-30
Kalamazoo Civic Theatre
329 S. Park St., Kalamazoo
kazoocivic.com
Disney's Newsies, Sept. 16-Oct. 2
Side by Side by Sondheim, Oct. 7-16
Pride and Prejudice, Oct. 21-30
Puffs, Nov. 11-20
Meet Me in St. Louis, Dec. 2-18
A Raisin in the Sun, Jan.13-29
Clybourne Park, Jan. 27-Feb 5
First Date, Feb. 10-19
The Rainbow Fish Musical, Mar. 3-12
Morning's at Seven, Mar. 17-26
Polkadots, Apr. 21-30
The Hunchback of Notre Dame, May 5-21
Miller Auditorium
2200 Auditorium Dr, Kalamazoo
millerauditorium.com
Anastasia, Oct. 7-8
Hairspray, Nov. 4-5
The Book of Mormon, Jan. 27-28
Cats, Feb. 17-18
Jagged Little Pill, Mar. 10-12
Muskegon Civic Theatre
425 W. Western Ave., Muskegon
muskegoncivictheatre.org
Seussical, Jr., Sept. 10-11
Return to the Forbidden Planet, Oct. 7-22
Inspecting Carol, Nov. 18-Dec. 4
Anne & Emmett, Jan. 13-21
Miss Holmes, Feb. 10-25
Cinderella, May 4-7
Opera Grand Rapids
1320 E. Fulton St., Grand Rapids
operagr.org
Pirates of Penzance, Oct. 28-30
The Last American Hammer, Feb. 17-19
Aida, May 5-7
Wellspring/Cori Terry & Dancers
359 S. Kalamazoo Mall, Kalamazoo
wellspringdance.org
Fall Concert of Dance, Nov. 18-20
Regional Alternative Dance Festival, Mar. 3-5
Spring Concert of Dance, May 19-21
Wharton Center for Performing Arts
750 E. Shaw Ln., East Lansing
whartoncenter.com
Pretty Woman, Dec. 13-18
Jagged Little Pill, Jan. 31-Feb. 5
Beetlejuice, Mar. 14-19
TINA, Apr. 18-23
Wicked, May 10-28
Jesus Christ Superstar, Jun. 13-18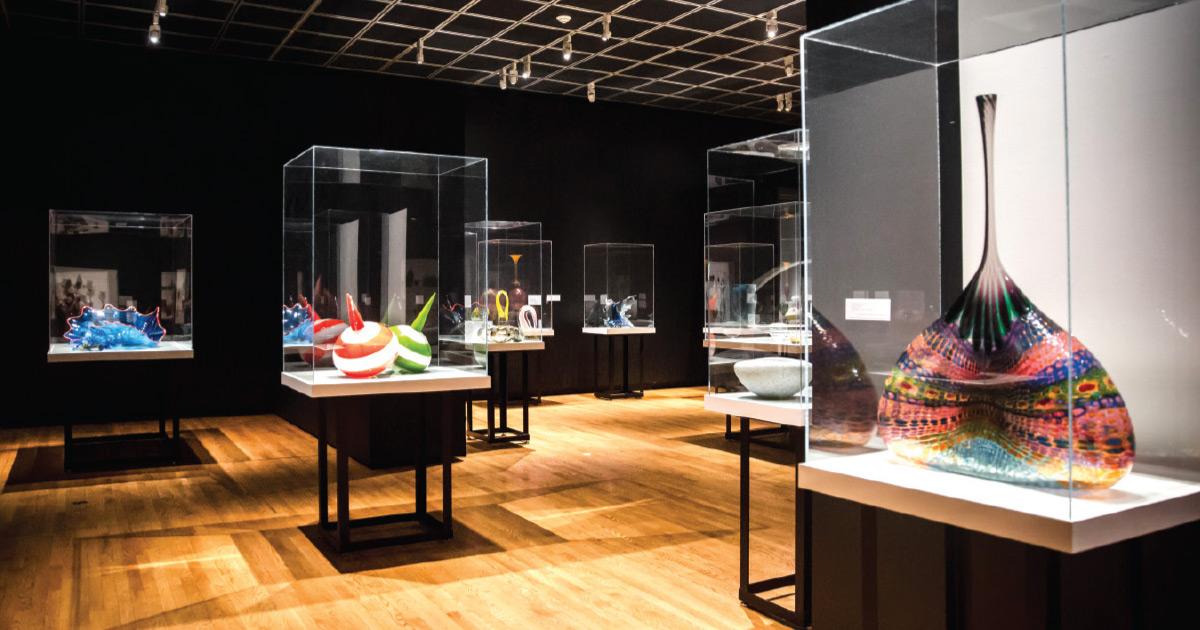 Muskegon Museum of Art. Courtesy Photo
VISUAL ARTS
Broad Art Museum
547 E. Circle Dr., East Lansing
broadmuseum.msu.edu
Latoya Ruby Frazier: Flint is Family in Three Acts, Aug. 6-Jan. 29
Celebrating Zaha Hadid's Designs, Sept. 10-Feb. 12
Grand Rapids Art Museum
101 Monroe Center, Grand Rapids
artmuseumgr.org
An Extraordinary Legacy: The Miner S. and Mary Ann Keeler Collection, May 17-Oct.8
ArtPrize 2022 at GRAM: Andrea Dezsö, Sept. 15-Jan. 14
The Jim Henson Exhibition: Imagination Unlimited, Oct. 1-Jan. 14
Rethinking Monuments: American Sculpture in its Time, 1850-2000, Jan.13-Apr.8
Kalamazoo Institute of Arts
314 South Park St., Kalamazoo
kiarts.org
Unmasking Masculinity for the 21st Century, Sept. 24-Dec. 29
Captive Beauties: Depictions of Women in Late Imperial China, Oct. 25-Jan. 15
Balancing the Cosmos: Works by Li Hongwei, Through Oct. 2
Unveiling American Genius, Through Dec. 31
LowellArts
223 W. Main St., Lowell
lowellartsmi.org
Fallasburg Arts Festival, Sept. 17-18
U-Create: LowellArts Member Exhibition, Through Oct. 8
GVSU Art Gallery
1 Campus Dr., Allendale
gvsu.edu/artgallery
As Is: Beauty and the Body in Contemporary Art, Aug. 26-Nov. 5
Among Friends: Mathias J. Alten and His Michigan Contemporaries, Sept. 9-Apr. 30
ArtPrize 2022: The Word on the Street & Peace Signs, Sept. 15-Oct. 3
Anatomy of an Image: Stewart Ashlee and His Artistic Process, Nov. 4-Mar. 18
Photographs by David Lubbers, Nov. 4-Mar. 18
Frauenthal Center
425 W. Western Ave., Muskegon
frauenthal.org
Valentina Gregorieva, Aug.-Sept.
Wayne Pierce, Oct.-Nov.
Mary Jane Pories, Dec.-Jan.
Franciscan Artists, Feb.
Muskegon Showcase, March
Janine Zomermaad, Apr.-May
Henry Droski, June-July
Muskegon Museum of Art
296 W. Webster Ave., Muskegon
muskegonartmuseum.org
Bruce McCombs: City Journeys, Sept. 8-Nov. 6
The Rise of Print: Rembrandt & Company, Sept. 15-Mar. 19
93rd Michigan Contemporary Art Exhibition, Oct. 6-Nov. 30
Saugatuck Center for the Arts
400 Culver St., Saugatuck
sc4a.org
Scotty Jacobs, Through Dec. 31
Lettuce Grow, Through Dec. 31
Urban Institute for Contemporary Arts
17 Pearl St. NW, Grand Rapids
uica.org
Portals: Alfield Reeves, Through Oct. 22
Impulsive/Decisive: Works from the O'Neill Collection, Through Oct. 29
Grand Rapids African American Museum and Archives
87 Monroe Center St. NW, Grand Rapids
graama.org
All That Jazz
African American Travel
Riot, Race, Reconciliation: The 55th Anniversary
Negro League
Black Cookbooks
Afro Imagery
Buttons for the Cause