Harvest Dinner Series with Fred Bueltmann
Salt of the Earth, Fennville
Oct. 3, 6:30 p.m.
(269) 561-7258
beervangelist.net
When Fred Bueltmann and Brett VanderKamp first started homebrewing in the early Nineties, that little invention called the Internet was still in technological diapers. The veritable goldmine of brewing knowledge available to today's hobbyist – YouTube videos, instructional DVDs, group classes, etc. – simply didn't exist.
Armed only with their passion for beer, a high tolerance for trial and error and the few books on homebrewing available at the time (Bueltmann's bible was Charlie Papazian's The Joy of Homebrewing, while VanderKamp cites Bill Owens' How to Build a Small Brewery as a major influence), the two men embarked on separate journeys of craftsmanship that eventually led them both to New Holland Brewing Company. VanderKamp founded the craft brewery and currently serves as its president, while Bueltmann came on board as overseer of branding and distribution in 2004.
"I had some beers that were really good and some that weren't so good, but I generally drank them all," VanderKamp said of his early brewing attempts,
Experience is undoubtedly a novice brewer's best friend, but he pointed out that "if you really want to dive in deeper, there's a lot of good literature out there on how to brew."
Now, as seasoned brewing veterans and leaders of one of America's premier craft breweries, the pair have decided to give back to the universe of brewing wisdom by authoring books of their own.
VanderKamp's book, Art in Fermented Form: A Manifesto, is a collection of personal experiences, historical anecdotes and musing on the brewing industry and culture that reflects his particular philosophy on the craft his career has helped define.
"It's talking about bringing an artisanal approach to what we do," VanderKamp said. "Not just doing it for the bottom line, but doing it because it's creative and adds value beyond just being beer."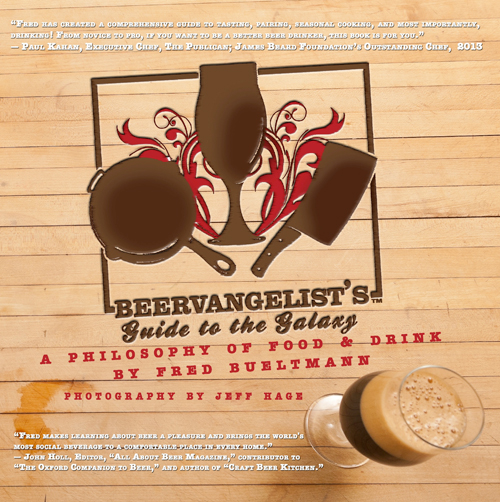 Drawing upon VanderKamp's extensive professional experience, the book aims to read lightly, appealing to the whole spectrum of beer culture by sharing an intimate perspective on why brewers do what they do and why the industry is defined more by collaboration than competition.
"[The brewing industry] is one of the greatest fraternities of folks that have just a great time together and is very collegial," he said. "I don't know of another industry in the world that's like that."
Bueltmann may be in charge of a large portion of New Holland's business operations, but his true passion is flavor. Writing as his self-appointed alter ego, The Beervangelist, Bueltmann explores the consumption side of the brewing universe in Beervangelist's Guide to the Galaxy, a captivating blend of tasty recipes and entertaining rants designed to serve as a comprehensive guide for those unfamiliar to the act of pairing delicious beer and mouth-watering food.
"The combination of those worlds [of beer and food] was something I've loved for a long time," he said. "I'm the great interloper between a chef and a brewer. My mission is to bring beer to the people."
Prior to writing Beervangelist's Guide to the Galaxy, Bueltmann spent three years writing a column about the natural union of beer and food. Ultimately, he felt that a book would allow him the freedom and flexibility to better communicate his passion to people.
"It's inviting people to learn more about the subject by telling stories," he said of the book. "In this current climate, there are all sorts of distractions from the simple pleasures of embracing flavor, conversation and social interaction."
By separating the book into sections that correspond with the seasons, Bueltmann gives beer lovers and foodies invaluable advice on how to best take advantage of Michigan's seasonal cycles. He's currently hosting a number of special pairing dinners to promote the book and his personal mission, including one at Salt of the Earth on Oct. 3.
"We like certain foods at certain times of the year because it's natural, it's what's coming out of the earth," he said.
Bueltmann and VanderKamp agree that writing and brewing present an entirely different set of challenges. But despite that difference, there remains an inextricable link between fermentation and communication.
"It's the continuation of where my idea meets someone else's idea and we can sit down over a beer and talk about it," Bueltmann said. "That exchange is more valuable than anything."
To find both books, head to Schuler Books. The local bookstore now has a dedicated beer section that brew enthusiasts of all degrees could spend hours in. You can find tons of great information on homebrewing, beer styles and beer history, and if you're lucky, you just might discover a career.