E.L. Doctorow's 1975 best-seller, "Ragtime," probably would not rank high on anyone's list of books that cry out to be turned into musicals.
A portrait of America in the early 20th century, it follows an anonymous, well-to-do family from New Rochelle, N.Y., as they make "Forrest Gump"-ian connections with some of the major figures of the day, brushing up against a few controversies along the way.
How low-profile is this clan? We never even learn most of their proper first or last names: They are merely Father, Mother, Younger Brother, Grandfather, etc. Many of the celebrities that cross their paths, such as Emma Goldman, Evelyn Nesbit and Admiral Peary, also lost "household name" status decades ago.
And yet, as the Grand Rapids Civic Theatre's excellent production demonstrates, "Ragtime," with its scenes of African-Americans taking to the streets to demand justice and immigrants being marginalized and abused by "real Americans," feels almost eerily timely today. Although the events we see occurred a century ago, they are not terribly far removed from what you saw on your Facebook page or in your Twitter feed this morning.
The sheer size and scope of "Ragtime" could easily overwhelm even a seasoned director, but the Civic's executive and artistic director, Bruce Tinker, has done a superb job of presenting the spectacle without burying the emotions that drive it. He shows commendable control of the action and activity, beginning with the opening sequence.
At the start, an assembly of starchy white socialites in white linen suits and white gowns first make way for a group of loose-limbed, hip-shaking African-American dancers from Harlem and then for a bunch of fresh-off-the-boat Eastern European immigrants dressed in well-worn black suits and gray dresses.
Despite its dozens of cast members and frequent shifts of scenery and settings, "Ragtime" never turns into an old-school traffic jam, largely due to Tinker's firm guiding hand, Torrey "T-3" Thomas' smooth, sharp choreography and the precision and skill of assistant director/stage manager Chris Carnevale and his terrific team in the wings.
A large screen at the back of the stage illustrates and enhances the period flavor with lush black-and-white video images: rough seas behind the ships of North Pole-bound Admiral Perry and New York-bound refugees from Latvia; vintage vaudeville publicity pictures of escape artist Harry Houdini and the scandalous beauty Evelyn Nebit; roaring flames to represent the dangerous conditions for low-wage workers in sweatshops.
Music director Wright McCargar leads a first-class band of musicians who deliver a muscular sound that surrounds but rarely overwhelms the outstanding chorus and soloists. So opulent and finely-tuned is the show that on the rare occasions when something is amiss — a high note that doesn't quite go high enough, or a beard that looks like it was fished out of the bargain bin at a Halloween store — it's as jarring as seeing a plate of pickled pig's feet at an afternoon tea.
Terrence McNally's book captures the novel's key plot points, beginning in 1908 as Father (Jason Morrison) and Mother (Emily Diener) are enjoying the quiet life in New Rochelle, a comfortable distance from the gritty, grimy and sometimes glamorous streets of New York City.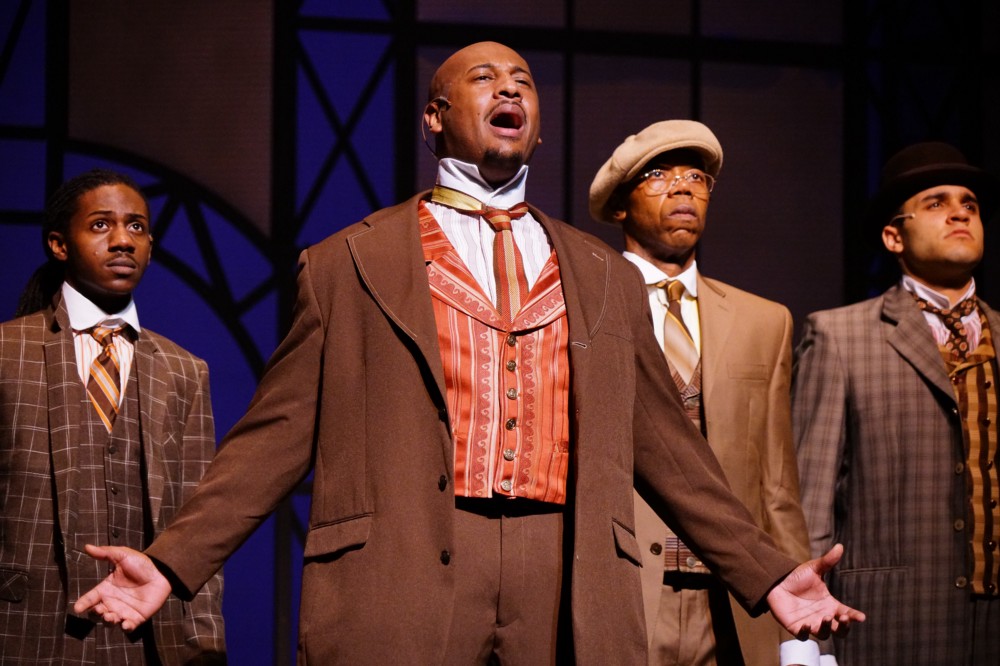 Shortly after Father sails off with Admiral Perry on an expedition, Mother makes a discovery of her own: an African-American baby boy, who has been abandoned in her garden by down-on-her-luck laundress Sarah (Marissa Baty). Defying both convention and authority, Mother opens her home to Sarah and her child and soon meets the boy's father, successful ragtime pianist Coalhouse Walker Jr. (Michael Stewart), who is eager to win Sarah back.
Meanwhile, Mother's anxious Younger Brother (TJ Clark) becomes obsessed first with the provocative stage star Evelyn Nesbit (Lauren Harris) and then with the fiery anarchist Emma Goldman (Stacey L. Wykoski), who rails against the system that allows capitalist giants like Henry Ford (Todd Osbeck) and J.P. Morgan (Michael Dodge) to live like emperors while the men and women (and children) who help build their empires barely make enough to pay the rent on filthy, drafty rooms in the slums. Immigrants like Tateh (Bart Sumner) pass through Ellis Island with stars in their eyes, only to find disillusionment when they are corralled into a new world of assembly lines, hothouse factories and back-breaking labor.
But this is America, where reversals of fortune can be as swift and astonishing as Houdini slithering out of a straitjacket. Coalhouse's beloved Model T becomes a symbol of both new-found prosperity and age-old prejudice, creating a shocking situation that violently exposes the tensions between the haves and the have-nots. Eventually, Coalhouse will find himself facing — and facing off with — the man who was once his idol, the legendary educator and author Booker T. Washington (Michael Travis).
The multi-faceted story is well told by a first-rate cast, spearheaded by Diener's powerful turn as Mother, who makes the transition from obedient wife to socially conscious, strong-willed matriarch thoroughly convincing and inspiring. Clark brings out the pathos in the idealistic but misguided Younger Brother, eloquently communicating his need to find a purpose.
Sumner captures the determination and drive of Tateh, as he navigates the difficult road to opportunity, and Stewart, in his Civic debut, is a forceful, charismatic presence as Coalhouse. He's wonderfully matched by Baty's wary Sarah, who delivers "Your Daddy's Son" in a lovely, expressive voice that is equal parts "quiet storm" queen Anita Baker and gospel-infused Aretha Franklin. When Stewart and Baty join forces for the tender "Sarah Brown Eyes" and the show's anthem, "Wheels of a Dream," their combined energy rocks the heart.
And although Shane German's sly Houdini, Wykoski's rabble-rousing Goldman, and Harris' sassy/sensual Nesbit all don't get enough time to emerge as fully developed characters, each of the performers gives them plenty of personality.
"We can never go back to before," Mother declares in her solo near the end (a number that Diener's formidable soprano turns into a whopper of a showstopper). Perhaps the most remarkable quality of the Civic's "Ragtime" is that it ultimately makes us wonder if we ever really left yesterday behind, or if we are still playing the same scenes and themes 100 years later.
Ragtime
Grand Rapids Civic Theatre
30 N. Division Ave., Grand Rapids
Feb. 24-March 19, $18-37
grct.org, (616) 222-6650