Adult comics will bring kids' imaginations to life with a free show at this year's Gilda's Laughfest.
This is the second annual show directed by local comedian Amy Gascon, who performs in various comedy and improv groups in Grand Rapids.
A director at the Creative Youth Center, which offers free children's writing programs, in 2015 saw one of Gascon's shows and invited her to teach a summer program at the center.
"For summer, I did a couple-week program working with the kids on writing comedy material," Gascon said. "Later that fall, as a fundraiser and 'friendraiser,' we put up their work with adult actors. … It was used to raise money for the organization but also to raise awareness for it."
Now two years in the making, the program has evolved. The writing programs are now taught by volunteers and the children are encouraged to write more in-depth characters.
The show is called Characters that Lived. Gascon directs the actors, who each embody a character created by one of the child writers.
"The kids were given a prompt to write different character descriptions and different questions about these characters," Gascon said. "Then I give them to my actors, who will embody the characters and put them into improv games."
The show is narrated by a Tooth Fairy who is sharing bedtime stories with the audience. Gascon may choose three characters that would make a certain scene lively and entertaining, like going on a search for something. The audience may suggest where the direction of the scene will go and the actors will take on the scene as the characters, while using names, catchphrases and details the children provided.
"They're wild," Gascon smiled. "And awesome. It's so out there from anything an adult would write so it's very fun for the actors to play."
Will Oltman, also a local comedian and actor, has performed in all three shows since the program began.
"It's so much fun bringing their characters to life," Oltman said. "The descriptions the kids write are full of rich details. We get to tap into their creativity. When the kid recognizes their character on stage from my performance, it makes me feel great."
Oltman said his favorite characters he's played are "Poopy Pants and "Cimeon the Pirate," for which his beard came in handy.
"Poopy Pants had really tiny baby hands and that was a fun costume," Oltman said. "Cimeon is a pirate from Gula Gula island. It goes without saying that a guy with a big beard was born to play the role of a pirate who isn't afraid of 'megasharks.'"
Gascon said this year's characters are less gender-based. It had been a problem in the past if there were too many characters of one gender and not enough actors to fit the roles.
This year, the actors have three rehearsals before the Laughfest performances.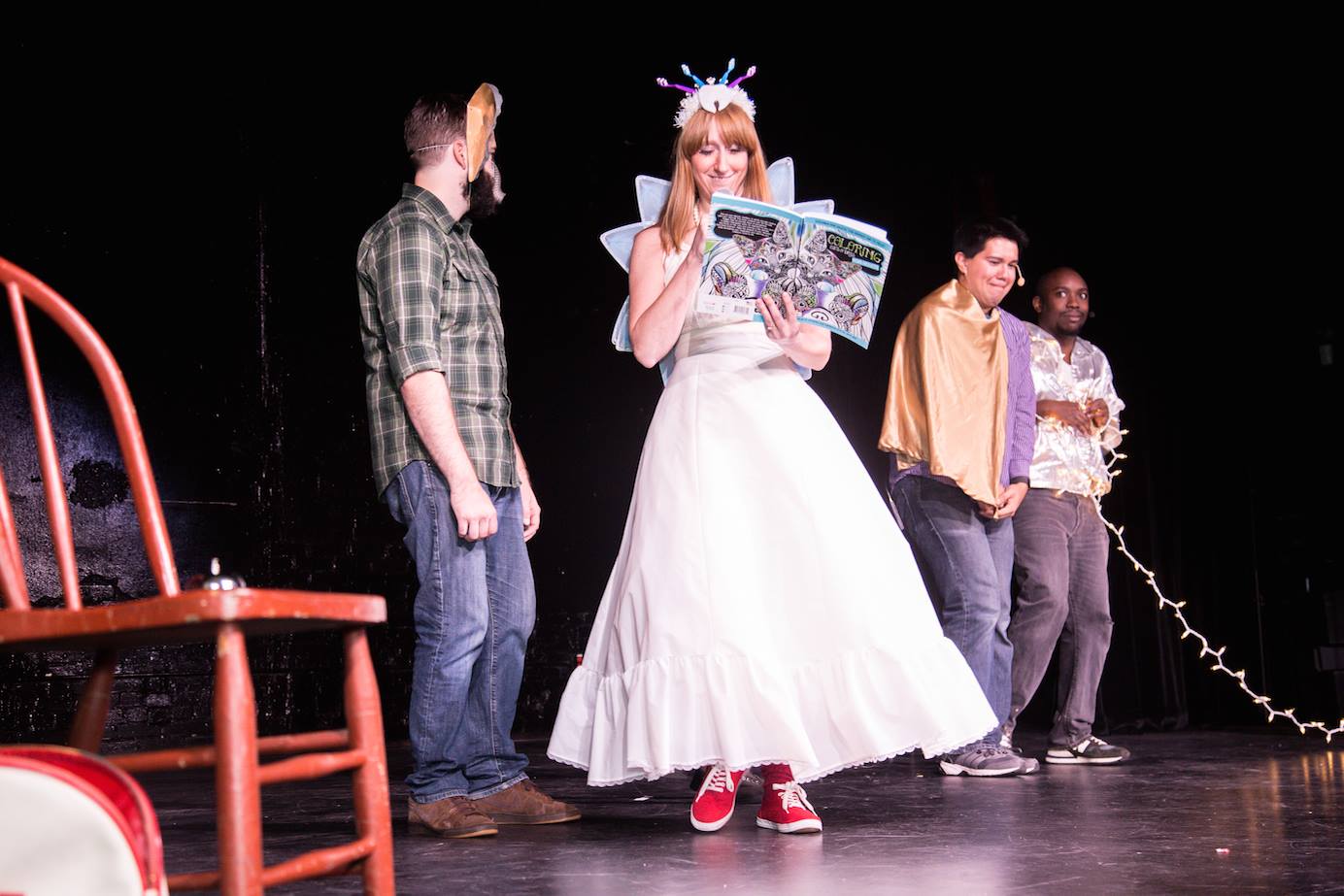 "Other than that, I'll just place my actors with each of the characters and then we'll practice doing the improv games with them," Gascon said.
Gascon says the shows are always "packed," including the writers and their parents.
"It's so fun," Gascon smiled. "It's the most rewarding thing to hear kids laughing at the work that they put up. I didn't put up work until I was about 26 years old and they're already getting to see their work on stage. I think that's a gratifying experience for everyone."
Gascon is a local comedian who hosts GR Comedy Tours, performs in the Last Retort, Funny Girls, No Outlet Improv and SALLT.
She now also works in the Entrepreneurship Department at GVSU, and does improv workshops for business groups who want to incorporate that into their culture. In her busy schedule, she continues to volunteer in her spare time, and directs the improv shows each semester for the CYC.
"It's a unique way to give back to the community using the skillset that I have and that I love to do," Gascon said. "I think more people need to think about their little nook of the world. When people think of volunteering, they think of passing out meals or the generic volunteer opportunities — which are good — but you can kind of incorporate that into your own life and skillset."
Out of all the things Gascon is involved, all the comedy shows and performances, she said this show is the most unique one she works on all year.
"I love all kinds of comedy and I love satire and I love stand-up," Gascon said, adding that the upcoming show is "good, wholesome, funny comedy — stuff that you can laugh at that you don't expect to that you will find as much enjoyment as an adult. So we invite children and families and the like to come to this, but even adults find it humorous."
The one-hour-long shows are free and will be at 12:30 p.m. and 2:30 p.m. on March 18 at Dog Story Theater.
Characters That Lived
Dog Story Theater
7 Jefferson Ave. SE, Grand Rapids
March 18, 12:30 & 2:30 p.m., FREE
dogstorytheater.com, (616) 425-9234