Visceral Dance Chicago's company name could be perceived as intending to mean felt in the gut, or instinctive. One can't help but walk away from a performance feeling the profound sense that this company's work is all that and more.
Just two years after the company was founded, the company was named one of Dance Magazine's 25 to Watch in January of 2015. No doubt, as long as they're in existence Visceral Dance will be one to watch for their glorious range, wildly imaginative choreography rooted in classical ballet (but not confined by it), and glorious presentation.
As part of the company's fifth season, Visceral Dance brought their stunning fall program, a contemporary collection of five dances in two acts, to The Knickerbocker Theatre in Holland last Friday night, wowing the audience with extraordinary technical skill, profound flexibility in body and performance, and astounding artistry.
Perhaps the boldest offerings of the evening were the performance's opening and closing pieces. The show opened with Minor Threat, a lush 30-minute amalgamation of hyper-athletic yet gorgeous balletic dances set to Mozart's Piano Concerto No. 20 in D Minor and performed in hazy golden light that played with shadow, highlighting the extraordinary sinews of each of the 10 dancers' uniquely chiseled bodies, the five women bare-legged and dressed by Paul Dangle in black booty shorts and corsets with a subtle shimmer.
Making use of astonishing pirouettes and grand jetes as well as planks, backbends and profound extensions, with motifs of small gestures such as straight arm fists and wrists rolling in the air, the choreography by Mark Godden and the dancers themselves are more powerfully emotive than cerebral. A sweet, sensual and erotic pas de deux done in tandem is juxtaposed with, at turns, sharp and long lines. There's incredible dynamic tension in the movement pulled off with mind-blowing technique.
Stylistically contrasting is Synapse, the show's riveting closing dance, choreographed by Nick Pupillo, the company's founder and artistic director, and set to rhythmic electronic music with heavy bass by Darryl Hoffman. The piece begins with two lines of dancers standing in front of suspended long, tubular LED lights that flicker on and off. Full of astounding corps work shot through with individual virtuoso performances, the male and female bodies dressed in long-sleeved, high-neck leotards made of veiny red fabric become exquisitely genderless in their ecstatic movements and undulating spines, as if electrified by the light.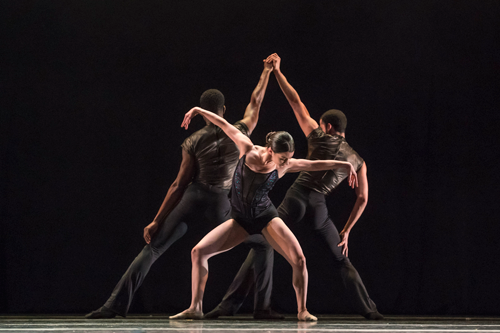 Also profoundly moving is Ruff Celts, choreographer Marguerite Donlon's homage to a genuine Celtic culture and tradition that practically thumbs its nose at the mockery popular culture has made of it. With audible breath, guttural utterances and a blend of contemporary and traditional Irish music, the dancers, dressed in Victorian collars — the men bare chested in black kilts and women in black leotards with knee-high socks — perform a spirited hybridization of classical, modern, Irish and break dance, along with a little twerking and otherwise booty shaking to capture the elemental wildness, joy and tension of Celtic fierceness in what feels like a potent post-colonial cultural critique. It's the best ceilidh you'll ever witness.
Other offerings here continued to show the vast range of what this talented company can do, including the intimate, lyrical, hypnotic pas de trois, She Three, and the world premiere, Pick A Chair, an amusing performance art piece rich with both humor and violence that, on its own, would be quite terrific, and shows the company's tremendous acting ability, but left me feeling greedy for more of the jaw-dropping dancing that fills the rest of the show.
This is dance of a caliber one can't help but admire and be moved by — whether one has a rich understanding of the lexicon of dance, or not. To live in a human body is to connect to this work viscerally. Though Visceral Dance Chicago only performed one night in Holland, they will offer the same program at the Harris Theater in Chicago Oct. 7 — and it will be well worth the drive to see them perform this extraordinary body of work on their home turf.
For more information on Visceral Dance, visit here.