Though relatively new to working in Muskegon's downtown entertainment scene, Eric Messing recalls it as the place where he was first exposed to the performing arts.
At three years old, the Frauenthal Center's new executive director saw his first show, a production of Sesame Street — it immediately ignited his love for the arts.
"I distinctly remember attending this show and in a way, it feels that I have come full circle now being in this role," Messing said.
As the city continues to buzz with new residential and retail development, Messing said it's a great time to head the hidden gem standing in the midst of it all. In the last two decades, between the razing of the former Muskegon Mall and Western Avenue's resurgence, Frauenthal Center was one of the few things that attracted people to downtown.
Once shuttered and spared from its own demolition in the 1970s, the ornate Spanish renaissance-style Frauenthal Theater has weathered many economic storms since opening in 1929. It's now part of the larger Frauenthal Center, a three-story event venue with space for meetings, conferences, receptions, offices, rehearsal halls, concerts and more, and supported in part by Community Foundation for Muskegon County.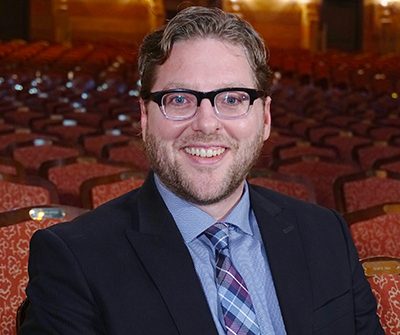 One of the primary things is absolutely the beautiful facility with extensive entertainment options for the entire family," he said of what interested him in the position. "If we look at Muskegon, I think there's an ambitious energy that fills Muskegon and at the heart of it really is the Frauenthal Center."
As a whole, Messing's goal is to work toward the vision and the mission of the center: To be the region's dynamic, historic center for community enrichment that inspires public engagement, sparks economic vitality and reflects the community we serve.
"That's our vision here," he said. "That's a good goal to wake up to every day, that's motivating for me."
Messing joined the Frauenthal Center in October and oversees a support staff of seven, as well as the entire facility. An expansive lobby connects to the Hilt Building, which houses the smaller Beardsley Theater, home to Muskegon Civic Theatre performances, a Reception Gallery showcasing regional artists, and unique spaces for receptions, meetings and smaller concerts. The center includes upper-floor offices and a lower-level restaurant.
"In the few months I've been here, I've been overwhelmed by the amount of stuff going on and the building itself," he said. "It's really a gem for West Michigan."
The position of executive director itself is new. It goes beyond managing the day-to-day operations and encompasses more programming, relationship building and community outreach.
"We want to look at additional sponsorships and donations and growing that donor base," Messing said.
With 1,700 seats to fill in Frauenthal Theater, one challenge in the past has been finding the right entertainment to attract large enough crowds, yet keep tickets affordable and make it financially viable.
The center presents its own shows and rents the theater to larger touring acts and local community groups, including West Michigan Symphony, Muskegon Community College, West Michigan Youth Ballet, West Michigan Concert Winds, Miss Michigan Scholarship Program and more.
"We're definitely a place to experience it all because we have so many offerings," he said. "When it comes to what the Frauenthal is presenting, I really want to focus on quality over quantity."
Messing took a break from arts management for a few years, working for International Student Exchange, but said the field called him back. He is no stranger to West Michigan arts organizations, previously serving as executive director of Broadway Grand Rapids, director of marketing for Circle Theatre Grand Rapids and as an independent arts consultant.
A Grand Rapids native, Messing has a bachelor's degree in communication from Aquinas College and an MFA from Wayne State University in arts management.
"The business side of the arts is definitely where my strengths are, considering my communication skills," he said. "But they go hand-in-hand and I have an appreciation for the many facets of the arts."
Messing and his wife, Carla, live in Coopersville with their two rescue dogs. Citing the slogan "Watch Us Go," he looks forward to growing along with Muskegon.
"There's a lot of really great things happening here and it's great to be part of that energy," he said. "I want to make sure that people remember that the Frauenthal Center is an entertainment destination for them. The facility itself is so stunning that if you haven't been here for a while, now is definitely the time to come and experience it again."
Upcoming Events
Jan. 12, Germanic Classics, West Michigan Symphony
Jan. 12-April 27, The Alley Door Club
Jan. 19-27, Guys on Ice, Muskegon Civic Theatre
Feb. 2, An Evening with Groucho, featuring award-winning actor and director Frank Ferrante
Feb. 9, Hollywood's Greatest Melodies, West Michigan Symphony
Feb. 16-March 3, A Raisin in the Sun, Muskegon Civic Theatre
Feb. 18, Winners and Winds, West Michigan Concert Winds