In any given year, West Michigan has more arts and entertainment offerings than any one person could take in. From national tours to local professional theater, dance and community theater, excellent performances abound all year long. A look back on 2019 reminds us how truly fortunate we are to have access to such world-class artistry right here. We were absolutely wowed by the Best of 2019 that includes locally produced, life-affirming theater and dance.
The Grand Rapids Ballet gained a new artistic director in the 2018 – 2019 season with James Sofranko, while they continued their years-long tradition of premiering new works in the MOVEMEDIA series. MOVEMEDIA: Handmade pushed boundaries exquisitely in its mixed two-hour program of dances from Choreographer-In-Residence Penny Saunders, The Joffrey Ballet's Nicolas Blanc and several Grand Rapids Ballet dancers themselves. Though the dances spoke to political and environmental upheaval, they were terrifically distinct and diverse and also elegant and beautiful, consistently shot through with impeccable technique and artistry.
While the Grand Rapids Ballet is the only professional ballet company in Michigan, Wellspring/Cori Terry & Dancers touts itself as the only professional modern dance company in the state. For 39 years, they have brought Erick Hawkins-style dance and collaborations with musicians and other artists to Kalamazoo audiences. Last spring, they breathed new life into some reprised dances and offered new works in Eyes Back, Feet Forward. It was made even better with the performance of the terrific Last Gasp Collective, a 10-piece hip-hop/jazz/soul fusion band with "a vision of bringing people together to create a moving culture of fearless artists who believe in the spirit of collaboration." The seven dances and 11 songs showcased in Eyes Back, Feet Forward felt alive in the ways only live performance at its best can be. It was so dynamic, in fact, it made even the well-worn and familiar new again.
Musical theater, of course, relies heavily on dance and music to bring stories to life with flair. There was no shortage of extraordinary musicals in 2019, particularly in the summer season. Our Best of 2019 list includes two musicals from summer theaters at the lakeshore: Hope Summer Repertory Theatre's exceptional West Side Story and Mason Street Warehouse's phenomenal A Gentlemen's Guide to Love and Murder.
Directed by Mary MacDonald Kerr with an eye for detail, and with a talented cast and excellent design elements, HSRT's West Side Story maximized its power as a classic. While the depth of theme — love, hate, belonging — is always relevant, this production was especially poignant in this cultural moment, through the particulars of immigration, intolerance and injustice.
In Mason Street Warehouse's glorious A Gentleman's Guide to Love and Murder, murder never looked more gorgeous, sounded more tuneful, or made people laugh so hard and feel not one whit of guilt about it. This multiple 2014 Tony Award-winning, subversive Edwardian tale, in the hands of Director Kurt Stamm, was astounding in all the right ways. With brilliant performances and design, this operetta cum farce, also a kooky killing spree, was utterly gentlemanly, not at all gruesome, and a wickedly smart, gorgeous period piece that delightfully satirized colonialism.
Though grand musicals are the purview of both Farmers Alley Theatre in Kalamazoo and The Barn Theatre in Augusta, the shows from these theaters that make the Best of 2019 list are plays.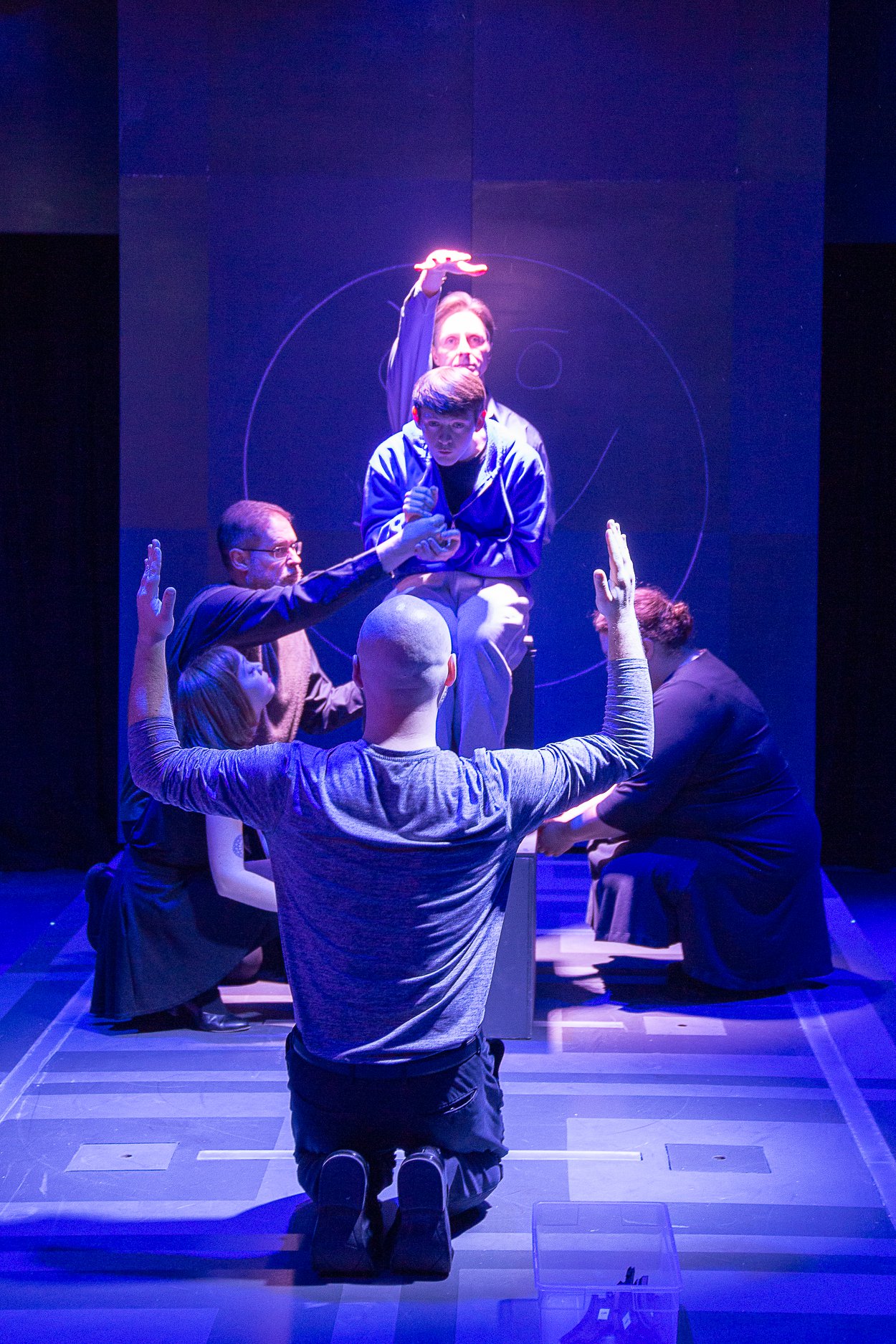 A Curious Incident of the Dog in the Nighttime. Photo by Becky Klose
Farmers Alley's production of A Curious Incident of the Dog in the Nighttime, the brilliant adaptation of the 2003 novel, invited the audience into a heightened sensory experience of what it's like to be on the autism spectrum. Through tremendously imaginative staging and gripping yet also comedic performances, this show, directed by J. Scott Lapp, created an extraordinary achievement in storytelling that undoubtedly deepened audience members' understanding and empathy.
Another astounding piece of storytelling came from The Barn Theatre last summer with their all-star cast in the beloved Steel Magnolias, the now classic period piece set in a small-town Louisiana beauty parlor in the 1980s where six of the biggest, funniest, realest women ever written banter, bicker, share extraordinary intimacies, and wreak havoc with sass together. The Barn's production, directed by Hans Friedrichs, was perfect in every way and therefore created the conditions in which the audience was utterly transported — to that time and place, yes, but also deep into the rich emotional landscapes of this intergenerational tribe of women.
This year offered a vast array of performances that surprised and delighted us; however, the homegrown professional dance and theater from Grand Rapids Ballet, Wellspring/Cori Terry & Dancers, Hope Summer Repertory Theatre, Mason Street Warehouse, Farmers Alley Theatre, and The Barn Theatre went above and beyond in their artistry and technique to create experiences we'll never forget.