Growing up on a farm in rural Illinois, William Campbell was drawn to building, creating, fixing and imagining from a very young age. It's no surprise that he constructed something intriguing in Anvil Goods — a furniture design and building company run by Campbell and his wife, Meg. The shop specializes in home furniture goods, such as tables, benches, desks and shelving, as well as some commercial builds for the interiors of local businesses, including the cash wrap counter and maple shelves for the Wealthy Street leather goods store Mercy Supply. Campbell's idea of success is to continue to provide heirloom quality pieces for customers to love for years, and to make enough profit for road trips to the UP and southwest.
What called you to becoming a maker?
I've always loved the combination and arrangement of shapes and lines. My LEGO castles were never built according to the instructions included in the box and that love of making something interesting and beautiful out of a pile of pieces or a group of ideas and inspirations has stuck with me.
How do some of your ideas and design visions come to you?
Some of my favorite designs have been inspired by the wood itself, what the grain was doing and the natural shape of the tree. In these cases, all I have to do is bring that beauty to the surface and complement it with the right shapes, textures or contrasting components.
Tell us about your workspace. Do you listen to music while you work?
The Anvil Goods shop is in an old industrial building — used to be a furniture factory in GR's furniture heyday — on the southwest side of town. I always have headphones on, listening to anything from Radiohead to Kendrick Lamar. I've also been working my way through lists of classic literature on audiobook. My favorites are John Steinbeck's East of Eden and anything by Kurt Vonnegut.
Your inspirations?
I would say my style is inspired by mid-century modern and contemporary Scandinavian design. I like those clean lines, simple shapes, a slight '70s geometric feel but with stunning wood grain showcased front and center.
What's the joy in working with wood?
We work with only hardwoods from the Midwest and we're lucky enough to have some of the most beautiful species in the country here. I have connections with a couple of very small sawmill operations in the area that typically salvage large trees out of folks' yards and properties that might have otherwise been destined for the wood chipper. A lot of times, these big unruly trees aren't considered desirable by larger scale lumber mills, because uniform, straight grain is king in cabinetry and finish carpentry. The weird trees with their knots and wild figuring can get rejected from that kind of building, but they're the absolute most beautiful to showcase in, say, a live-edge slab dining table.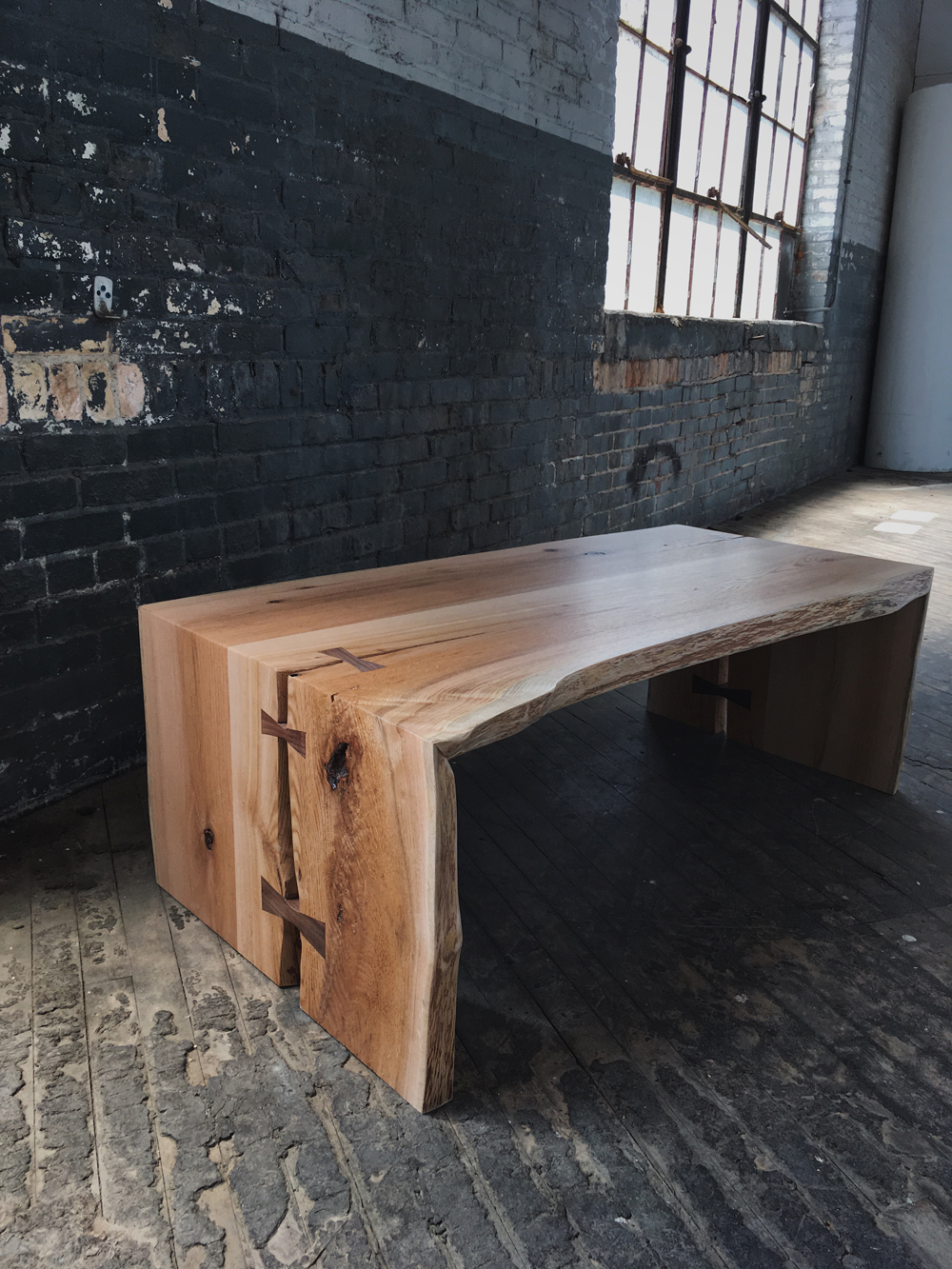 What's it like to be a builder/designer of custom furniture in Grand Rapids?
It's been amazing to grow this kind of a business here. There's such a great history of furniture building and it's an honor to continue that tradition. It's also just a wonderful place to own a small creative business. This city is incredibly supportive of its own and we've been blown away to continually have new clients coming to us having heard about what we're doing through word of mouth.
Are there any artists you look up to?
Frank Lloyd Wright is my favorite. I have two of his designs tattooed on my arm.
Last project you worked on?
A custom kitchen island for a foodie friend who just bought her first home. It had a maple butcher block top, a storage shelf underneath and lean, tapered legs that we torched black in the Japanese shou sugi ban style.
Where can we see your work?
On anvilgoodsdesign.com we have a gallery of some of our favorite custom pieces as well as a contact form if you're interested in commissioning a custom piece. We also have some products and pieces at Mercy Supply. You can see a wider range of projects and more of our process on Instagram.