Like so many artists, Jovannah Nicholson fell in love with art and working with her hands at a very young age. Now she sculpts and creates ceramics, but as a kid it was all about coloring and drawing with her markers before school, which could get kind of messy. One of her mom's favorite stories to tell is how Jovannah's teachers in elementary school thought she wasn't getting bathed enough because she would come in with marker all over her hands. "Putting the caps on the markers could be quite difficult," she said, laughing.
Creating ceramics and large animal busts can also be quite difficult, but for the 32-year-old Kendall College of Art and Design alumna (and now teacher), the love outweighs the frustration. Nicholson said she began wheel-throwing in high school and then in college came across woodworking as well, but ultimately chose ceramics as her medium of choice. Here's what she has to say about it:
What drew you to ceramics?
I grew up towards Lansing and my parents would do art classes at the college. I got to work with clay a little bit there. I did it a little bit in high school too. My art teacher was reluctant to show us a lot of wheel-throwing stuff because it's a lot of practice and a lot of work but he introduced that to us.
Why did you end up leaning toward ceramics over woodworking?
I think with clay I could get more of that instant gratification even though it's still just as long of a process (as woodworking) … but with wood, if you take too much off, you can't redo it. With clay I could kind of get a general sketch, a 3-D sketch, and keep adding and subtracting, without like, 'Oops, I just took a big chunk out and now I'm not able to fix it.'
What do you enjoy about teaching?
I would say watching people grow and get excited about creating something with their hands. Everyone is like, 'Hello, we've seen the movie Ghost. It looks so easy!' But it's not. It is just like anything. It's years of practice. So it's very frustrating to sit down at the wheel and then not be able to do anything. Essentially they end up getting frustrated and either quitting or overcoming that and making a mug. For the most part they push through it.
Usually the story is they've always wanted to do it and they never have. Or they did it once in high school and now they're in their 50s and have a chance to take the class. It's nice that I can offer that to them.
Do you have a favorite piece that you've done?
There was a piece that I did in college, which was one of the first large sculptures that I did, of a walrus who reminded me of my high school art teacher, who passed away my senior year from throat cancer. He was a huge inspiration to me. He was a husky gentleman with a big, bristly mustache — he resembled a walrus to me. I was really struggling, having four studios a semester and (being) a freshman in college losing my mind, and looking for some inspiration. I was like, 'I'm going to make a bust of something I can look at that makes me feel good, or keeps that positive energy going.' A lot of people say they want to come up to it and give it a kiss, so I think I did a good job of capturing a spirit of sorts.
I would say he's my favorite because from there I just kept doing it. I decided that I liked large animals even though they just sit in my mom's garden and the basement and on the table. But now I'm working on getting them on walls so they look like taxidermy heads without really having to hurt anything.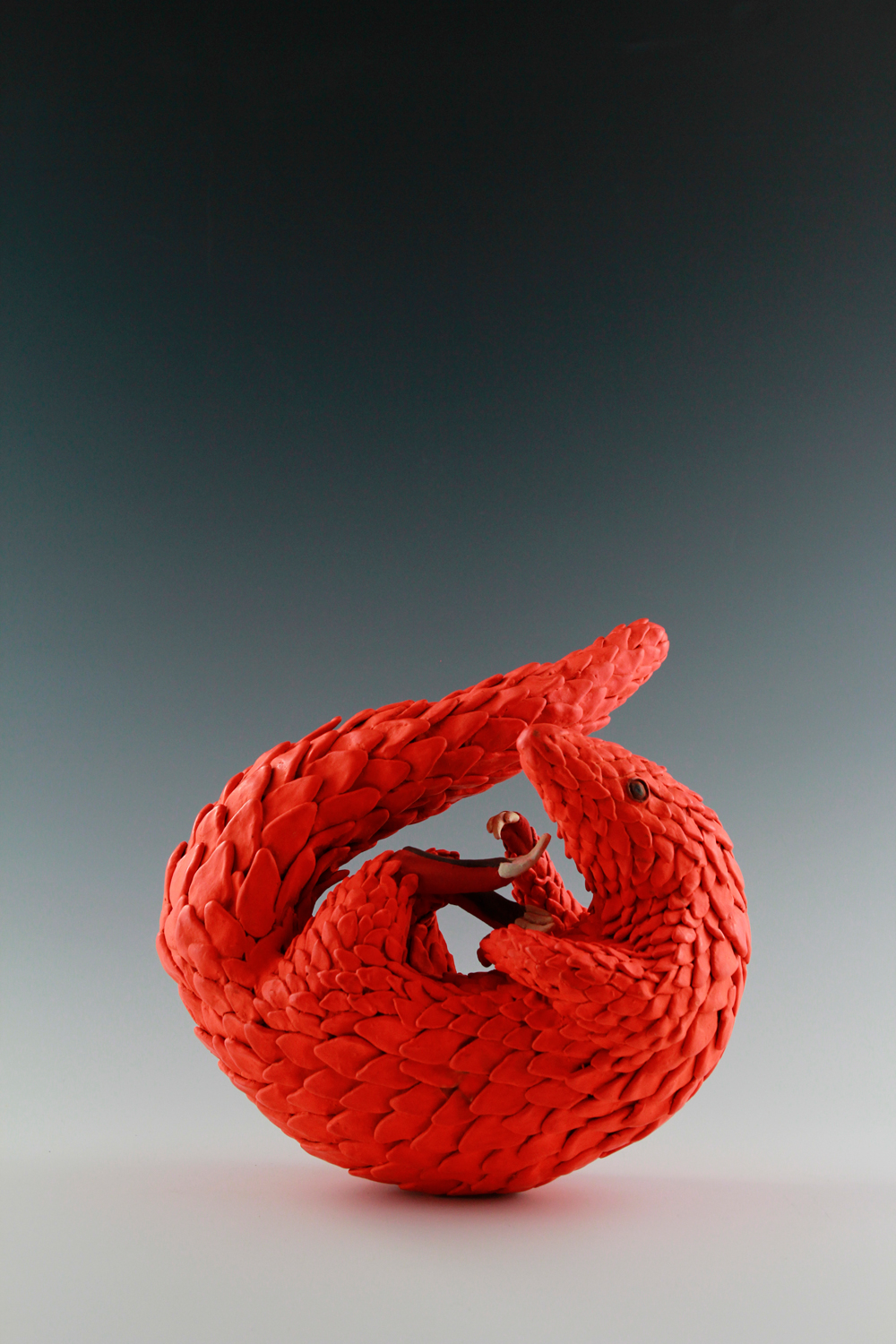 You mentioned ceramics is a frustrating medium, why keep working in it?
It's something you work on for so long that it's kind of pointless to give up. I guess for me, I have access to it and I love working with my hands. There's not a lot of mediums where I can be that physical. I just like it.
With the animal pieces you do, are they often inspired by people?
A lot of them are. A lot of the ones I'm doing right now … I just got out of a very manipulative and abusive relationship which I've never really thought that would happen. A lot of that has been coming out (in my art) because I have no other way. I guess with artists that's how they communicate. They're expressing something. Right now, I'm doing mockups and I'm going to make some pieces about that in ways that are a little more dark.
Do you feel like Grand Rapids is a good place for artists?
I would say it is. We have a lot of opportunities for artists, which I think is awesome. There are more galleries coming up, so I would say it is a nice place, but I do think it could be much better. I would like to see more community ceramic studios because we don't have any other than throughout the college, which is hard to mix, college students and the general community. It doesn't really work. It could be a lot better, but I would say that we're working on it. It's a nice place to find a community, if you're looking for one.