Sitting in a political science class at Northern Michigan University, Esan Sommersell found himself daydreaming.
The only member of his family born in America — his family hails from Guyana — Sommersell went to NMU after high school to pursue pre-law at the prodding of his parents. But the Grand Rapids native and Ottawa Hills High School graduate felt out of place and disengaged. His professor, an eccentric guy who had traveled the world and marched with Martin Luther King Jr., noticed and encouraged him to pursue his real passion: making art.
Now 29 years old, Sommersell has purchased his childhood home on Grand Rapids' southeast side, spreading out paint and supplies, working in his living room. Although he recently took a full-time job, Sommersell plans to keep making art and wants to create a company that invests in others and their dreams. His bright, colorful paintings, many of faces, can be found at City Hall during ArtPrize, along with Creston Brewery, Lions and Rabbits and the Winchester.
When and why did you take an interest in art?
My older brother, Adesina, used to create a lot of concept artwork of various kinds. Vehicles, video game characters — he did it all. I would sneak into his room whenever he was away and trace all of his work. Sometimes I'd have to move with haste, so I developed a keen photographic memory of his work. I did that until I was able to create characters of my own. My brother was a major influence early on.
What's your primary medium? How did you get into painting visages?
My primary medium is acrylics. I paint alla prima (wet-on-wet) style mostly. It started out that I was studying with my professor at Kendall, Jon McDonald. He was kind of my mentor and the chair of the illustration program. He encouraged me to study artists I liked, to figure out my own path. I paint faces because that's something I love about people, how they can convey so much with a look. Looking at someone's face, you're almost looking at a window to their soul.
How did you decide it was something you want to do forever?
I used to ask my peers at Kendall, 'Would you stop creating if others couldn't (see) it?' Many said they would no longer create or that there was no point. Well, for me, I'd still do it. When I confirmed that within myself about seven years ago, I knew I was in it for good.
Where do your artistic ideas come from and how do they develop?
My process is never the same each time. I draw from what I'm inspired by. Lately, I find inspiration in nature and textures in wooden boards from work, bathroom tiles, etc. Also, I observe a lot of different artists and try different ideas that I see. I just treat each project as an experiment so it stays fresh.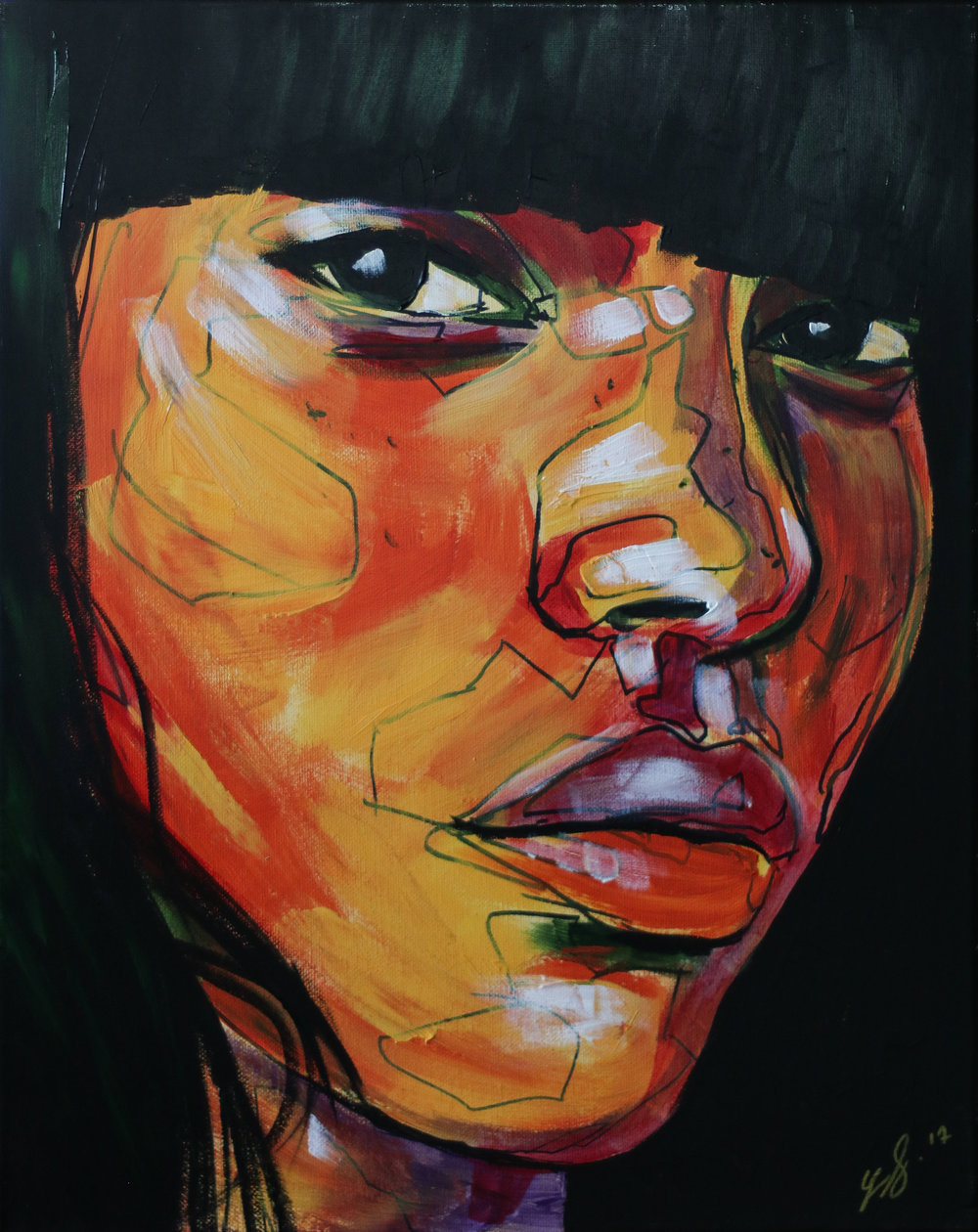 Would you say your art has any consistent themes?
Currently, yes. I have been painting the visages of various people I know personally in addition to a few professional models and celebrities. I'd like to push my work to more abstract and graphic design elements. I want to make sure I'm doing a lot more than the faces. They've just been practice. People will ask, 'What is this? Why did you do it this way?' There is no right way to do anything. I want to expand and give myself a bigger platform to work from.
What are your biggest motivators?
My influence is God. My faith pushes me to explore and exceed my limitations, if (there are) any. I also want to push past obstacles faced as a minority.
Is West Michigan a good place for artists?
West Michigan is a great place for art, but not the greatest for an artist of color.
What are you working on right now?
I'm working on a few different projects at the moment. I have a fundraiser up to generate donations to expand the brand. I'd like to debut a clothing line I have been developing for several years now. I'm also working on a documentary series to promote self-awareness and acknowledgement. Lastly, but not the least, I am sketching out a brand-new painting series using oils primarily. The series has a lot to do with intense and honest emotional experiences.
Do you have any specific aspirations for the future?
I would like to be in a position to inspire others to take charge of their lives before they give up. I want people to truly believe in themselves. To see others driven beyond the likes of myself is at the top of my list of aspirations.