When Katie Maycroft found a Minolta Maxxum 7000i in grandma's closet — it belonged to grandpa — a personal hobby began to turn into something more. The nearly 30-year-old camera has become a close friend to Maycroft, shifting the way the Lowell native sees photography and the world itself. Now Maycroft captures any "shapes, color, patterns and lighting" worth sharing with the world.
What led you to get into photography? What do you like about it?
I was obsessed with magazines as a kid and the photos in them. I wanted a DSLR for a long time and I got a Sony Alpha in 10th grade for Christmas. I used to do those corny '365/1' photo-a-day things on Flickr. I like photography because it's an accessible medium for a lot of people, especially now that there's cameras in phones. I also think it's an art with an almost instant gratification, in the sense that you take the photo and you can see if it's good or not, then try again. I think the work in it comes from learning to get better at it, trying new things, and making something I'm proud of.
Aside from the Maxxum 7000i, what kinds of cameras are you using?
I really like Minolta, so I also have an XD-11 and a Freedom Dual that I use. After shooting 35mm for awhile, I decided to invest in a medium format camera, which is my Fujifilm GA645 that I bought off eBay. I also like using disposable cameras at concerts, beaches, amusement parks, etc. — a lot of places have rules and it's easy to sneak in, it's not tragic if it breaks, and it's fun to play around with sometimes.
Why do you lean toward film over digital?
I gravitate toward film because I'm my own biggest critic. I would see a digital photo I just took on the LCD screen and think, 'Wow, that's bad,' so it was really discouraging to me. I never truly liked my digital photos, thus I never shared them with people. Whereas film, you don't see it right away, so it isn't really in the forefront of my mind. It makes it fun and exciting. There's this kind of constant hoping and guessing that a roll will turn out the way you want it.
What connection do you want the viewer to have with your photos?
With my photos, I just see something and want to share it with others. I feel like in the photos of my partner there's definitely an intimacy to it. Not in a flagrant obvious way, but in a 'here's what we did today' way. I'm obsessed with making things look good. So if I can frame something to make it look good, I'm happy. I sincerely just want people to like looking at my photos. I'm constantly striving to do better and I want to be better. I want to do everything.
What have you done recently that you're proud of?
Recently I did a shoot with Lauren Witvoet and her new line of clothing Handmade Impressions. It was the first shoot I did for someone else, so there was a learning curve for me, but I think the photos turned out really well! She's been posting them on her Instagram and Facebook page @handmadeimpressions.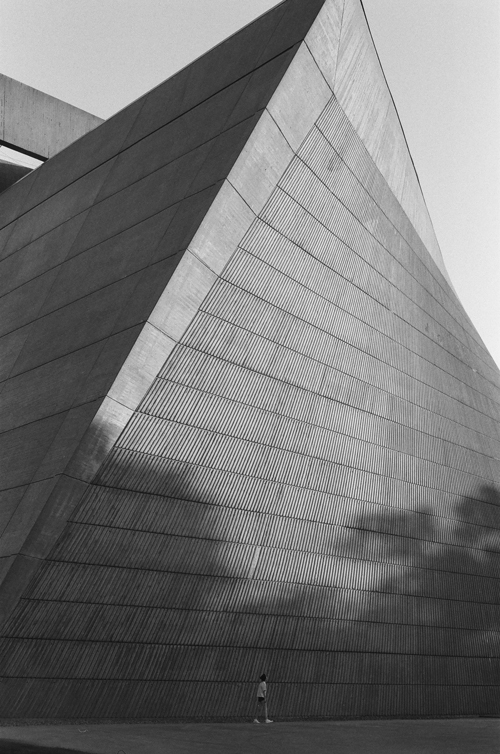 Do you have any plans and/or aspirations for the future?
I have a lot of aspirations, but no true thought-out plans yet. My most pressing thing is that I want to build my own website and maintain it by myself. I also want to make a photo zine of my favorite photos so I can distribute them in a physical form. I've also been starting to dabble in drawing on my photos or adding design into it.
Who are some of your favorite artists?
Well, I love all the art that's hanging in my home that's by my friends: Emily Stephen, Kelsey Bassin, Pearl Beerhorst and Jeff Kraus. And there's people from the internet that I really like: Marcus Stabenow, Tyler Mitchell films, Fred Guillaud, Jeremy Glatre, Taylor Hoff. Then the big ones: Cy Twombly, Rothko, Daniel Libeskind. I could go on.
What inspires you?
Everything and anything, my partner, other artists, the internet, outside, the sunset, my grandma.