As an artist, writer and musician to boot, Ryan Hay is hitting the art scene in Grand Rapids in just about every way. With his unique and abstract artistic pieces, Hay is not only making a name for himself, but also helping other up-and-coming artists collaborate and create with one another through the Collective Artspace, which he helped co-found in 2012.
Tell us a little bit about yourself, where you grew up, etc.
Well, I grew up in Metro Detroit, and I've really been a writer and a musician for my whole life. I didn't start painting until about two-and-a-half years ago. I was in a really bad accident, and I was unable to identify or perform as a musician or as a writer. My wife was a visual artist, and she created kind of a safe space for me to explore painting and it was really meaningful and impactful for me.
What led you to that art?
I really just felt words were inadequate. I was drawn to the immediacy of art. With writing and music there is always this waiting period to see how your audience will respond and form an opinion, but with art they digest it right away.
Why abstract?
I'm drawn to abstract painting because it can communicate emotions despite a lack of language or representation and because it can divorce meaning from intentions, both of which I find liberating and significant for the artist and viewer.
Where do your ideas come from and how do they turn into something visual?
It's mostly intuitive. A lot of the time I end up staring at my materials and my workspace until something comes to me.
What materials would those be?
I've started using a lot of polyurethane, inks, gold leaf, acrylic paints.
When you go to create a piece, what do you want the audience to walk away with?
You know, I've never actually given it much thought before. I think part of the great thing about abstract is that each person can interpret it in their own way and take something different from it. There is no set meaning behind everything, it's all open to the viewer. I suppose I want them to feel calmed, really.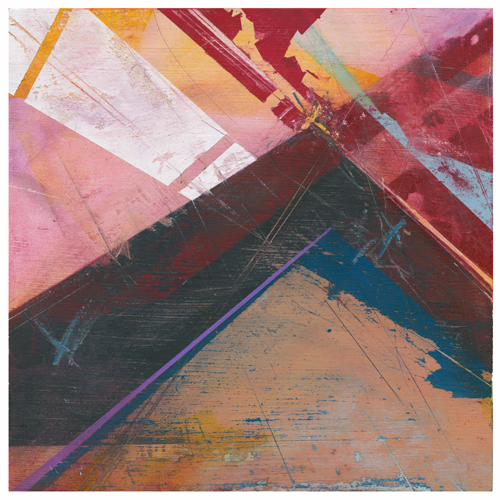 Do you have any big art influences or favorite artists?
James Magee and Donald Judd. Both James Magee and his artwork are impressive to the point that they seem almost impossible and inconceivable, at least by human standards. After visiting Magee's work, The Hill, and on the suggestion of our friends, we traveled to Marfa, Texas to visit Donald Judd's large-scale installations, home and studios. I was only slightly familiar with Judd prior to the visit, but during that time I developed a significant bond with his work and aesthetic.
How did the idea for Collective Artspace come about?
Rachelle (Wunderink) and I met and we both had these conflicting and similar ideas of what to do with the space, and so we decided to combine forces and create a place for local artists. The Collective Artspace was then created to foster community amongst emerging Grand Rapids artists via critiques, workshops and affordable studio space. We've been fortunate to meet and connect many talented local artists over the last couple years.
How would someone go about getting involved in the Collective Artspace?
They just have to email us. It's as easy as that.
Do you feel like Grand Rapids is a good place for artists?
Definitely. With Grand Rapids, there is this sense of collaboration between artists, and you don't have this guardedness that I've seen in a lot of other cities, which I think makes Grand Rapids pretty amazing.