This winter, a visual tour of Harlem will transport Kalamazoo Institute of Arts visitors to one of the most iconic communities in the world.
Preparations are underway to mount an exhibit of photographs taken by Dawoud Bey, premiering on Jan. 13 and remaining on display through April 11. Bey's show, Harlem, U.S.A. and Harlem Redux, captures moments in the life of a community during times of vitality and times of transition, said Belinda Tate, executive director of the KIA.
Tate's prior work with Bey provided the KIA with the opportunity to bring the exhibit to Kalamazoo.
"I was in Chicago last year and saw the new body of work he had produced and I was really intrigued by these photos because I thought they represented a significant departure from his previous work, and it documented a community in transition," Tate said. "I liked the fact that we could see this erasure of past community in Harlem."
After that, Tate worked to bring Bey's exhibition to the KIA. Unbeknownst to them both, the artist would soon become a recipient of the prestigious Genius Grant from the John D. and Catherine T. MacArthur Foundation.
He was awarded the grant for "using an expansive approach to photography that creates new spaces of engagement within cultural institutions, making them more meaningful to and representative of the communities in which they are situated," according to the MacArthur Foundation's website.
Tate said Bey's KIA exhibit is about both people and place.
"This is not an exhibit that focuses solely on portraits," she said. "We will see people interacting with the space in the community. You see a sense of social agency in terms of folks being engaged in parades, a bake sale or a church service. It's highlighting the people and faces that make that community important."
Bey's series of photos for the Harlem, U.S.A. project were taken in the late 1970s and he spent more than three years selecting the photos that would eventually make up the exhibit.
"What he focuses on are the vibrant aspects of community life," Tate said. "There are images from barber shops and cafes, and women who are well-dressed participating in or leaving a church service. We also see folks on a day-to-day basis working to make the community work.
"He really focuses on the beauty of the people — not the physical beauty, but the spirit of the people. He doesn't focus on poverty and crime. You're just really seeing people trying to make a life for themselves."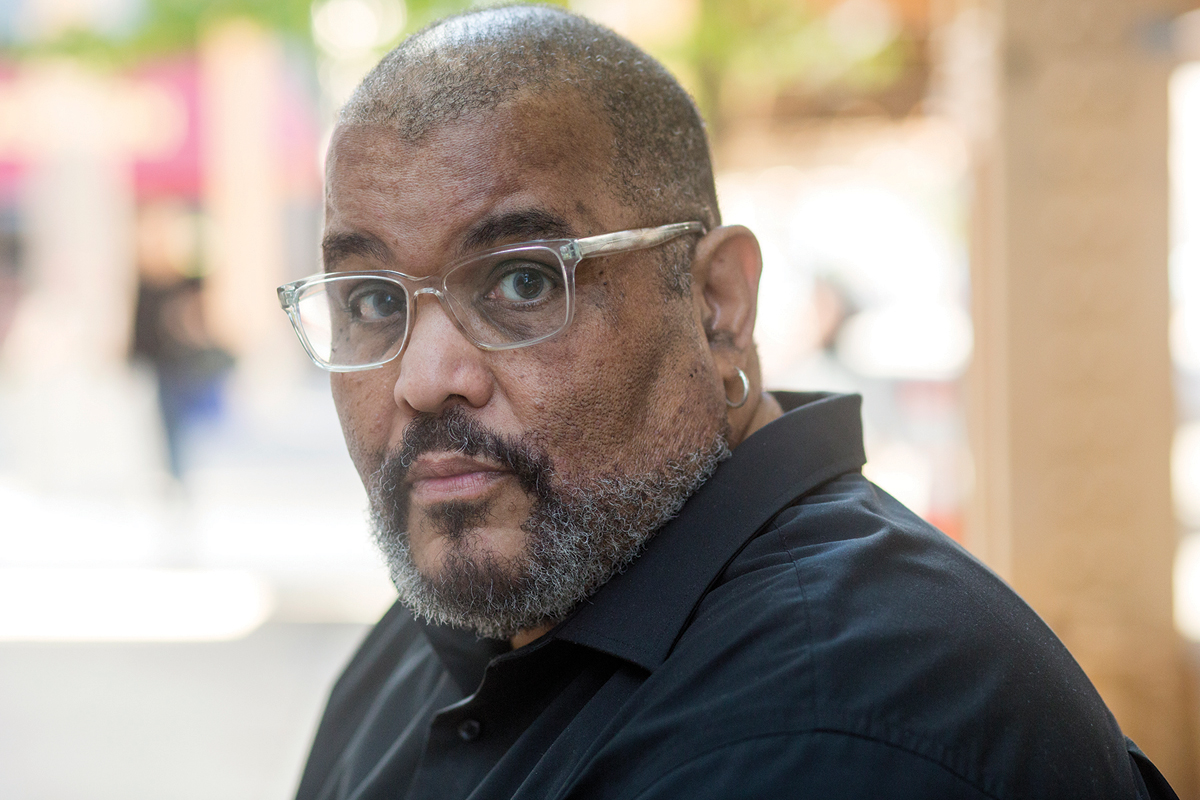 began his career 40 years ago. In 1969, Bey, then a young man from Queens, heard about a controversial exhibit at the Metropolitan Museum of Art and went to check out the protests. The show, Harlem on My Mind, was accused of white voyeurism and anti-Semitism. As a survey of Harlem culture, it was notably light on black artists. But there were large portraits by Harlem Renaissance photographer James VanDerZee, and Bey was captivated.
"My work, then (and) now, is about revealing the human community to itself," Bey said in an interview with the Chicago Tribune after receiving the Genius Grant. "When you are able to stand before a photograph of a person who you don't know, and you still have a connectiveness through that photo — that's what I try to do."
Bey, now 63, is a professor of art and was named Distinguished College Artist at Columbia College Chicago, where he has taught since 1998. He studied at the School of Visual Arts in New York and holds an MFA in photography from Yale University.
He has had shows at the National Portrait Gallery, Los Angeles County Museum of Art and Detroit Institute of Arts. Minneapolis' Walker Art Center also toured a survey of his work in the '90s; his iconic portrait of Barack Obama was included in the 2014 Whitney Biennial; and Harlem, U.S.A. was restaged in 2012 by the Art Institute of Chicago.
As for the new exhibit, Tate said the photos in the newer Harlem Redux series are more stark than the initial work.
"You see what a community looks like when it's devoid of the people who make it vibrant," she said. "There's a photograph of coats and hats hanging on a chain-link fence where someone is having a tag sale on a sidewalk, which may represent voluntary or forced change. He leaves you to wonder what all of this means and leaves the door open for everyone to imagine a new future for Harlem.
"I hope that people who see this exhibit will have a better appreciation for community and more broadly Kalamazoo, and pay more attention to the lives of people around them and recognize how each individual and family contributes to the fabric and vitality of a community."
Dawoud Bey: Harlem, U.S.A. and Harlem Redux
Kalamazoo Institute of Arts
314 S. Park St., Kalamazoo
Jan. 13-April 11
kiarts.org, (269) 349-7775