There's no excuse to hibernate at home this winter: Muskegon Museum of Art has a cure for cabin fever; and an outlet for creativity with a variety of activities, exhibitions, special programs and even a poetry competition.
This year, the museum's annual children's book illustrator exhibition highlights a Hispanic artist and Native American author. Thunder Boy, Jr.: Illustrations by Yuyi Morales runs through May 20 and includes illustrations and sketches by Yuyi Morales for Sherman Alexie's children's book.
It's a special exhibition created by the MMA, inspired by the recent Edward S. Curtis: The North American Indian exhibit, and another way to represent and engage Muskegon's diverse community, said Catherine Mott, curator of education.
Using real life reflections and humor, Alexie's Thunder Boy Jr. tells the story of a Native American boy who doesn't like his name and wants to change it to one that is "normal." A native of Mexico, Morales' experiences and culture shine through in her work and influence her use of color, pattern and texture.
"I loved her use of Native American touches to it, but it also reflected her heritage," Mott said. "I visit with students in Muskegon Public Schools and they come in and see the exhibition, so it's that connection that it's a real person, that someone (Hispanic) is making these things."
Working with various school groups, Mott tries to plan exhibits and programming that students can relate to and be inspired by to pursue their own artistic talents. Mott reached out to the publisher to use the digital illustrations from the 2016 release, so it's not only current, but a good way to talk about what goes into creating illustrations for a book, Mott said.
The exhibit includes some of her sketches to show the process of how it comes together.
"It's also a way to talk about how illustrators are working digitally," she said. "Even though it's digital, she scanned in textures of a piece of wood. You see it used throughout the book, how she uses texture and graphic design."
Morales herself has an inspiring story. Although she loved drawing as a child, she wasn't a trained artist and studied physical education in Mexico, later working as a swim coach. She moved to America in 1994 with her husband and young son and felt isolated and alone without a job or friend, barely knowing English.
That all changed when she discovered children's picture books in a San Francisco area public library, learning English by also reading the books to her son. Inspired by the vivid colors and visual stories, Morales took up painting and enrolled in a class on writing for children.
Morales since has written several original stories, including Viva Frida, which received the 2015 Pura Belpre Medal for illustration, as well as the 2015 Caldecott Award Honor.
Thunder Boy, Jr.: Illustrations byYuyi Morales
Muskegon Museum of Art
296 W. Webster Ave, Muskegon
Through May 20
muskegonartmuseum.org,(231) 720-2570
Postcard Salon, Feb. 1-15
MMA's popular Postcard Salon returns, celebrating the small-scale work of West Michigan artists from novice to professional. This annual exhibition offers a wide variety of media and themes to explore and has few rules aside from the size requirement.
Postcard Salon started 12 years ago as a way to engage and challenge local artists and the community and reflects the museum's commitment to support Michigan artists. Last year, more than 1,400 cards found a space on the Weiner Gallery wall, giving artists of all ages and skill a chance to display their work. It's also a chance for art collectors or budget buyers to take home a piece of original art.
While no submission is turned away, this year's salon includes the first-ever juror awards. Four artists' winning entries will win cash prizes. The two-week exhibition culminates with a Postcard Reception and Sale at 5:30-8 p.m. on Feb. 15. All art is priced at $30.
Southern Roots: The Paintings of Winfred Rembert, Thru March 18
MMA's auditorium is expected to fill up Feb. 8 for a special program and insightful Q&A with artist Winfred Rembert, following a screening of a documentary based on his life. All Me: The Life and Times of Winfred Rembert details Rembert's life, from working on a cotton farm to a prison chain gain after a near lynching during the Civil Rights movement, and his experiences growing up poor and black in the segregated south. Director Vivian Ducat will attend the screening, which starts at 7 p.m.
Rembert's carved and dyed leather paintings are the focus of the MMA's winter exhibition Southern Roots, which features more than 25 works and the debut of several new paintings.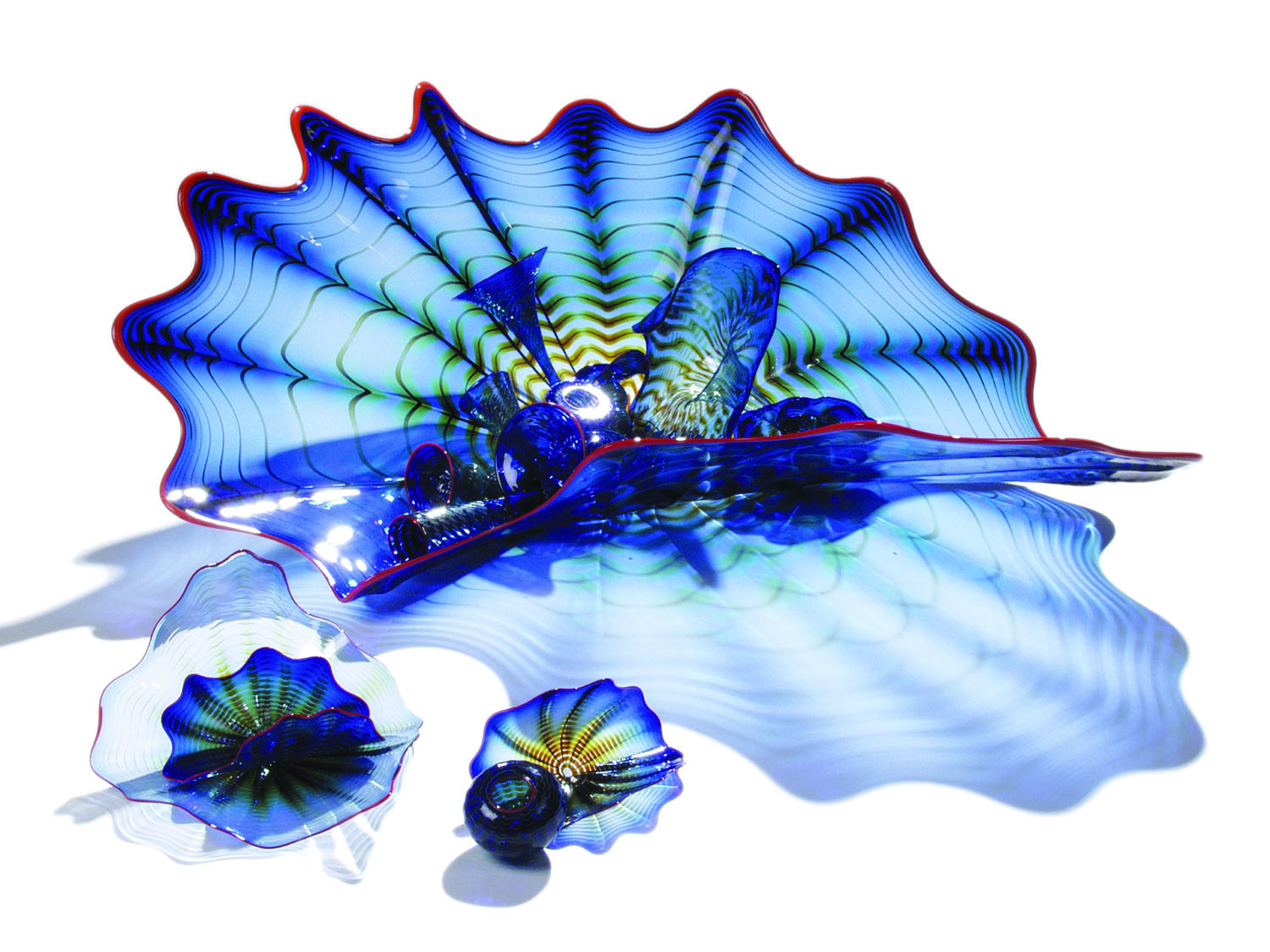 2018 Art Talks Back selection: Dale Chihuly (American, b. 1941). Cobalt Blue Persian Set with Cadmium Red Lip Wraps (details), 1992, blown glass. Photo by Frederic A. Reinecke.
Art Talks Back poetry competition, Thru March 29
For poets in the crowd, MMA's Art Talks Back Poetry Competition invites all adult/college-age writers in Michigan to create an ekphrastic (a vivid description of a work of art) poem based on one of 10 selected works from the museum's permanent collection.
Each year, the chosen work changes and reflects the collection's diversity, from abstract paintings to contemporary glass, Mott said. The contest helps connect the literary and visual arts.
"That's the idea, getting to know the pieces a little more intimately, just sitting with it," Mott said. "It brings in a different group of people who might not come in, people creating different stories and poems behind what they see."
Past entries have run the gamut from humorous to serious to imaginative backstories, and have even helped Mott view the collection differently.
Competition guidelines, images of selected works, and entry forms are available at the museum gift shop or online at muskegonartmuseum.org.
"We have everything online, but there's something unique about actually seeing a work in person," Mott added.
Cash prizes, museum memberships and gift certificates are awarded to the winning poets, who read their work at an awards ceremony April 19.