Center Art Gallery
1795 Knollcrest Circle, Grand Rapids
calvin.edu/centerartgallery/studio, (616) 526-6271
This season, the art departments at Calvin College are uniting under one theme: "Create. Unite. Renew." To kick it off three shows are opening in September, including Prints from the Permanent Collection, Mars: Astronomy and Culture, and Jo-Ann Van Reeuwyk's Faculty Exhibition. Pieces in Van Reeuwyk's exhibition were developed in response to Mars. There will be one other exhibit opening in the fall, featuring works by two West Michigan artists, Tia Wierenga and Elizabeth Brandt.
Much like September, there will be three shows opening the first month of 2019. Selections from the collection of Robert and Sandra Bowden — in partnership with the Calvin Institute of Christian Worship — are showcased in Was God Dead? There's also a solo exhibition by mixed-media artist Elaine Tolsma Harlow. Her recent works are encaustic paintings, which mix hot beeswax with colored pigments.
In spring, Calvin has the works of Craig Goodworth and David Hooker. At this exhibition, themes of bees and beekeeping are central.
Prints from the Permanent Collection, Sept. 4-Jan. 23
Mars: Astronomy and Culture, Sept. 4-Oct. 20
Jo-Ann Van Reeuwyk: Faculty Exhibition, Sept. 4-Oct. 20
Tia Wierenga and Elizabeth Brandt, Oct. 29-Dec.15
Was God Dead? Biblical Imagination in German Expressionist Prints, Jan. 7-Feb. 23
Elaine Tolsma Harlow: Solo Exhibition, Jan. 7-Feb. 23
Hague School Paintings, Jan. 28-July 31
Craig Goodworth and David Hooker, March 7-April 27
Senior BA and BFA Exhibition, May 3-18
Broad Art Museum
547 E. Circle Dr., East Lansing
broadmuseum.msu.edu, (517) 884-4800
Opening in September is When the Land Speaks by Deborah Jack, a multimedia artist whose work explores the relationship between nature and memory, and personal and cultural histories embedded in the natural world. The Vault at the museum houses a selection of works from its permanent collection and is dedicated to featuring and displaying works chosen by MSU students who work at the museum each month. Also coming this fall are the sculptural works of Detroit-based artist Matthew Angelo Harrison.
When the Land Speaks: Jonathas de Andrade, Through Sept. 2
The Vault: Andrew Kuo, Through Sept. 2
When the Land Speaks: Deborah Jack, Sept. 4-30
The Vault: C.J. Yao, Sept. 4-30
Scott Hocking, Through Sept. 30
Trevor Baird: Tweening. Through Sept. 30
Michel Parmentier, Through Oct. 7
Matthew Angelo Harrison, Oct. 13-Nov. 25
Literatura de Cordel, Through Nov. 4
Art Is Changing, Through Dec. 2
Charles Pollock: Modernism in the Making, Through Dec. 30
David Lamelas: Fiction of a Production, Through Jan. 6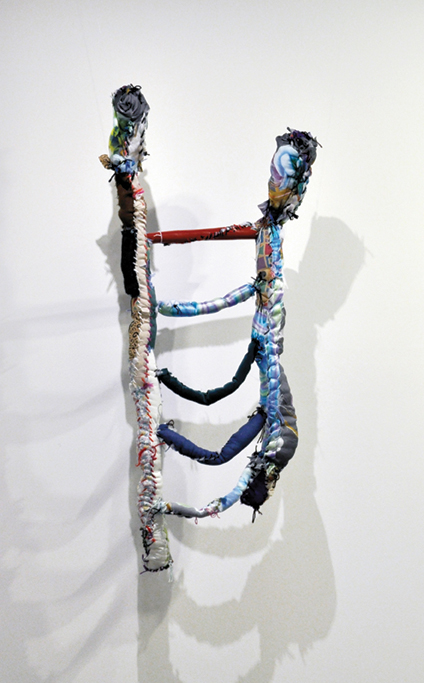 Terry Williams - Untitled. Courtesy of the artist and Arts Project Australia, Melbourne. At Frederick Meijer Gardens & Scupture Park.
Frederik Meijer Gardens & Sculpture Park
1000 East Beltline Ave. NE, Grand Rapids
meijergardens.org, (888) 957-1580
First up is Process and Presence: Contemporary Disability Sculpture. The exhibit is organized jointly by DisArt — a Grand Rapids-based arts and culture organization promoting full participation of disabled people in the arts — and the Frederik Meijer Gardens & Sculpture Park. The art is largely three-dimensional, such as sculpture, ceramics, performance, installation and video art. The exhibition emphasizes the relationship between disability and the fundamental human experiences of change and embodiment.
Also opening in September is the annual Chrysanthemums and More! Considered the largest exhibit of its kind, Chrysanthemums and More! highlights the titular flowers during this annual celebration of fall. It also includes loads of family-friendly activities.
Christmas and Holiday Traditions Around the World — another annual exhibit — will take place in November, just in time for the holidays. It brings together nearly 400,000 lights, strolling carolers, visits from Santa, rooftop reindeer and more than 40 international trees and displays, honoring holiday cultures from around the world. If this doesn't get you in the holiday spirit, we don't know what will.
The new year will feature a new exhibit, A National Treasure: Fred Meijer, His Collection and Legacy, running until the end of August. This exhibit follows its namesake's growth as a collector throughout the years, highlighting what is considered one of the most important collections of modern and contemporary sculpture in the world. It's all timed to celebrate the centenary of Meijer's birth and will have legacy gifts from the Meijer family by George Minne and El Anatsui publicly presented for the first time.
Process and Presence: Contemporary Disability Sculpture, Sept. 14-Jan. 6
Chrysanthemums and More!,
Sept. 21-Oct. 28
Christmas and Holiday Traditions Around the World, Nov. 20-Jan. 6
A National Treasure: Fred Meijer, His Collection and Legacy, Feb. 1-Aug. 25
Grand Rapids Art Museum
101 Monroe Center, Grand Rapids
artmuseumgr.org, (616) 831-1000
This year, the GRAM is exhibiting the works of 11 artists or artist pairs for ArtPrize. Five of the works selected are by Michigan-based artists, while the others hail from all over the world, including Finland, Ghana and Venezuela.
Following that is Who Shot Sports: A Photographic History, 1843 to the Present, which has more than 200 images in color and black and white by more than 150 photographers taken across six continents, with photos dating back 175 years. The exhibit has everything from athletes in action to those on the sidelines — including the dedicated fans, hopefully some with face paint — and behind-the-scenes photos.
Dylan Miner: Water is Sacred // Trees are Relatives opens on Oct. 27 and features large-scale cyanotype photographs (a printing process that produces a cyan-blue print) on fabric, portraying images of cloudy skies and water surfaces. The East Lansing-based artist and activist is debuting new work, focused on the natural environment of West Michigan and its history. His works investigate the important historical and current issues around three primary natural elements: wood, water and sky.
In 2019, the GRAM will open A Decade at the Center: Recent Gifts and Acquisitions and Maya Lin: Ecliptic and Beyond. The former closes the GRAM's yearlong celebration of its first decade at 101 Monroe Center and will feature works acquired through gift and purchase, showcasing the museum's collection.
Closing the season is an exhibit that was organized by the museum in collaboration with Lin's studio. In 2001, Lin designed Ecliptic, known to the public as Rosa Parks Circle, which transformed it into a central gathering space that is now the heart of the city. Ecliptic and Beyond has large-scale sculptural works she has recently created that explore the environmental landscapes of bodies of water, created through the internationally acclaimed artist and architect's meticulous use of charting, mapping and precise calculations.
ArtPrize 10 at GRAM, Sept. 12-Oct. 14
Who Shot Sports: A Photographic History, 1843 to the Present, Oct. 27-Jan. 13
Dylan Miner: Water is Sacred // Trees are Relatives, Oct. 27-March 3
A Decade at the Center: Recent Gifts and Acquisitions, Jan. 26-April 28
Maya Lin: Ecliptic and Beyond,
May 18-Sept. 1
LaFontsee Galleries
833 Lake Dr. SE, Grand Rapids,
410 W. Center St., Douglas
lafontsee.us
LaFontsee Galleries' summer season will end with Toast at the Douglas location. At the show's opening will be a reception and live artist demonstrations from Elizabeth Brandt, Saul Gray-Hildenbrand, Linda LaFontsee and Kathy Mohl.
Toast, Sept. 2-30
Fall Show, Nov. 30
Artist Demos & LG Boutique Local Jewelry Artist Trunk Show, Dec. 8
Winter Show, Feb. 15
Artist Demos, March 23
Spring Show, April 26
LowellArts!
223 W. Main St., Lowell
lowellartsmi.org, (616) 897-8545
Give & Let Go begins in September, presented in two parts. The first celebrates the 30-year collaboration between Ron and Miriam Pederson. Over the years, Ron has created steel sculptures, which he welds and paints, with Miriam contributing poetry to accompany each piece. The second part of the exhibit features the work of Aquinas College art professors alongside pieces from former and current students, all selected by the professors.
Art from more than 50 area artists comes together for the Annual Holiday Artists Market in November. All items are available for purchase, including pottery, paintings, photography, jewelry, textiles, glasswork, handbags, woodwork, metalwork, wreaths, basketry, ornaments, candles, soaps, and more. (This is a great spot to get some gift buying out of the way.)
Then, in January is LowellArts' Who's Who: Member's Exhibition. Every year, LowellArts members are invited to contribute to this exhibit. To mix it up a little, the name of each artist is hidden on the pieces and guests are invited to guess who did each one.
Last is the 33rd annual West Michigan Art Competition. Artwork in any visual medium can be submitted by artists 18 and older who reside in West Michigan. Cash awards totaling $2,500 will be given to those who come in first through fifth place.
Give & Let Go, Sept.15-Oct. 20
Annual Holiday Artists Market,
Nov. 6-Dec. 22
Who's Who: Member's Exhibition at LowellArts, Jan. 5-Feb. 10
West Michigan Art Competition,
March 9-April 13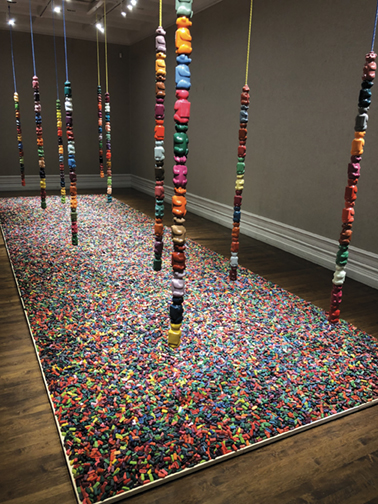 Art of Michael Peoples at Muskegon Museum of Art. Courtesy Photo
Muskegon Museum of Art
296 W. Webster. Ave., Muskegon
muskegonartmuseum.org, (231) 720-2570
Running now through November is the state's longest established regional art exhibition, the 90th Michigan Regional Exhibition. The juried selection of 2-D and 3-D works celebrates Michigan artists, filling two galleries, with more than $6,000 in prizes awarded. Works by lifelong Grand Rapids painter Armand Merizon, who died in 2010, will be displayed in Armand Merizon: His Life and Art. Remembered for his detailed landscapes and brilliantly colored abstractions, Merizon's exhibition highlights his entire career through 20 paintings.
Fun fact: In the middle of his career, he began to lose his sight, so he turned to painting in a more abstract style instead of giving it up. FantasMenagerie: The Sculpture of Nat Rosales showcases Rosales' unique pieces, assembled from found cast objects and random machine parts.
90th Michigan Regional Exhibition, Through Nov. 7
Armand Merizon: His Life and Art,
Sept. 20-Jan. 6
FantasMenagerie: The Sculpture of Nat Rosales, Oct. 18-Jan. 13
Art of Michael Peoples, Through Sept. 16
Urban Institute for Contemporary Arts
2 W. Fulton St., Grand Rapids
uica.org, (616) 454-7000
The UICA is kicking off the season with two shows opening in September, Coming Home and ArtPrize Ten: UICA Outside. The former features work by artists who are from Michigan, currently based in Michigan, or who have spent a considerable amount of time in Michigan during the course of their careers. It's a suite of solo exhibits celebrating Michigan's role as a platform for inspiration and creative development by highlighting a diverse group of artists. This year has new works by Emily Najera, Pat Perry, Jason Quigno and Zachary Trebellas.
Opening on the same day is ArtPrize Ten: UICA Outside, which is taking the work outside with three public projects in three different neighborhoods. The neighborhoods each have large-scale works created by artists who reside in said community or have designed artwork with neighborhood input and a focus on representation and expression. These public works will activate quiet and overlooked neighborhoods, thus creating welcoming corridors and gathering places.
For one day in December, UICA will have its annual Holiday Artists Market, where guests can shop for family and friends with dozens of works by regional artists. The evening also includes live music, as well as local food and beverage vendors.
Coming Home, Sept. 8-Jan. 25
ArtPrize Ten: UICA Outside, Sept. 8-Oct. 7
30th Annual Holiday
Artists Market, Dec. 1
About Face, Jan. 11-April 29
Saugatuck Center for the Arts
400 Culver St., Saugatuck
sc4a.org, (269) 857-2399
This year, Saugatuck Center for the Arts has exhibits spanning photographs, collages, sculptures, multimedia art and more.
Opening in October, El Sueño Americano: The American Dream features the works of Tom Kiefer, with more than 100 photographs of items — some "everyday," some deeply personal — along with actual items confiscated from women, men and children caught crossing the Arizona border. Kiefer hopes to elevate the human stories told by these objects, spurring introspection and questions about the objects and the human lives from which they were separated.
In 2019, Absurd Imaginaries by Julie Liger-Belair and Jessica Calderwood draws upon surrealist motifs and folklore in playful, yet subversive explorations of gender, identity and fantasy. Liger-Belair's collages pair Victorian-era portraits with hand-painted floral patterns, while Calderwood's porcelain sculptures feature heel-clad figures overtaken by geometric masses of foliage or other clusters. Both artists explore the idea of simultaneously revealing and concealing the female figure.
In March, The Graphic Impulse is a multimedia installation by Sonnenzimmer, a Chicago-based duo of artists Nick Butcher and Nadine Nakanishi. The piece explores the contemporary impact of graphic expression. Known for experimentation, spirit and technological tinkering, Sonnenzimmer fuses historical print traditions like woodblock printing with nontraditional techniques like vacuum-forming, laser-cutting and sound installation.
El Sueño Americano: The American Dream, Oct. 25-Dec. 22
Absurd Imaginaries, Jan. 11-March 1
The Graphic Impulse, March 7-May 24 n