When it comes to enjoying a concert, keep the iPhone in your pocket and leave the photos to the pros. A great photographer captures the essence of an artist and those moments within the sweat and reverberation while watching from the floor. Count Adeshola Makinde among the best of those with a lens. Visceral, kinetic and undeniably dope, his photos are a bridge to connecting with these larger-than-life icons. Sometimes a peek behind the veil, always fully immersive, he has a knack for coaxing the X-factor out of his subjects.
Photographer, designer, DJ. You have a lot of job titles. What kinds of projects are you working on right now?
Right now, I'm focusing my attention on music photography, trying to shoot as many shows as I can and to stay as intentional as possible. Recently, I've shot Wiz Khalifa, A$AP Ferg, Big Sean. Coming up, I've got Pusha T, the Drake and Migos tour, and hopefully a few others too. I'm also doing a photo show at Madcap (Coffee) in September featuring art prints from my 2016 book Figuring It Out alongside the work I've shot since. Definitely staying busy.
Your portraits of Big Sean stick out to me as natural, candid and illuminating. What's it like working with an artist with so much clout?
I've been shooting his Midwest shows consistently for the past few years, but it was fun this time to have a different level of access and direction. I got to stage that Astro Boy shot and I'm really happy with how it turned out. He's down-to-earth and ego-free. It's cool to work alongside another Midwest artist, someone who has to prove themselves more than someone on the East or West coasts. He has to hustle 10 times harder and I can relate to that.
Which do you prefer, the action shots you catch as a crowd member or the creative control you have with a behind-the-scenes shoot?
The ultimate goal is to get to the point where I'm working with the musician, shooting the tour, day-to-day stuff, but it's also fun to have three songs to shoot in the pit, find your way into the crowd and be amongst it all. The adrenaline there is awesome and when you get the shot you want, it's great, because you had to work so much harder for it.
What inspires you?
Kanye's Glow in the Dark book is a big inspiration for me. It shows everything from him bowling to playing Connect Four with Beyonce backstage. It humanizes these icons in a really cool format and sadly a lot of this type of stuff isn't being documented. I'm inspired by people who chase their dream, have a vision and don't compromise on it — people like Frank Ocean. It takes a lot of guts as a creative to put your foot down and see things through your way.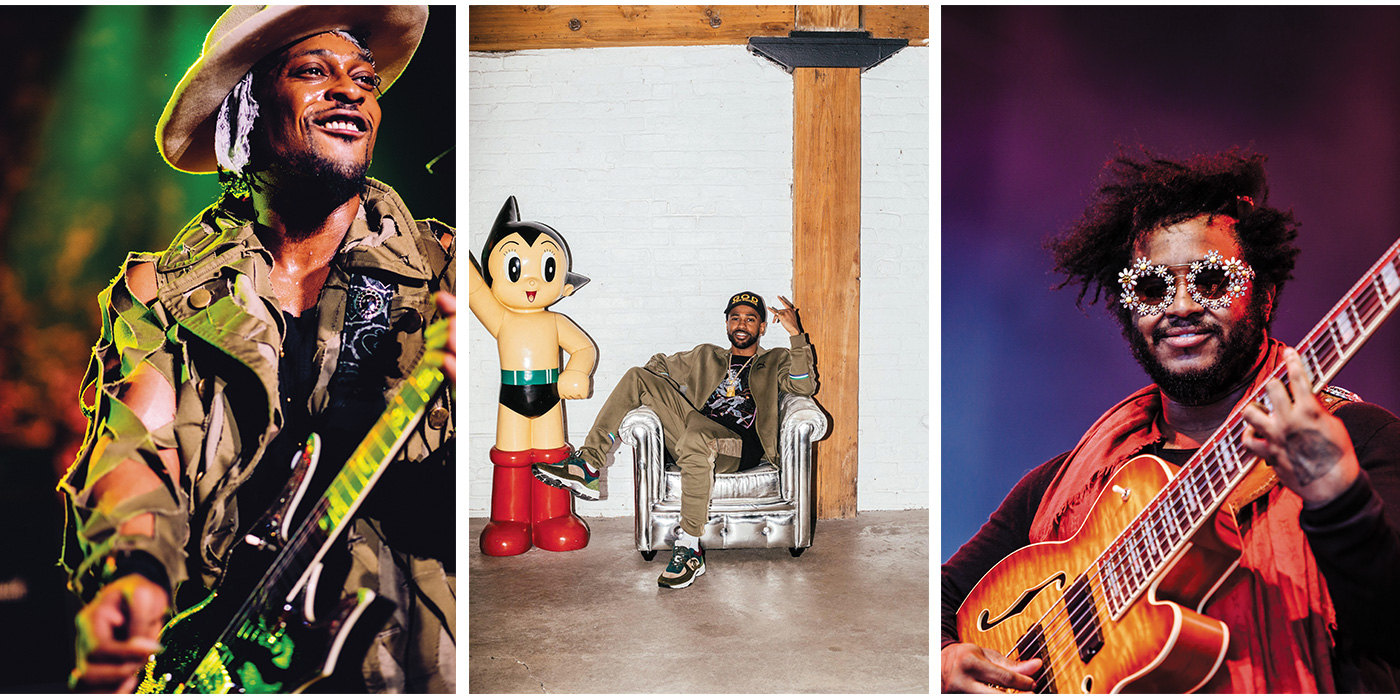 Left: D'Angelo Middle: Big Sean Left: Thundercat
How do you find yourself developing momentum as an artist?
So much of being successful nowadays is putting yourself out there. You have to be relentless in wanting to put out work. Seventy-five percent of the job is emailing, hearing 'no,' and pushing through while believing in your dream. I want to be like peak Lil' Wayne from '06-'10, consistently putting out quality work that people enjoy.
How do you find a balance between positive and negative in our current political culture?
It's tough. I try to be an optimist in most things I do, but I think black artists start from a more negative point of perception. For me, the best way to go about it is to lead by example, whether that be through my work or by using my voice to bring attention to issues when I can. Trying to make clothes that center around ideas of police brutality is hard because the general population that buys these shirts is middle-class white America. Will people wear this stuff, or will it be too weird for them? As I continue to create, I'm learning what works and what doesn't.
Do you worry that a Grand Rapids audience could have difficulty connecting to your art?
I saw Sarah Lewis (assistant professor of art, architecture and African and African-American studies at Harvard University) speak about justice and black image-makers. I had the chance to ask about any advice she has for those trying to make socially conscious work in today's climate. She said, 'I always tell my students to show something about the black experience that you don't think is prevalent or known by other races.' It made me view the work I do differently. I have this idea for a project that centers around black men and their hair, and while there are people who aren't black that won't get it, I think there's value to sharing these experiences and that plenty will understand. My mantra since I've gotten started is, if you want to see something different, make it happen. That's what I'm trying to do while I'm here.

Find Makinde's work at adesholamakinde.com.