Working under the name Old Growth, Nick Nortier's colorful murals cover brewery walls and building exteriors around Grand Rapids and beyond.
You might know him as the artist behind the ship made of leaves on North Division, or from his collaboration with Joe Parsaca on the tunnel underneath Gillette Bridge in Ah-Nab-Awen Park. But his style and ambitions have evolved since then.
The Grand Rapids native's latest project spreads good vibes through flowers, leaves and "Peace and Love" on Creston Brewery's patio wall, and he's working on another mural on the side of Creston Market.
His more recent projects include labels, T-shirt design and a mural for Brewery Vivant; a wall mural for Elk Brewing in Comstock Park; and a gallery installation for Saugatuck Center for the Arts. Nortier prefers creating murals, but he also paints, cuts vinyl, writes and performs poetry, and more.
When did you fall in love with art?
When I was in fourth grade, I used to go to my friend Mark's house every day after school. We would collect cans and return them to Fulton Heights Foods (now Family Fare) and then walk to Argo's to buy comics. Then we'd go back to his house and draw from them. One of my favorite moments is when I tried to draw Wolverine but couldn't draw the hands, so I asked Mark if he could help. He ended up just completely redrawing the entire thing — it was hilarious.
Why do you work under the name Old Growth?
What's the significance in that?
I use the name Old Growth, as in an old-growth forest, because I like to think of the serenity of a patch of woods that's been there for a long time and the peace and beauty that comes from that. It's something I try to convey in my work, sometimes more successfully than others.
How/when did you decide it was
something you want to do as a career?
After spending way too much time on and off at Grand Rapids Community College. I had no clue what I wanted to do until I eventually signed up for (a drawing class). Even though it's all still-lifes and things like that, it felt like the right direction. I went to Kendall after taking all the classes I could at GRCC. I decided I wanted to do this as a career when I realized I had no clue what I would do otherwise.
What have you done recently that you're proud of?
My most recent piece is a mural on the patio at Creston Brewery. I completely fell in love with the project, even though I had to sit on a skateboard the entire time. I'm also really happy with the wall I painted at Elk Brewing in Comstock Park. That piece was sort of a turning point for me, because it marked a huge shift in my work away from a cartoon-like style and more toward a stylized realism sort of thing.
What's your process like?
My process starts with concept sketching until I find something that I like. Then I take that and refine it to the point where I'm happy with it. Ideas can come from all sorts of different places — there's neat stuff everywhere if you pay attention.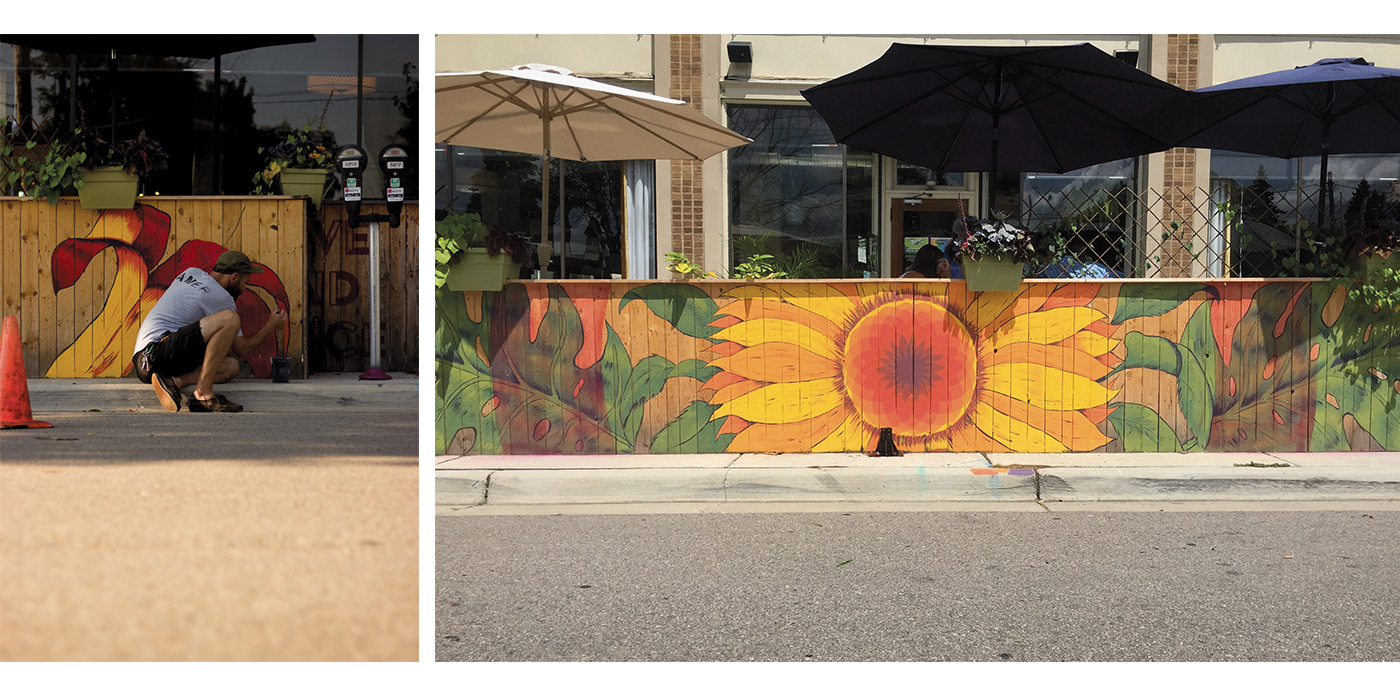 Left: Nick Nortier. Photo by Josh Solas. Right: Creston Brewery mural.
Would you say your art has any consistent themes?
The consistent theme in my work is nature, but the longer this country is a political disaster, the more political my work is becoming.
Who/what are your influences?
My influences in art are the people that consistently make art and are doing what they love. Honestly, I look up to and admire people that are living their truth and doing so to the fullest extent. This applies to artists, musicians, poets, teachers, activists, community organizers, entrepreneurs, whatever you're into. The people that inspire me are the people that follow their passion.
What advice would you give a young artist?
Follow your heart. It's the most important thing that you can do. That thing that interests you, that idea you've been wanting to try, do it. When you have that feeling inside, you have to follow it, because that's where the soul comes from.
What is your dream project?
I have a number of dream projects but here are three: First, paint the tall highway pylons to make it look like trees are holding up the highways. This would be especially interesting for the ones in the river. The second is to paint murals on the sides of city garbage trucks. If you ever stop and look at them, they're basically big movable canvases just waiting for some paint. My third dream project would be to paint the roof of the Ford Museum like two slices of pizza. It's a triangle-shaped building, and who doesn't love pizza?

Find Nortier's work at oldgrowthcreative.com.