West Michigan is full of art galleries, displaying work from hundreds of artists all over the state.
Of course, they're all handling the pandemic differently, so we wanted to catch up with them.
Muse GR, for instance, launched an "Art BnB" — an Airbnb for artists — and now hosts Dream Cream, a vegan ice cream shop, every Tuesday and Thursday. LaFontsee, meanwhile, has shifted to appointments only, while J. Petter Galleries is making use of technology.
Whether you're looking to buy a piece for your home or simply want to walk through a room full of art, galleries are the place to be.
J. PETTER GALLERIES
161 Blue Star Highway, Douglas
jpettergalleries.com
How has COVID-19 affected J. Petter?
J. Petter Galleries is located in the seasonal town of Douglas and we close for a winter sabbatical, from February until early spring. This year, that time away from the gallery extended until the Stay at Home order was lifted in June. During that time, members of our staff were able to give our historic building a fresh coat of paint, update our website with the ability to shop our art online, and curate our 12,000-square-foot space to perfection. Additionally, we began offering curbside pickup and local delivery from the Petter Wine Gallery, our onsite wine shop. Once we were able to open the doors to guests, we noticed a small drop in the number of guests we hosted each day but a higher percentage of customers leaving with pieces of art. We are fortunate to have such a large gallery space in which our visitors can spend time with the art and not worry about close encounters with others. We have also expanded our virtual gallery experience with a 3D walkthrough on our homepage as well as having each of our art pieces available to purchase through our website. If needed, we can even render a preview of what the artwork would look like in the customer's space. The ability to present art in all those ways has allowed us to stay relevant despite the restrictions.
Tell us about J. Petter's current exhibition.
Our September exhibition features Matthew Swanson, a locally based artist who works in paint and mixed media. In his newest body of work, he explores the solitude of COVID-19 in his abstracted landscapes, often exploring the view from his home and surrounding area in Holland. As a child, he spent his days exploring the woods near his home, learning from his naturalist mother the names of trees, birds, creatures in the pond and the edible plants growing on the forest floor. Though not necessarily recognizable, all of his paintings are landscapes.
Anything else we should know?
Our team at J. Petter Galleries is consistently engaged in active dialogue with artists throughout the world. Since 1970, our curators preview fine art and design shows and commission unique works from artists and makers with expertise in a variety of media. We display more than 1,000 pieces of artwork from our 90-plus artists, all of which are vetted to meet the highest standards. Whether you are a new collector, an experienced art aficionado or a design professional, you are sure to find something here to exceed your expectations. We are a true one-stop art and wine source.
ART CATS GALLERY
1845 Lakeshore Drive, Muskegon
artcatsgallery.com
Can you talk a little bit about Art Cats Gallery in Lakeside?
Art Cats has been open for almost 21 years. We currently feature about 60 to 70 artists. It is an exceedingly small space with a lot packed in; not a stuffy gallery space but a more welcoming atmosphere. I wanted a gallery people were not intimidated to enter and one that made people smile and feel like they too could buy art. I once had a 10-year-old come in with her grandmother on her birthday, and the grandmother bought her granddaughter her first piece of art for her birthday — hopefully setting her up for a life of art acquisitions.
What do you credit to your sustained success?
I put my customers first. I find things they want and if we do not already have them, create special pieces for them. I make things easier by gift wrapping, offering shipping — we even offer layaway. I also do several community donation events every year called Shopping for a Cause. We just did one for Every Woman's Place and another for Pound Buddies and Heaven Can Wait Animal Haven, raising over $1,500. Our next one in October will help fund The Penguin Project of Muskegon Civic Theater. Like any business, Art Cats Gallery is a work in progress, adapting to the times. And like any other business, the bottom line determines our fate.
How have you weathered this difficult time?
During COVID shutdown, we revamped our website to be more sales oriented rather than information focused. I posted on Facebook and Instagram daily, did curbside pickups, lots of shipping, even deliveries.
What else do you want people to know about your gallery or supporting local artists?
I have the best and most loyal customers on the planet. I am honored to have so many that value my little business and my work. I do a lot of commission work and actually enjoy working within limited parameters. It is a good exercise for my own creativity. And commission work often leads me off on a new tangent. Our fundraiser for Penguin Project is tentatively scheduled for early October and then the holidays start. We will do an early-bird Earrings and Ornaments event and our 21st anniversary is December 11 and 12.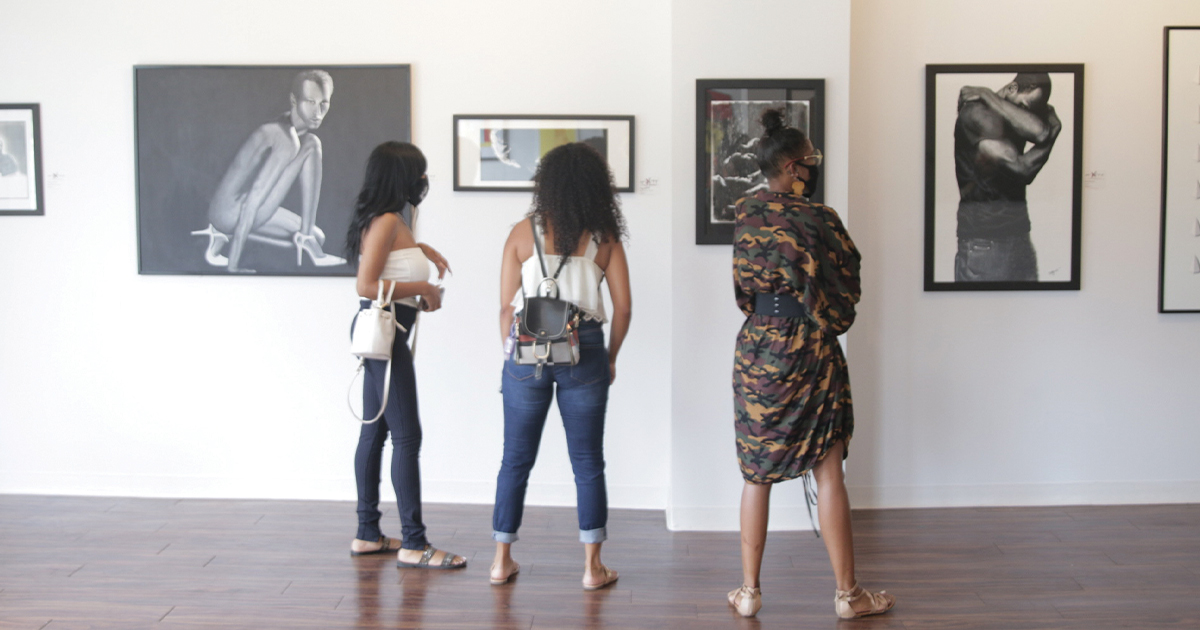 Muse GR. COURTESY PHOTO
MUSE GR
727 Leonard St. NW, Grand Rapids
musegr.com
How has COVID-19 affected Muse in the grand scheme of things?
Stephen: In the first half of the year it was pretty bad.
Taylor: At first, it was hard because we couldn't have any events, which was one of our main things. Also just understanding financially how we could move forward. So it pushed us to be innovative, to figure out what can we focus on during this time. We created some new things, like launching our Art BnB, and focusing on our youth program where students can come in and have one-on-one sessions. That way we can still do what we do, but just not in a large setting.
People can come in now though, right?
S: It's socially distant; we try to keep the traffic flowing. We activated our parking lot and made it like an outdoor gallery, and we just keep it to 10 people inside. We made the opening reception of Black Art Matters longer so it would spread out a bigger crowd.
What's coming in September?
S: We're working on a musical exhibit with our youth music group called The Collective. They just finished their EP. It's been an artist development camp and we've worked with them since March in our music studio here. We did Zoom calls for classes and workshops when we couldn't meet in person and they've watched a couple seminars from hip-hop educators. We also helped them with marketing and things like that. The initiative is in partnership with the city of Grand Rapids and their anti-violence task force.
Any plans for the future?
S: We usually do an event called Artmosa and it will have to be rethought — because it's usually hundreds of people. That's a huge art sale with a bunch of local artists, and we partner with other companies.
T: In terms of social distancing: We have mobile walls being built so that we can partition the space, so people have to flow through it almost museum style, rather than gathering in the open space. We're thinking of making it more interactive, but by yourself. Things people can listen to and look at, engaging all their senses, but if they're doing it by themselves, they won't feel like they're by themselves — they're immersed in the experience.
LAFONTSEE GALLERIES
833 Lake Drive SE, Grand Rapids
lafontsee.us
How has COVID-19 affected LaFontsee at large?
It's been an interesting ride, to say the least. At first it was so frightening. We just didn't know if we were going to be able to survive because none of us knew what to expect. As things progressed and we were able to open back up with limitations, we decided to take baby steps. We decided to begin being open by appointment only two days a week, then it progressed to three and now it's four days. And we are so busy!
Framing is a big part of business and at first, we were working with a limited crew. We had difficulty with our supply chains but worked very hard trying to complete orders as soon as we could. Our customers were incredibly patient and understanding and we are grateful for that.
What policies do you currently have in place for handling visiting during the pandemic?
We are by appointment only and everyone must wear a mask. We've decided to maintain the appointment requirement because we want to control the number of customers in our space for safety reasons. If someone calls the day of and wants to come in, we welcome them in and, so far, that's worked out well. Here at the gallery, we are concerned about having too many people in the space. We don't want to endanger anyone — not our clients or our staff. But we are fortunate to have a nice large space to work in!
Anything else you want to tell our readers?
Yes. Please make an appointment to come in and just look! No pressure to purchase anything. Seriously. Times are so incredibly difficult for all of us and a little beauty makes a big difference in how you feel. Art helps to shift your perspective and can bring a little light to these dark times. Our artists need you all! We welcome you!