Creative director and freelance designer Edgar Hernandez is never without multiple projects at a time. Under his brand, The Oddest, Hernandez owned and operated a clothing store for three years in the Grand Rapids Downtown Market.
He has also designed merchandise for organizations around the state, including Michigan House, where he activated events both local and at SXSW Festival in Austin, Texas. Clothing was never the primary goal for The Oddest, however. Hernandez now engages in large-scale public art, from restoring the Heartside Park basketball court to painting murals throughout downtown Grand Rapids.
Whether screen-printing or painting, Hernandez always strives to do things differently — often in the oddest way possible.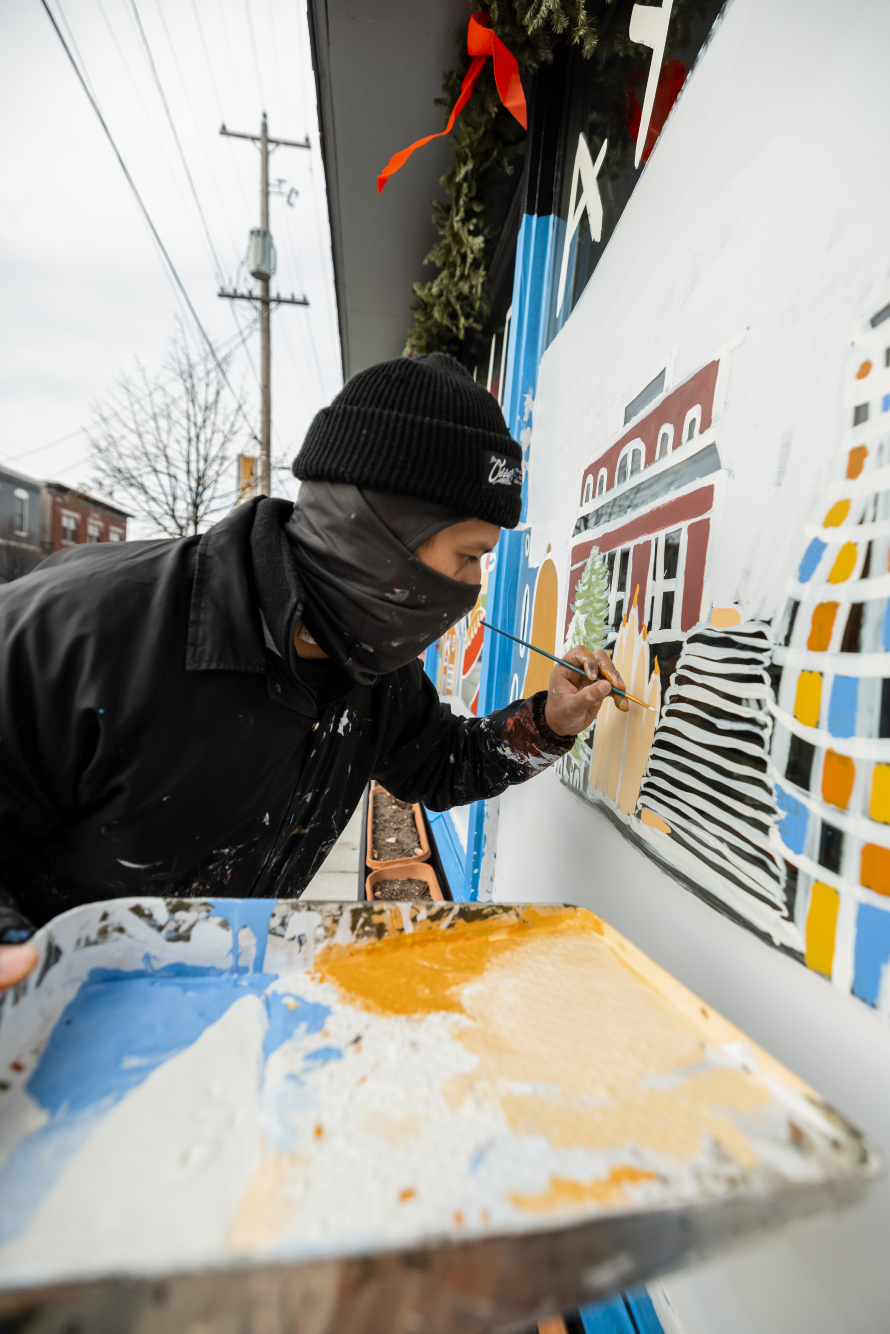 How did your brand, The Oddest, come to life?
I was in the insurance world for three and a half, almost four years, and I started developing The Oddest while I was working there. The plan for that was for it to be a creative house, like a creative agency, that would basically cater to smaller businesses that need creative services, whether it'd be advertisements for print or billboards, logo graphic design work, or campaigns. That idea basically came to life because I went to school for advertising and marketing. I graduated during the worst time ever, the 2008 recession, and instead of waiting around and hoping that I'd eventually get hired by an ad agency locally, I just went and did it myself.
You attended a short course for adults on Graphic Design at Kendall College of Art and Design — while working 40 hours a week. How did THIS change the course of The Oddest as a brand?
I learned how to use Illustrator really well and started playing around with it. I was like, "Oh, I can basically do anything with this. Now I can put a design on a shirt if I want to." So I started printing tee shirts. At this time, there was no website, brand or anything like that. I didn't know how to screen print. I didn't know anything about screen printing! The plan still was to sell these shirts, and any money generated from the sales was going to go toward funding that creative agency.
In the fall of 2014, I put out three different shirt designs during ArtPrize. I ended up getting a permit from the city to set up a table with those three shirts I had made, right outside of the Grand Rapids Art Museum, just outside the gift shop. That's how it all started. I ended up opening a clothing store literally a year later, exactly to the day, during ArtPrize 2015.
What happened after ArtPrize 2015?
After that, I started getting a lot of opportunities with more freelance work and collaborations. People wanted the merch, so I was both whole-selling and stocking it in the store. From there, other opportunities really came about, from doing not only graphic design work but also in the event space like shows and music, to what I'm doing now, which is more public art, murals and public spaces.
Tell me about your current project, The Heartside Basketball Court Project, and how that wraps into your goals for The Oddest.
It's about taking a space that's highly overseen, neglected and overlooked — like, nobody cares about it, nobody pays attention to it — and really turning it around so that it becomes a vibrant space, a gathering space, an inviting space, whether it be for kids or adults. There could be other things going on there that you wouldn't really think about, like a dance party with a DJ and cool lights.
If someone was to say, "Hey we need art," or "We need music, we need talent, we need branding, merchandise," any of these creative things, my answer would be yes. I want that to be what The Oddest is known for.
How does the Heartside Basketball Court Project represent you as an artist?
The court is designed like a Mexican blanket. I'm Mexican-American, and there are subtle ways — not that this is so subtle — without really saying anything that still tells you the artist behind it is culturally connected in some way to how this is being painted. I wanted to find a way to make this court not only obviously beautiful, vibrant and cool looking, but also put something in there that is representative of my heritage and my culture.
What advice would you give to new artists?
Whatever those passions are, whatever that fire burning in your heart is, do something about that. Put a little bit of work and effort into that, just a little bit, and then start there. There's always a day one.
I do not regret leaving my job to start my own thing because I'm building something nobody can take away from me. It all really stems from that one time when I said, "You know what, I have an idea, and I want to go do something about it."
Check out Hernandez' work at theoddestco.com or @the.oddest on Instagram.