Bold use of color, divine feminine representation, and elements of nature are just some of the stylistic choices that define the works of Kristin Zuller, multidisciplinary visual artist and Grand Rapids native.
Though she's been a professional artist for 15-plus years, she's recently come to make a name for herself in the city for her large-scale mural projects, including the Windows Activation Project, as well as her design of the 2021 Festival of the Arts poster and illustration art for the 2022 Gilmore Piano Festival.
We recently caught up with Zuller to talk art, growth and more.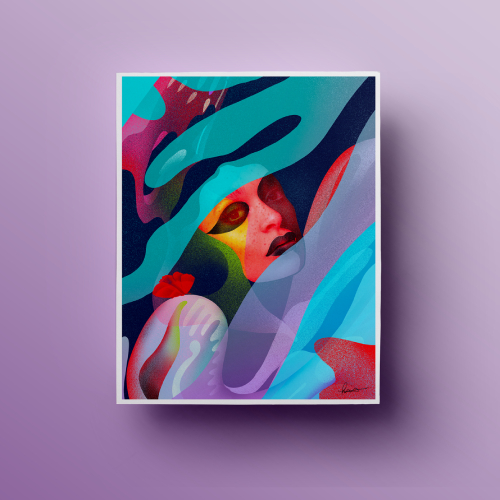 What encouraged you as a child to pursue art and what was your path to making it a career?
My mom was always supportive of me with my creativity, and I can't really remember a time when I wasn't creating art. But the moment I knew I could actually draw and had a talent was when I was 15 and my mom had gotten me this calendar — she gave us calendars every Christmas — and this one was of Black women during the Harlem Renaissance.
I remember drawing a picture of one of the women and realizing I could draw realistically — and then I thought: I wonder what other things I can do? So, as a teen, I just tried to push myself into places that were creative, like moving from my deli job at Meijer to the One-Hour Photo department or working at Kinko's. I also took visual communications classes for two years in high school, learning offset printing, fashion design, drawing, and photo development, and eventually getting into the Adobe suite.
How did your years working in the corporate world inspire what you're doing today?
I started out in production art and I really think that helped me tremendously, even though it's not considered very creative. It helped me understand the technical end and what happens to a piece of art when it leaves my hands. When I transitioned to more creative work at the same company, it was much easier because I had that background.
Through that experience, I got the opportunity to learn what others might have to go several places to learn — everything from production art to set design to preparing a photo shoot, as well as art directing a catalog and all the aspects of printing. The people I met there and worked with were some of the best. I clung to those experts; if you have experts around you, you're just going to get better.
What are you working on right now?
For one, I'm doing User Experience design for the Department of Defense. It's really different from anything else I do. Basically, I strategize the best way to create websites that provide relevant experiences for the user and what they are trying to accomplish on the site. I didn't know how to do this; I had to learn it. The digital membership I have at Little Space Studios has been my saving grace. If I ever have questions, I can just hop on a call and get the answers I need.
I also have a few murals coming up. One is on the side of Public Thread and the other is on a building wall at the corner of Division and McConnel. I'm still kind of new to murals, but now that I've done some, I see again how my background in production art has helped me turn something small scale into large scale.
How does it feel to be such a big part of the GR art scene?
People say that to me and I think: Are you for real? I just didn't realize that I was, but it's cool and I love it. Something I've really wanted is to be more involved in the community and these mural projects have allowed me to meet people and learn what they want to see on the walls in their neighborhoods. That's so fulfilling to me.
Anything else you want people to know about you?
Not about me, but in general what I want people to know is that you really can do the things you want to do. The more you focus your energy into the things that are your purpose and your talent, those things just appear into your life — like magic. That's what's happened for me. It's really a mindset and I know it maybe sounds corny and it's very inspirational speaker-ish, but it's also very true. And when it gets uncomfortable, just sit with that. It's going to be that way. It's part of life and I think to have the big ideas, you can't shy away from the big challenges—because next thing you know, you're doing it.
Find Zuller's work at behance.net/kristinzuller.