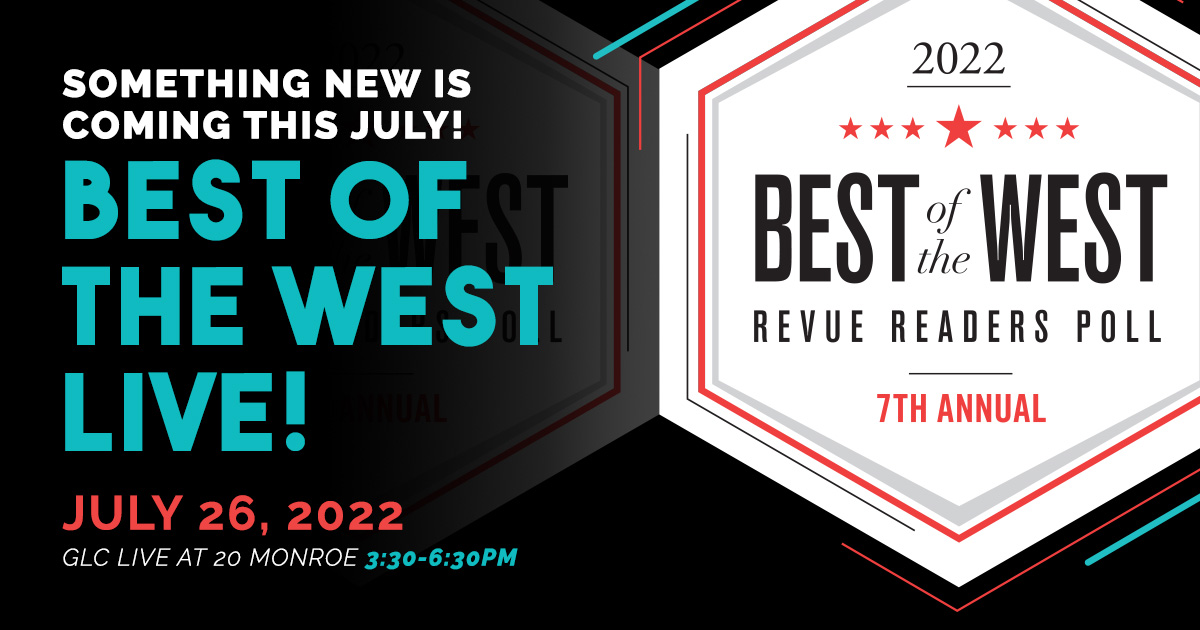 Something new is coming this July ...
Best of the West LIVE!
GLC Live at 20 Monroe
July 26, 2022
3:30PM - 6:30PM
We're throwing a party for West Michigan, and you're invited to join Revue and our Best of the West 2022 finalists!

Best of the West LIVE celebrates, well, the best in West Michigan! The winners of the Dining, Craft Drinks, Nightlife & Activities, Services & People, Shopping, Music and Attractions categories will be announced live on stage at GLC Live at 20 Monroe on July 26! The August issue of Revue, which lists all finalists and winners, will be available at the event.

Join us and celebrate! Enjoy music, happy hour drinks, snacks and networking with literally the best in the industry. It is up to you when you arrive and when you leave, as the schedule will run as follows:
3:00 - 4:00 - Music by DJ AB, Arrive at your leisure, Grab a drink and snack
4:00 - 5:00 - Announcement of Dining & Drinking Awards
5:00 - 5:30 - Announcement of Shopping & Music Awards
5:30 - 6:00 - Announcement of Services & Attractions Awards
6:00 - 7:00 - AfterGlow & Celebration
We understand that you may be coming from work, going to work or planning to continue the party with dinner and drinks afterwards—hence, a free-flowing event. Once you arrive, you'll want to stay, but if you have to go at any point ... we'll miss you!

Pricing
$65 per Individual Ticket: General Seating, One Drink Ticket, Appetizers & Dessert Bar
$1,000 per Table: 8 Tickets, Champagne Snack Basket, One Drink Ticket per Guest, Appetizers & Dessert Bar, Hyperlinked Logo on Event Website, Logo in Event Program, Logo on Event Signage

Thank you to our 2022 sponsors!