March 3, 7:30 p.m.
Formed in Dublin in 1962, The Chieftains are an Irish folk band that have won a pile of Grammy Awards and have collaborated with icons like the Rolling Stones, Madonna and Roger Daltrey, among others. Prior to the show there will be a Spotlight Dinner with guest speaker Paddy Moloney, the group's founder and leader.
March 4–5
Learn about the process of instrument design and check out workshops for a variety of stringed instruments at the Kalamazoo Fretboard Fest. This free two-day event also features performances by Crane Wives, Corn Fed Girls, Megan Dooley and Joel Mabus, among others.
March 25-May 4
Know a budding Picasso? The Kalamazoo Institute of Arts seeks entries for its High School Area Show. Participants must be 18 years or younger and in grades 9-12. Students also must be from the counties of Allegan, Barry, Berrien, Branch, Calhoun, Cass, Kalamazoo, St. Joseph or Van Buren. Submissions must be delivered by March 11 — the reception and awards ceremony happens March 24. Winners take home prizes like cash awards and scholarships.
March 10, 7:30 p.m.
French vocalist Cyrille Aimée brings her unique blend of gypsy and Brazilian jazz to St. Cecilia's Music Center March 10. According to the Jazz Times, "It is impossible to not be charmed by French moppet Cyrille Aimée and her infectious joie de vivre." Aimée was a finalist in the French version of Americal Idol and won the Montreux Jazz Festival in 2007.
March 12
Break out the Rolaids and prepare for the 4th Annual Chilly, Blues & Brews festival. Professionals and amateurs face off for a $1,000 cash prize for best chili and all entries must include a Michigan craft beer as an ingredient. Sampling tickets are 50 cents each, tasting begins at 1 p.m. There will also be an eating contest at 3 p.m. and music all day long from acts like The Ragbirds, Big Boss Blues Band and Deep Greens & Blues, among others. A portion of the proceeds benefit skin cancer research.
March 12, 10 p.m.
Featuring international showgirls and regional burlesque talent, Shimmy Shack Burlesque mixes audience participation with onstage high jinks. The event is locally produced and directed by Vivacious Miss Audacious and is hosted by Sarah Jean Anderson.
March 17–19 & 23–26
If you're past due on taking in some local theatre, the time is now. Directed by Michelle Urbane, Rapture Blister Burn is the story of best friends Catherine and Gwen who go their separate ways after grad school and begin to live two very different lifestyles. What follows is an "unflinching look at three generations of gender politics."
March 18, 7 p.m.
Former teen idol Nick Carter, 36, best known for his Backstreet Boys fame, has kept busy since his Tiger Beat days with acting jobs and releasing three solo albums — the latest being 2015's All American. The first single, "I Will Wait," was inspired by Ed Sheeran's songwriting and hit #1 on Billboard's Trending 140 Chart. Carter headlines March 18 at The Intersection.
March 18–20, 7:30 p.m
MOVEMEDIA, now in its fifth season, is a "creative incubator" allowing celebrated contemporary choreographers from all over the world to produce new works. The performances merge visual elements of props, lighting, costumes and sets and frames them with technology and digital media. Check it out March 18-20 at the Peter Martin Wege Theatre.
March 19, 7 a.m.–10 p.m.
This St. Patrick's Day celebration, now in its sixth year, attracts more than 17,000 revelers to downtown Grand Rapids. Expect an ample amount of beer, live music, DJs, bagpipes, food and games. Set to perform are DJ Adrian Butler (featured in this month's Style section), The Waxies, DJ Benny Doom, Moxie Strings, Stone Clover and DJ Richard Oxygenn. For tickets, go online or stop into HopCat, Waldron Public House or Stella's Lounge.
March 19, 8 p.m.
Check out DeVos Performance Hall March 19 for an uplifting and jubilant showcase of three composers' works by the Grand Rapids Symphony. This includes: Guillaume-Connesson's Supernova, Schumann's Symphony No. 2 and Beethoven's Piano Concerto No. 5, The Emperor. Beethoven was profoundly deaf when he composed The Emperor, but the resulting work is sonically majestic.
March 19, 8 p.m.
Hip-hop has long been a mouthpiece for important social movements, and with 100-percent of raised funds going towards water filtration devices and systems for Flint, this event is a prime example of that. The show boasts performances from Finale, Bronze Nazareth, Mike G, Manchild, Shamar Alef and The Great Ones, among others.
March 21 & 22
Host of StarTalk Radio and Cosmos: A Spacetime Odyssey — and face of many memes — Neil deGrasse Tyson stops by Miller Auditorium March 22 for "an evening of engaging conversation on science, exploration and the world as we know it." Tyson has written 10 best-selling books, frequently appears on The Daily Show and has received the NASA Distinguished Public Service Medal, as well as several honorary doctorates.
March 23, 8 p.m.
As part of their nine-city tour, Elton John & His Band stop March 23 at Van Andel Arena. John, 68, will surely rip through a roster of monster hits like "Your Song," "Rocket Man," "Bennie and the Jets," "Crocodile Rock" and "Don't Let the Sun Go Down on Me" — along with tunes from his latest LP, Wonderful Crazy Night. Backing up this piano bangin' icon is drummer Nigel Olsson (part of John's original trio), guitarist Davey Johnstone (who first recorded with John in 1971), percussionist John Mahon, keyboardist Kim Bullard and bassist Matt Bissonette.
March 24, 7 p.m.
Known for being the raunchy runner-up of the first season of Last Comic Standing, Ralphie May has made a name for himself in the comedy world. May, 43, has filmed four Comedy Central specials as well as two Netflix specials, Unruly and Imperfectly Yours. Check out his observational comedy when he takes the stage at Firekeepers Casino.
March 25, 7:30 p.m.
Having just released their 16th studio album, One Lost Day, in June 2015, these folk-rock veterans are no strangers to the stage or West Michigan. The duo has spent 35 years touring the world and won a Grammy Award in 1990 for Best Contemporary Folk Album. Ironically, at that same ceremony they also lost in the "Best New Artist" category to another duo: Milli Vanilli.
March 29, 7:30 p.m.
Let's dance! Performing in over 50 cities in 2016, Riverdance is a pioneering and exhilarating union of Irish and international dance. "[This tour is also] a thank you to our audiences and a celebration of what has been an incredible journey across two decades," said Riverdance producer Moya Doherty. The production debuted in Dublin in 1995, initially as a seven-minute intermission.
March 31, April 1-2
Stand-up comic Sean Patton has been on everything from Late Night with Jimmy Fallon and @midnight, to Maron and Inside Amy Schumer. And according to the New York Times, "He's dynamite, even with ordinary material, turning standard Brooklyn hipster jokes into a stomping, roaring tour de force, and elevating a bit about sex-performance anxiety into high-stakes comedy."
March 31–April 3
Comic book fans of all ages may want to check out Marvel Universe Live when it hits Van Andel Arena March 31-April 3. Expect appearances from heroes like Spider-Man, the Avengers and more. The high-flying performances feature pyrotechnics, aerial stunts, martial arts, special effects and motorcycles.
April 1
Fans of stripped-down blues-punk bands like the Soledad Brothers, Black Diamond Heavies and White Stripes might want to pick up the new self-titled 400 Rabbits album at the band's album-release show April 1. The Kalamazoo-area duo started jamming in 2007, originally under the name Sex Chocolate. The new 11-song LP features dynamic originals and some obscure Delta-blues covers.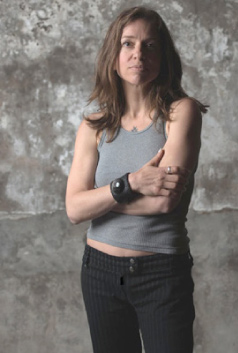 EARLY WARNINGS:
Mavis Staples @ Kalamazoo Valley Community College: April 2
Ani DiFranco @ The Intersection: April 3
Art.Downtown. @ Avenue for the Arts: April 9
Maurice Sendak: Where the Wild Things Are @ Grand Rapids Art Museum: April 9–May 22
The Mountain Goats @ Calvin College: April 14
Lewis Black @ Soaring Eagle: May 21
Spring Peddler's Market @ Downtown Zeeland: May 21
Mo Pop Festival @ West Riverfront Park, Detroit: July 23-24