5/4
Saved By The 90s
The Intersection
133 Grandville Ave. SW, Grand Rapids
May 4, 8 p.m., $10-15
sectionlive.com
Said to be the longest-running live 1990s music party on earth, Saved By The 90s keeps the party going as it heads to the Intersection for a night of celebration and nostalgia. Reminisce about the good ol' days by dancing and singing to music you haven't heard in years. You'll never forget the words to All Star by Smash Mouth, no matter how hard you try.
May the Short's
Be With You
HopCat
25 Ionia Ave. SW, Grand Rapids
May 4, 6-11 p.m.
hopcat.com/grand-rapids
You don't have to be a Star Wars fanatic to get down with this tap takeover. Well, it's not really a takeover — HopCat has far too many taps for that. But Short's Brewing Co. is bringing at least six beers to the Grand Rapids location, and two of them are brewed just for the occasion: The Empire Hops Back, an India Pale Lager, and My Own Best Friend, a dry-hopped Belgian golden ale. Also look for the Bourbon Woodmaster, a bourbon barrel-aged imperial brown ale with maple syrup and toasted pecans.
5/5
Free Comic Book Day
West Michigan
May 5, free
Pretty much every comic shop in West Michigan is joining others worldwide in taking part in Free Comic Book Day on the first Saturday in May. Comic shops give out select comics for free throughout the day, welcoming newcomers and rewarding dedicated fans. If that's not exciting enough, many shops host other events and contests throughout the day to celebrate the joyous occasion. Grand Rapids-based Vault of Midnight will have a cosplay contest, a virtual-reality experience with Oculus Rift, a Great Draw Wall, face painting and more. Head to freecomicbookday.com to find more participating stores.
Derby Day on Bridge Crawl
Bridge Street NW, Grand Rapids
May 5, 12-8 p.m., $15
derbydayonbridge.com
We're not really sure how the Kentucky Derby — a TWO-minute race — became so famous, but we might as well have some fun with it. A group of bars and restaurants on Bridge Street are teaming up to offer a bar crawl with drink and food specials throughout the day, all leading up to the race at about 6:45 p.m. Your ticket includes an official derby mug and access to specials at Knickerbocker, Butcher's Union, Sovengard, Anchor Bar, One Bourbon, O'Toole's and Harmony Hall.
5/11
GLOW 2018
Eve at The BOB
20 Monroe Ave. NW, Grand Rapids
May 11, 9 p.m.-2 a.m., $10
thebob.com
GLOW comes back to Eve for yet another year of festivities. For one night only, the nightclub will be turned into a black-light glow festival. Enjoy beats from DJ Kane and DJ VanHekken, drink specials from Red Bull and Belvedere, and a festival totem contest — we're not totally sure what that is, but if you do, you might have a shot. Admission includes body painting by BL Visuals, whose mesmerizing work always stuns. Eve will also be doing some giveaways, including a chance to win a pair of Electric Forest tickets.
5/12
Fifth Third River Bank Run
Monroe Avenue, Grand Rapids
May 12, 7 a.m.
53riverbankrun.com
Every year, you can rely on the Fifth Third River Bank Run to be there for you. Per usual, the event includes a 5K walk and run, a 10K and 25K run, and 25K handcycle and wheelchair racing. It all concludes with Finish Fest on Calder Plaza, where participants and their families can celebrate the successes of the day with concessions from Buffalo Wild Wings and a selection of beverages, including Pepsi products and beer, as well as live music.
5/17-20
West Fest
John Ball Park
1300 W. Fulton St., Grand Rapids
May 17-20, $20+
westfestgr.org
Celebrate all that the West Side has to offer with music, food trucks, carnival rides and more at West Fest at John Ball Park. It's fun for children, with carnival rides galore, a fire truck and a scavenger hunt. However, an adult-only trivia night will be held on Saturday evening to ensure a wild time adults can enjoy as well.
5/19
Cider Week Festival
Gillett Bridge, Grand Rapids
May 19, 1-5 p.m., $25
experiencegr.com/cider-week
Last year's cider festival on the Blue Bridge was a rousing success, featuring cideries from all over Michigan, including The Peoples Cider Co., Vander Mill, Blake's Hard Cider Co., Sietsema Orchards & Cider Mill, Virtue Cider and many more. All the favorites are sure to return this year, but 2018's festival also features one new (and oh-so important) ingredient: food. Enjoy some hard cider in the sun with live music while meeting your favorite cider makers!
Barley, BBQ & Beats
Van Andel Arena
130 West Fulton, Grand Rapids
May 19, 5-9 p.m., $40-45
vanandelarena.com
Barley, BBQ & Beats: the name of the event really says it all. Admission gets you a punch card valid for three servings of barbecue and three hand-crafted cocktails. The food lineupincludes pitmasters like Daddy Pete's BBQ, Slows Bar BQ and Jonny B'z, while distilleries like Two James Spirits, Iron Fish Distillery and Journeyman Distillery will be serving up spirits. You'll also find plenty of fun yard games and local music. Extra punches are available for $5 each. Proceeds from the event support Hospice of Michigan's Open Access Fund, which provides end-of-life care to patients.
5/19-20
Great Lakes Kite Festival
Grand Haven State Park
1001 S. Harbor Dr., Grand Haven
May 19-20, free
mackite.com
The summer season kicks off in Grand Haven with the 30th annual Great Lakes Kite Festival, where kites of all colors, shapes and sizes fill the shoreline sky. Famous stunt-kite fliers from the Midwest and beyond perform to music, while kites larger than school buses float nearby. Feel free just to watch these performances or bring your own kite and join in on the fun. Kites, spinners and wind toys will be available for purchase at the giant MACkite tent on the beach.
5/20
Steve Martin & Martin Short
DeVos Performance Hall
303 Monroe Ave. NW, Grand Rapids
May 20, 7:30 p.m., $95+
devosperformancehall.com
Laugh along with entertainment legends and best friends of more than 30 years, Steve Martin and Martin Short, as the two tell stories of their iconic careers through a unique combination of banter, singing, conversation and banjo playing. With any luck, the show will even exceed its name: An Evening You Will Forget for the Rest of Your Life. Along with Martin and Short, the show features musician Jeff Babko and bluegrass band Steep Canyon Rangers.
5/24
The Marcus King Band
State Theater
404 S. Burdick St., Kalamazoo
May 24, 7:30 p.m., $23
kazoostate.com
At just 21 years old, Marcus King already is dazzling crowds across the nation with a gorgeous, slightly rough voice beyond his years and incredible guitar-shredding Americana — or as he puts it, "soul-influenced psychedelic Southern rock." That's not to discount his band, who brings the groove with funky horns, organ, piano and percussion. The talented multi-instrumentalist Erin Coburn opens, singing and playing guitar and electric ukulele.
5/30
21 Savage
20 Monroe Live
11 Ottawa Ave. NW, Grand Rapids
May 30, 8 p.m., $30+
20monroelive.com
With struggles come stories in the music industry, and 21 Savage has plenty of stories to tell. He does so with next-level talent, as his songs continue to rise to the top of the charts. The Georgia-based rapper has collaborated with popular rap and hip-hop artists like Drake, Future, Meek Mill and Gucci Mane, making him a well-known name in the music industry. Expect to hear some old favorite hits, as well as some of his newer music.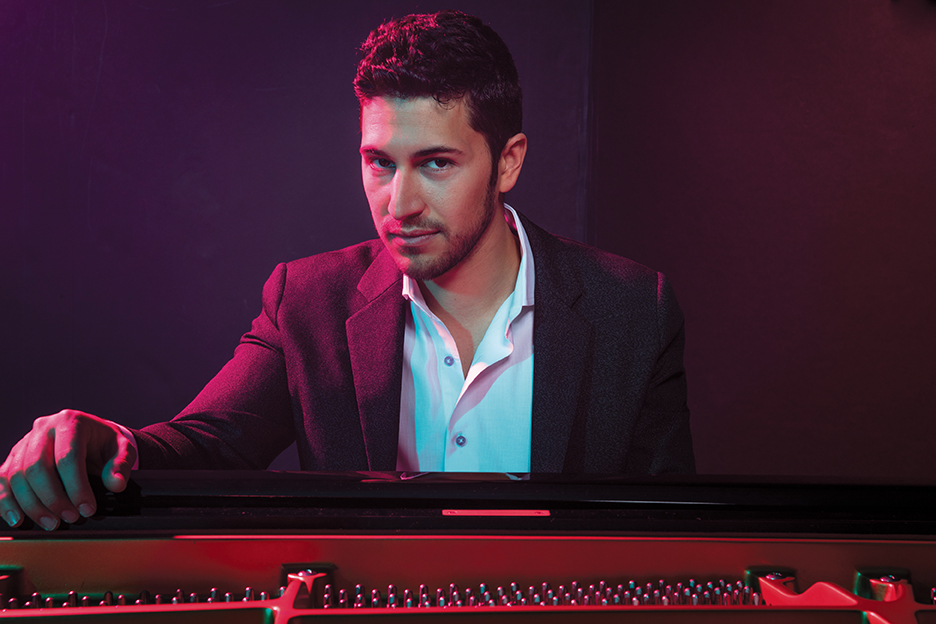 East Lansing Art Festival
Since 1964, the East Lansing Art Festival has taken over downtown right as the summer kicks off. Originally started as a sidewalk art sale designed as a student project, the festival has grown exponentially over the years and often makes Sunshine Artists Magazine's Top 200 fine art and craft shows.
Now, as it celebrates its 55th year, the juried art show continues to showcase the works from artists all over the region. The festival serves as both an exhibition and marketplace opportunity to feature original works in mediums ranging from 2D and 3D mixed media to drawings, photography and jewelry.
The weekend-long event also includes a mix of original and traditional live music highlighting local talent, food vendors and a Children's Arts Activity Area, where kids can participate in art projects and how-to workshops.
| by Dana Casadei
Downtown East Lansing
May 19-20, free
elartfest.com
Gilmore Keyboard Festival
This annual, internationally renowned festival began in April, but it's not done yet! There are dozens of performances at a variety of venues, including past and present Gilmore Young Artist recipients, legendary pianists and the centennial celebration of Leonard Bernstein.
Every two years, the Gilmore Keyboard Festival takes over Kalamazoo for two and a half weeks, filling the city's concert halls with the sounds of pianos, accordions, harpsichords and more.
It's not just for classical music lovers — Gilmore features exciting big bands, jazz aces and plenty of beer. Plus, if you think you don't like classical music, you probably just haven't heard it live.
The festival brings in masters of their craft from around the world, from classical champions to jazz geniuses. And every four years, the Gilmore awards one promising pianist a $300,000 Artist Award. It's a historic event watched by people around the world. You don't want to miss out.
Head to revuewm.com for in-depth coverage including artist interviews and next-day reviews.
West Michigan
Through May 12
thegilmore.org
At The Table
This month, Exit Left Theatre Company of Holland will present At The Table by Michael Perlman, a show that has been raved about for its presentation of the raw, human experience. The story is centered around a group of friends from college who go on an annual weekend getaway to one of the friend's cottages. Focusing on conversations between friends, the show plays on who is "invited to the table" for certain topics and how certain people come into topics they are not "invited" to.
| by Kayla Tucker
Exit Left Theatre Company
Beer Merchant
442 Washington Ave. Holland
May 31-June 10
exitlefttheatre.com