Welcome, welcome, to Revue's holiday and New Year's Eve extravaganza!
If you're a Christmas celebrator, the week after can feel a bit empty, but we're here to help, as always. Not only are there a few events happening in the final week of December, but you should really be thinking about what you want to do for New Year's Eve.
Luckily, there's absolutely no shortage of NYE events in West Michigan. Every year, more bars, restaurants and ballrooms hop on board, so your options are far from limited.
We won't waste any more time getting to it, except to say: Happy Holidays, and see you after the New Year!
Boxing Day
Boxing Day Brunch
SpeakEZ Lounge
600 Monroe Ave. NW, Grand Rapids
Dec. 26, 10 a.m.-2 p.m.
facebook.com
Boxing Day is a special British holiday that no one in America really understands, but that's fine. All you need to know is it's always the day after Christmas, and a bunch of soccer games are happening across the pond starting at 7:30 a.m. our time, so SpeakEZ is opening its bar real early for you foot-heads out there (or whatever soccer fans are called). Brunch starts at 10 a.m.
Boxing Day at Harmony
Harmony Brewing Co.
1551 Lake Dr. SE, Grand Rapids
Dec. 26, 11 a.m.-11:30 p.m.
facebook.com
Harmony is celebrating Boxing Day with some special British deals, including 50% off Hot Toddies, $6 Earl Grey Martinis, homemade beef stew, candied apples, 25% off apparel and British Invasion music throughout the taproom. Cheers!
The In-Between
Mustard Plug's 17th Annual Holiday Show
Elevation at The Intersection
133 Grandville Ave. SW, Grand Rapids
Dec. 27, 6 p.m.
sectionlive.com
It's Mustard Plug! What more do you need to know! The local ska favorite returns once again for its holiday show, this time with The Lippies, Dance Contraption and Ugly Flannel in tow. Christmas doesn't have to end on the 25th.
Yule Ball
20 Monroe Live
11 Ottawa Ave. NW, Grand Rapids
Dec. 28, 8:15 p.m.
20monroelive.com
The magical, wizardly Yule Ball is back for its third year at 20 Monroe Live, featuring music from Tonks & The Aurors and The Accidentals. This Harry Potter-themed party features butterbeer, potion making, a Diagon Alley with vendors, a horcrux hunt, trivia, live animals, photo ops, giveaways and so much more. You can even by a special ticket for a themed Great Hall-style dinner at 5 p.m. that has extra entertainment, including a Potter-themed magic show.
New Year's Eve
NYE Gatsby Party on The Brew Bus
Saugatuck Brewing Kalamazoo
140 S. Westnedge Ave., Kalamazoo
Dec. 31, 8 p.m. – 1 a.m., $37
facebook.com
Grab your favorite flappers and tuxes: It's time to ring in the Roaring '20s. The Kalamazoo Brew Bus is ready to take you and your friends to your favorite bars this New Year's Eve. From 8 – 11:45 p.m., the bus is hopping to local bars. Later, you will see fireworks downtown and help count down to midnight. This is your chance to dress to the nines and live out your Great Gatsby dreams, Old Sport.
Gatsby NYE Party at Paddock
Paddock Place
1033 Lake Dr. SE, Grand Rapids
Dec. 31, 9 p.m. – 2 a.m., $30
thegilmorecollection.com
Wait: Another Gatsby Party for New Year's Eve? That's right! Except this one's in Grand Rapids—and there's no better place to throw a lavish throwback party than in Paddock Place, a gorgeous historical estate. Your ticket gets you access to an all-night party featuring a live DJ, party favors, coat check, champagne at midnight and a pizza buffet at 12:30 a.m. You can also get a special ticket for a fancy dinner before the big party begins.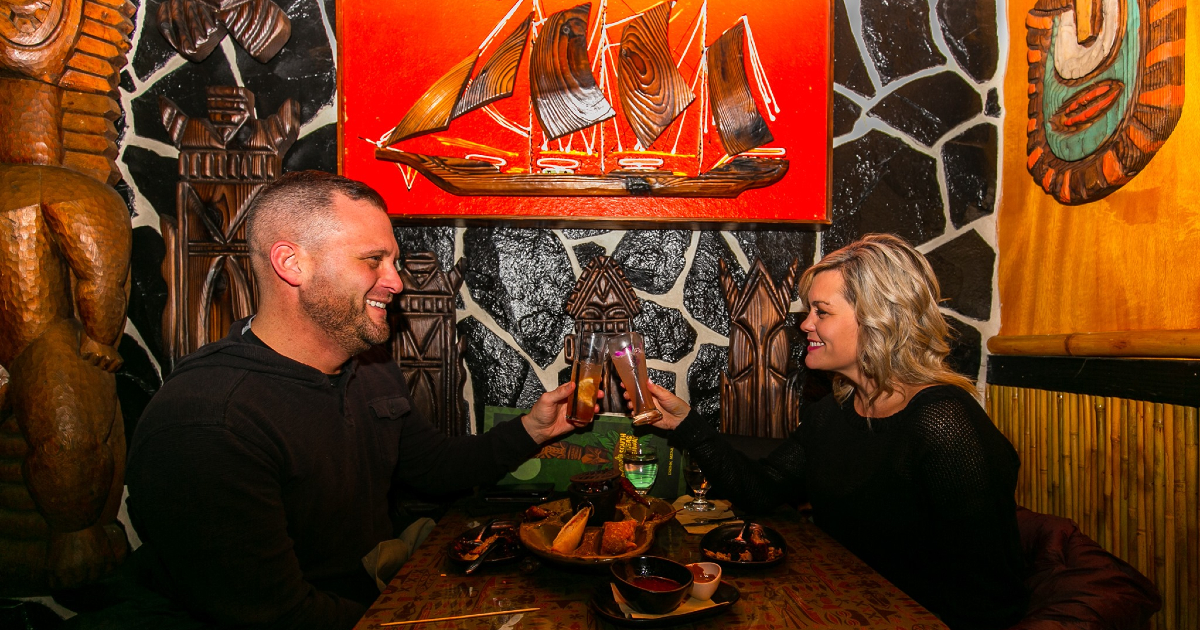 A Very Tiki New Year's Eve
Max's South Seas Hideaway
58 Ionia Ave. SW, Grand Rapids
Dec. 31, 4 p.m.-1 a.m.
facebook.com
It's cold out there, so you should really head inside to a tiki paradise for NYE. At Max's, you can go absolutely all out. You'll get a lei and other party favors for showing up, but a VERY special five-course prix fixe meal will be available if you're into that, along with a five-course rum pairing! Or you can just order off the menu, that's fine too. Make a reservation, or else!
Resolution Ball 2020
20 Monroe Live
11 Ottawa Ave. NW, Grand Rapids
Dec. 31, 8 p.m.-2 a.m.
resolutionballgr.com
This massive "Chicago-Vegas style" party has it all — a champagne fountain, midnight snack stations, a huge midnight balloon drop, complimentary coat check, special performances from Daredevil Circus and go-go dancers, plus a bunch of DJs spinning hot hits. Live it up!
Back to the 90s NYE: 1990s vs. 2000s
The Pyramid Scheme
68 Commerce Ave. SW, Grand Rapids
Dec. 31, 9:30 p.m.
facebook.com
It's a NYE tradition! Get nostalgic and party to all the hits from your childhood while dancing and partying hard at the Pyramid Scheme with some of your favorite local DJs.
Mojo's 2020 New Year's Eve
Mojo's Dueling Piano Bar
180 Monroe Ave. NW, Grand Rapids
Dec. 31, 6 p.m.
facebook.com
It's Mojo's, so you know it's going to be lit. You can reserve a table anywhere on the main floor where the dueling pianos are, or head upstairs for a general admission DJ-led dance party. If you get a table, you can also order dinner, starting at 6 p.m.
New Year's Eve – Four Course Tasting
One Twenty Three
123 Ionia Ave. SW, Grand Rapids
Dec. 31, 5-10 p.m.
123gr.com
Maybe you don't want to stay up late partying all night! Maybe a nice, fancy dinner and then heading home to watch the ball drop is celebration enough. Well, One Twenty Three is offering just that with a four-course tasting menu for $65 per person, and you can add on a wine pairing too! It's a party in your mouth.
Death of Disco NYE Party
New Holland Brewing's The Knickerbocker
417 Bridge St. NW, Grand Rapids
Dec. 31, 9 p.m.
facebook.com
Disco never died, it just took some time off! It's coming back in full force at The Knickerbocker with this NYE party. Put on your polyester and expect to boogie to some disco hits until midnight when a ball drops in The Trees. After midnight, DJ Rick Oxygenn is taking over for some '80s hair metal mashups.
Hollywood VIP New Year's Eve
Rockwell Republic
45 S. Division Ave., Grand Rapids
Dec. 31, 9 p.m.
rockwellrepublic.com
This New Year's, you can be the star. Roll up to Rockwell Republic in your Hollywood attire, get out of the limo and saunter down the red carpet. Eat, drink and be merry all night with all your co-celebs. Your ticket includes two $10 gift certificates — one for Rockwell and one for Sundance Grill!
The Ballroom Bashes
Amway Grand Plaza
187 Monroe Ave. NW, Grand Rapids
Dec. 31, 8 p.m.
facebook.com
Why limit your party to one location? One ticket to the Ballroom Bashes gives you access to four ballrooms across two hotels: Bubbles and Bling in the Amway's Pantlind Ballroom, Decades in the Amway's Ambassador Ballroom, the Rat Pack Experience in the Amway's Imperial Ballroom, and Club J-Dub in the JW Marriott's International Ballroom. Now that's fancy.
The Insiders: Tom Petty Tribute Band
Bell's Eccentric Café
355 E. Kalamazoo Ave., Kalamazoo
Dec. 31, 9 p.m.
facebook.com
Get your heart broken by this Tom Petty tribute band playing at Bell's taproom. Your ticket includes one drink ticket, but you're probably allowed to drink plenty more after that.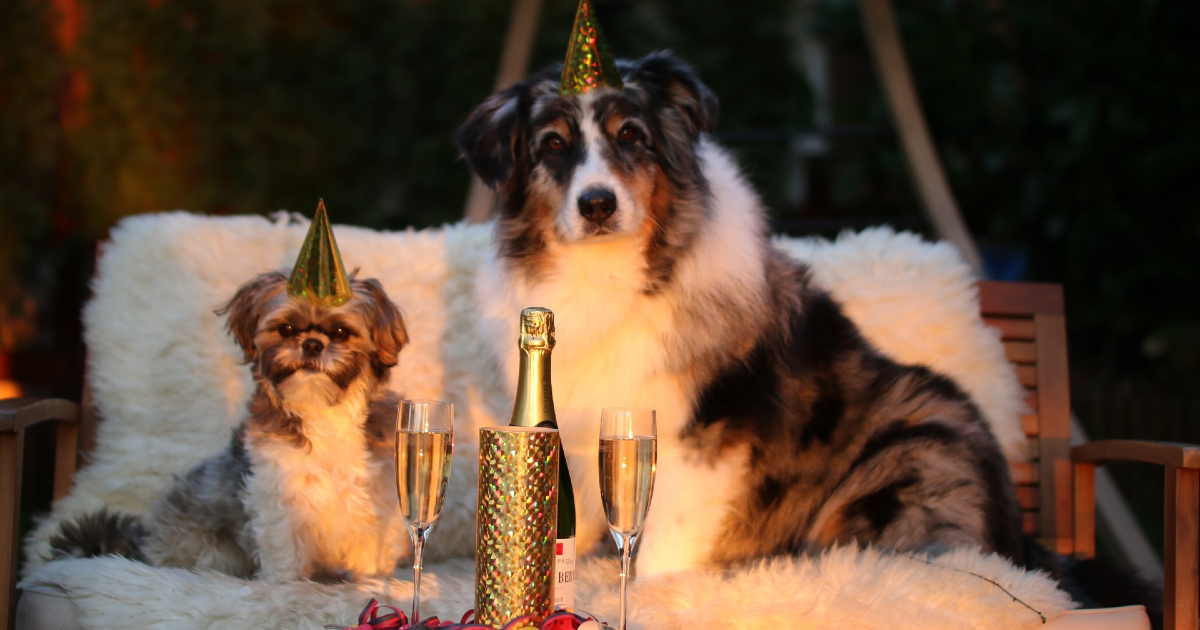 10th Birthday – Black & White Bash
Old Dog Tavern
402 E. Kalamazoo Ave., Kalamazoo
Dec. 31, 8 p.m.
facebook.com
Way not have two parties in one! Old Dog Tavern is celebrating 10 years open and NYE at once with a stacked Open Mic lineup, a complimentary champagne toast, hors d'ouevres and more.
Roaring '20s NYE Celebration
Fratelli's Kitchen & Bar
443 Bridge St. NW, Grand Rapids
Dec. 31, 5 p.m.
facebook.com
This one's got limited capacity, so be sure to reserve via Facebook ASAP! We're entering the '20s all over again, so it's only fitting that Fratelli's Kitchen & Bar is bringing the roaring good times back. Head there after 9 p.m. for live jazz and a basket of free breadballz. Or head there early for a special three-course meal.
Throwback New Year's Eve 1992
SpeakEZ Lounge
600 Monroe Ave. NW, Grand Rapids
Dec. 31, 5 p.m.
facebook.com
Throwback parties are all the rage and SpeakEZ has decided to get oddly specifc with a party focused on exactly one year: 1992. You can come at 5 p.m. for a three-course dinner with classic '90s hits performed in an acoustic style. OR come at 7:30 p.m. for a dinner and a table you get to keep all evening, with a full band providing '90s party hits, and of course a midnight champagne toast.
New Year's Early Eve
Grand Rapids Children's Museum
11 Sheldon Ave. NE, Grand Rapids
Dec. 31, 6-8 p.m.
facebook.com
So you've got kids, but you don't want to miss out on all the fun! Head to the Children's Museum for an early party that includes Buddy's Pizza, an early ball drop with confetti, Spoonlickers fro-yo, music dancing and party hats! Then you can head home and tuck the whole family in bed.
The Morning After
Pajama & Onesie Party
New Holland Brewing's The Knickerbocker
417 Bridge St. NW, Grand Rapids
Jan. 1, 11 a.m.-4 p.m.
facebook.com
Nothing heals the soul after a night of New Year's partying like eating brunch in your PJs. Head to New Holland with your jammies on for Bloody Mary's, mimosas and a special brunch menu. It's a new year, start it off right!