Having an entire year ahead of you can be daunting. There are 12 months to fill, 52 weeks, 365 days ... If you're feeling a little aimless, we're here to help. A new year is actually a great time to commit to trying things, whether it's learning a new hobby, going to a festival for the first time or visiting that restaurant you've always been scared of. Whatever's been holding you back, let it go so you can get out there and make some memories this year. While West Michigan has far, far more than 50 things to do in one year, these are some of our favorites. At minimum, let this act as guiding inspiration. If you're not a fan of our dining suggestion, that's fine! But at least commit to trying one new restaurant this year. It might change your life.
HIPPIE FEST
Kalamazoo County Fairground
2900 Lake Street, Kalamazoo
May 30, 12 – 7 p.m., $12
hippiefest.org
This rain or shine event celebrates peace and love. Hippie Fest welcomes free-spirited people from all over the country for a day filled with live music, bohemian shopping, a vintage hippie car show, tie-dye, a giant bubble garden, cirque performers, tasty food and a whole lot more. Break out your favorite tie-dye attire, leave your worries behind and celebrate all things groovy.
GYPSY GODDESS FESTIVAL
Allegan County Fairgrounds
150 Allegan Co. Fair Drive, Allegan
June 5 – 7, $5-$60
gypsygoddesssummerfest.com
The Gypsy Goddess Festival is a celebration of women through music, art and the mystical. All are welcome to this three-day event that supports and encourages conscious living, sustainability, holistic wellness, spiritual awareness and compassion for all. Spend the weekend vibing to live music, dance, food, free yoga, top psychics, gong meditation, henna and glow body paint.
HAMILTON
DeVos Performance Hall
303 Monroe Ave. NW
Jan. 21 – Feb. 9
devosperformancehall.com
Don't miss the musical that no one has stopped talking about since its premier in 2015. Hamilton follows the story of America's founding father without a father, Alexander Hamilton. The score expertly blends hip-hop, jazz, blues, rap, R&B and showtunes into an innovative emotional spectacle.
55th ANNUAL REEDS LAKE ART FESTIVAL
Gaslight Village
Wealthy Street, East Grand Rapids
June 20, 9 a.m. – 5 p.m.
eastgr.org
This one-day art festival has been a hit for the past 54 years, attracting thousands of art lovers and craft enthusiasts. Browse and shop more than a hundred booths filled with paintings, pottery, jewelry, wood furnishings, and other handmade, one-of-a-kind works of art.
A FESTIVAL OF ODDITIES
Courthouse Square Museum
100 W. Lawrence Ave., Charlotte
Sept. 5, 11 a.m. – 7 p.m.
screamqueen517.com
Get creeped out and celebrate all things weird and macabre. This all-day event boasts vendors, food trucks and special attractions. Shop creepy wares from makers from across the state, snag a photo with the Lansing Ghostbusters and Ecto-1, play vintage carnival games and don't forget to stop by the kitten tent. Inside the Courthouse Square Museum, you'll find a Living Library featuring true crime, paranormal and fictional horror writers from all over Michigan.
HARLEM GLOBETROTTERS
Van Andel Arena
130 W. Fulton St., Grand Rapids
Jan. 26, 3 p.m.
harlemglobetrotters.com
If you're from the Midwest, there's a good chance you've seen these guys in action. If you haven't, the Harlem Globetrotters are making their way around the court and you can see them here at the Van Andel. The traveling basketball troupe pulls out all the stops with insane trick shots, flips, dunks and other amazing feats of athleticism, all mixed in with a bit of humor. Don't try it at home
---
IMPRACTICAL JOKERS: CRANJIS MCBASKETBALL WORLD COMEDY TOUR
Van Andel Arena
130 W. Fulton St., Grand Rapids
Jan. 9, 7:30 p.m.
vanandelarena.com
The name of this show is definitely a mouthful, and the people behind it are more than a handful. This comedy tour features four guys everyone knows and loves from the truTV series Impractical Jokers. Without these guys pulling weird pranks (including their "loser round") in their show, life would be a lot less fun. Catch them onstage as they bring a collection of stories, improv comedy, pranks and never-before-seen clips to Van Andel Arena.
PAWS, CLAWS, AND CORKS
DeVos Place
303 Monroe Ave. NW, Grand Rapids
March 16
hswestmi.org
This is paws-down one of the cutest events you'll go to. Paws, Claws, and Corks lets you do wine-tasting and enjoy food from some of West Michigan's best restaurants, while raising money for the Humane Society of West Michigan. In one night, you get fine wine and delicious food and help animals in need. Two paws up for that.
15TH ANNUAL WINTER BEER FESTIVAL
Fifth Third Ballpark
4500 West River Drive NE, Comstock Park
Feb. 22, 1 – 6 p.m.
mibeer.com
The Winter Beer Festival is of course returning to Fifth Third Ballpark for its 15th year, once again featuring more than 1,100 beers from around 150 Michigan breweries! It's safe to say you're going to leave knowing you found a few new brews to love, along with new taprooms to add to your brewery bucket list. There's also live music, ice sculpting and other entertainment, which you can watch with a beer in hand while warming up by a fire pit.
LEARN TO COOK AT THE DOWNTOWN MARKET
Downtown Market
435 Ionia Ave. SW, Grand Rapids
downtownmarketgr.com
If you obsessively watch cooking shows but don't know where to start in your own kitchen, head to the Downtown Market, which hosts cooking classes of all sorts year-round. For instance, on Feb. 21 at Rustic French Cooking, you'll learn how to cook classic dishes from France, such as poulet roti aux légume racines, and end the meal deliciously with a mini tarte de pomme à la normande. Bon appetit!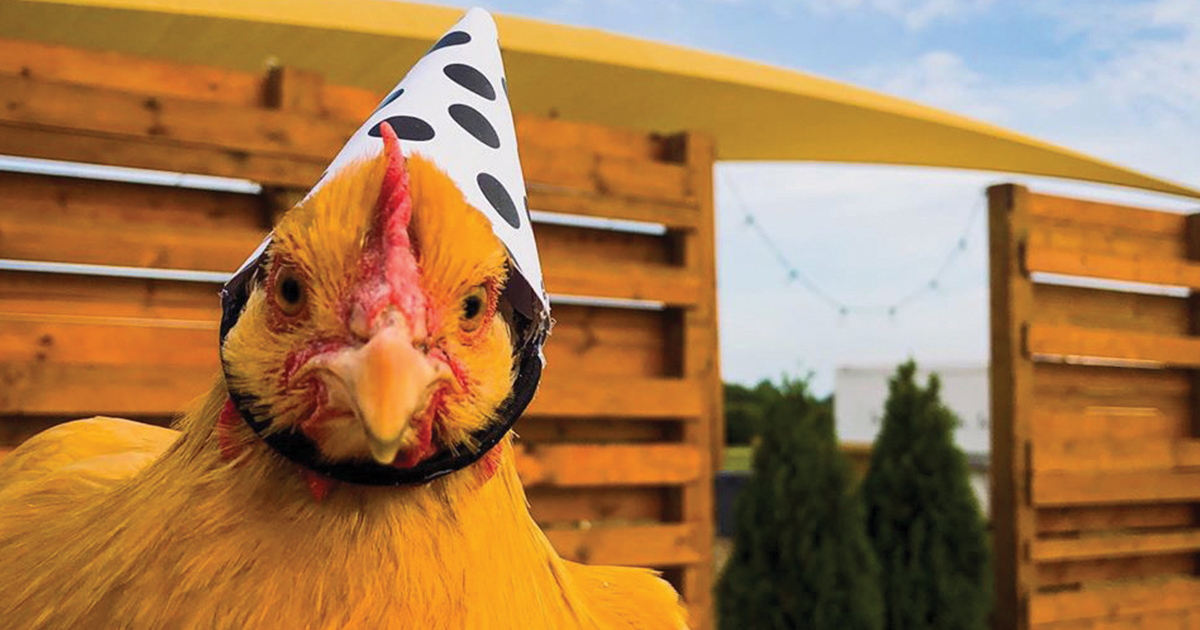 DRINK A BEER WITH A CHICKEN
Waypost Brewing Co.
1630 Blue Star Highway, Fennville
waypostbeer.com
Across West Michigan, you'll find a plethora of breweries with beer made from pretty much everything but the kitchen sink. But there's only one brewery in the area where you can enjoy beer crafted from local ingredients and inspired by local flora, while sitting outside hanging with a flock of chickens. Waypost Brewery in Fennville is relatively new to the craft beer scene, but the beverage selection and location do not disappoint. Head over in the summer and enjoy the peaceful beer garden. Chances are, you'll make a feathered friend while you're there.
LAUGH AGAIN WITH JIM GAFFIGAN
Van Andel Arena
130 W. Fulton St., Grand Rapids
March 5, 8 p.m.
vanandelarena.com
Jim Gaffigan has been making audiences the world over laugh for years now, and he's nowhere near done yet! In March, LaughFest is presenting America's favorite family comedian at the Van Andel Arena. One of the top touring comedians today, Jim Gaffigan seamlessly blends together family humor with jokes and conversations about his stray observations regarding life, culture and food.
GO TO (A) CHURCH WITH WHITNEY
Fountain Street Church
24 Fountain St. NE, Grand Rapids
Feb. 16, 8 p.m.
fountainstreet.org
Indie favorite Whitney returns to Grand Rapids with CHAI on February 16 to promote their sophomore album, Forever Turned Around. The Chicago-based band is known for their casual, glowing soft rock hits, which you've likely heard while browsing through Madewell or drinking beer at a friend's backyard barbecue over the summer. Must-listen-to tracks include "Valleys (My Love)" from their latest album and "Golden Days" from their debut.
KID FOR A DAY AT THE ZOO
John Ball Zoo
1300 W. Fulton St., Grand Rapids
jbzoo.org
When was the last time you went to the zoo, as an adult, without a kid in attendance? If the answer is never, you're missing out on a relatively cheap, quirky, summer day date opportunity. John Ball Zoo is home to a variety of animals and exhibits and for around $10, you can spend the day walking the park, watching monkeys and tigers, grab a bite to eat, and enjoy being in nature in the city. Or, if you're down South, head to Binder Park Zoo in Battle Creek!
CLIMB TO NEW HEIGHTS AT TERRA FIRMA
1555 Marshall Ave. SE, Grand Rapids
climbterrafirma.com
It's 2020 and there are more than a hundred different ways you could exercise on any given day. Level up your fitness routine and reach new heights by dropping in for a bouldering session at Terra Firma — no experience needed! After a brief introduction to the routes and layout of the gym, you'll strap on your rental shoes, grab onto the holds, and start climbing to the top. Terra Firma is open late, features a fully equipped gym space, and is a great spot to bring a couple of friends on a Sunday and climb over coffee.
BLAST TO THE PAST WITH ANTIQUE SHOPPING
400 Century Ave., Grand Rapids
There is nothing quite like the dusty, moody charm of the 400 block of Century Avenue. This massive brick building now houses three antique stores: Century Antiques, Warehouse One, and Lost and Found Treasures of Old and New. The three shops work together as a one-stop shop for the most beautiful, unique antiques. Whether you're looking for estate jewelry, one-of-a-kind furniture, or new-to-you sweaters, the 400 block has you covered — just be prepared to spend a few hours twisting and turning through the maze-like warehouse.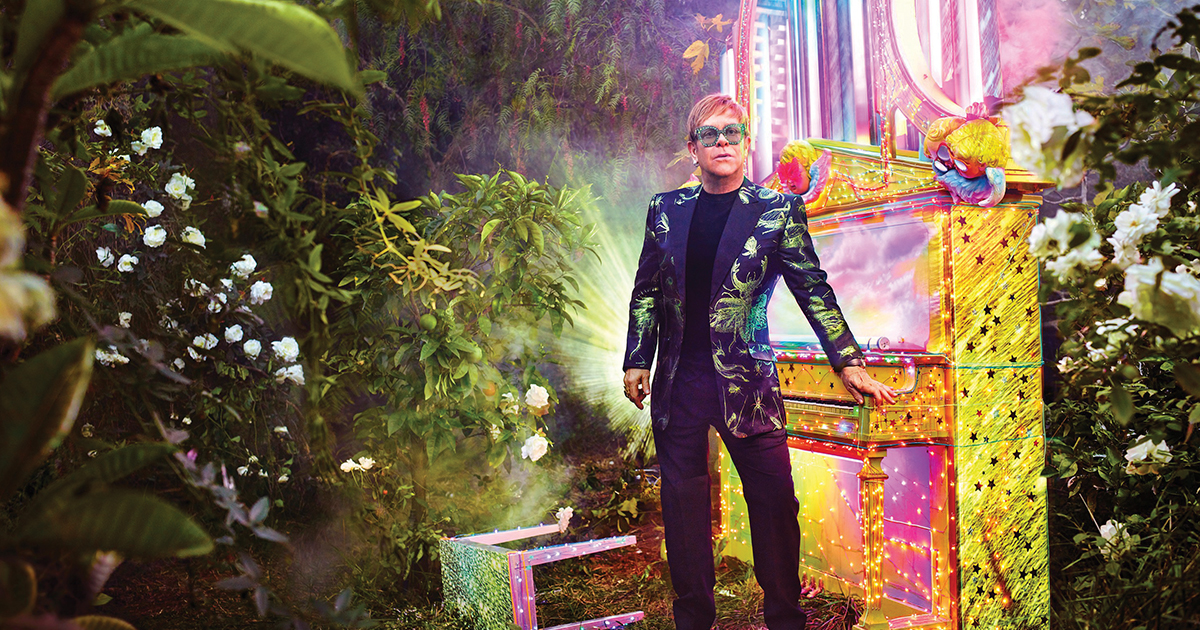 LEAVE THE YELLOW BRICK ROAD WITH ELTON JOHN
Van Andel Arena
130 W. Fulton St., Grand Rapids
April 23, 8 p.m.
vanandelarena.com
Attention earthlings: The Rocketman is once again landing in Grand Rapids. The Farewell Tour kicked off in 2018 and has been taking listeners on a magical journey through Elton John's legendary career ever since. The famous eccentric will be performing hits such as "Tiny Dancer," "Bennie and the Jets" and, of course, "Rocketman." Put on your big glasses and bedazzled space suit, because the show is going to be out of this world.
GO ON A SAFARI
Boulder Ridge Wild Animal Park
8313 Pratt Lake Ave. SE, Alto
boulderridgewap.com
For animal lovers, a day at the zoo is a day well-spent. Boulder Ridge Animal Park adds a twist to the classic zoo experience. The privately owned park gives visitors a close-up, hands-on experience with some of the most interesting (not to mention cute) animals around. Hand-feed giraffes and camels, or climb on board the park's safari bus, where you will venture from West Michigan all the way to central Africa. The park shuts down for winter but will reopen in May!
SNOWSHOE THROUGH THE WOODS
Blandford Nature Center
1715 Hillburn Ave. NW., Grand Rapids
blandfordnaturecenter.org
Michigan has officially turned into a snow globe, but the outdoor fun is far from over. For the next two months, Blandford Nature Center is hosting snowshoe hikes through the winter tundra. Bring your coats, hats, and gloves, and come ready to "float" over the snow in your very own snowshoes, provided by the center.
CABIN FEVER PARTY: A DRAG BENEFIT FOR WELL HOUSE
Atwater Brewery
201 Michigan St. NW., Grand Rapids
Jan. 24, 9 p.m., $10
beauty-beyond-drag-productions.webnode.com
By the end of January, cabin fever is probably setting in. That's why the queens at Beauty Beyond Drag Productions are putting on a performance to get you out of the house "and into the barstool." This glamorous show will benefit Well House, an organization focused on bringing housing to those who need it most
---
---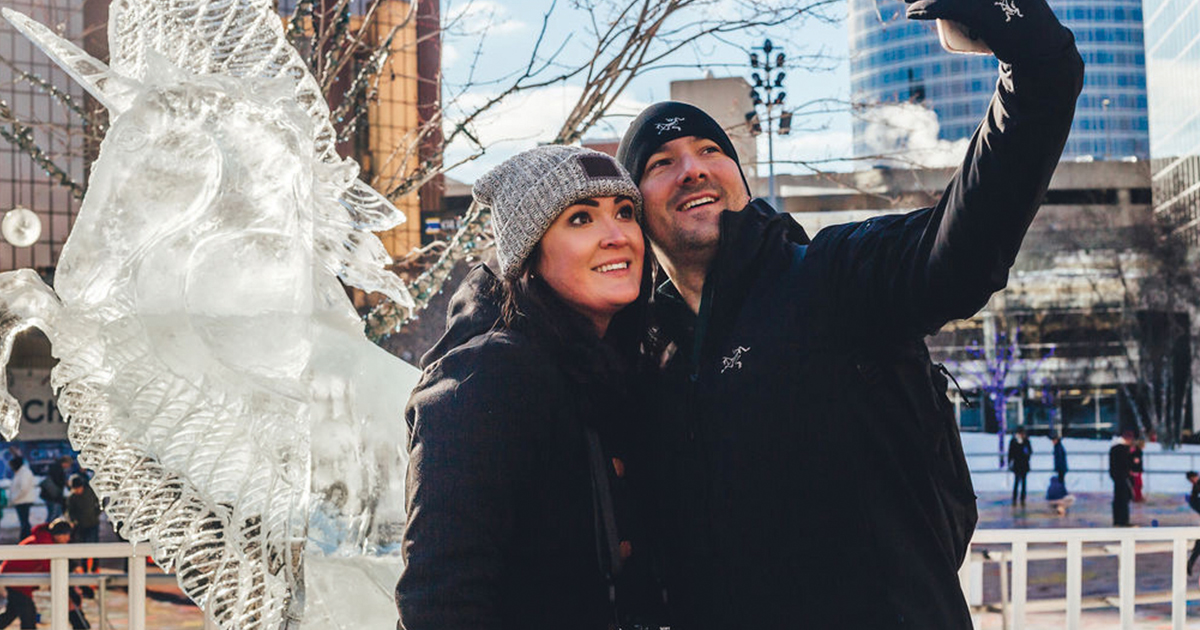 EXPERIENCE THE WORLD OF WINTER: Downtown Grand Rapids' World of Winter is so robust this year, we're counting it as four separate things to do — and honestly, we could do so much more. There's free snowshoeing in Ah-Nab-Awen Park; Valent-ICE, with more than 50 ice sculptures spread throughout downtown; Valentine's Day ice skating with an interactive ice wall; and Prismatica, a huge interactive light installation of colorful pivoting prisms coming to the lot at 555 Monroe Avenue. Head to downtowngr.org for all the details.
SILENT DISCO
555 Monroe Ave. NW, Grand Rapids
Jan. 18, 7 – 10 p.m., free
This event for adults is taking over the Monroe North lot, giving you the chance to choose between four different DJs for your dance soundtrack. Put on the wireless headphones and tune into whoever suits your fancy! There'll also be ice beer pong, food trucks, LED furniture, fire pits, and alcohol for sale.
LUNAR NEW YEAR CELEBRATION
555 Monroe Ave. NW, Grand Rapids
Jan. 25, 5 – 9 p.m., free
2020 is the year so nice, we're partying twice! Just kidding: The Lunar New Year is based on the lunar calendar and celebrated by various East Asian countries. Amid a variety of cultures to enjoy you'll find dragon dance performances, firecrackers, lion dancers, prizes and more!
MOVIES ON THE PIAZZA
Studio Park
123 Ionia Ave. NW, Grand Rapids
Feb. 1, 11 a.m. – 9 p.m.
Surprise! Movies on Monroe (formerly Movies in the Park) is moving once again. Studio Park has the perfect little outdoor theater set up in its piazza, complete with a big screen and comfy turf. To help you forget the cold, they're showing summer-themed movies like Moana, The Sandlot, and What About Bob, alongside fire pits, hot toddies, cocktails, popcorn, s'mores, and food trucks. That's the power of cinema.
---
---
5TH ANNUAL ST. JOE WINTER BEER FEST
St. Joseph Today
301 State St., St. Joseph
Jan. 25, 12 – 4 p.m., $35
stjoetoday.com
Southwest Michigan beer enthusiasts, unite: St. Joseph's Fifth Annual Winter Beer Fest is upon us. The festival is outside, so bring all your winter essentials. Attendees will try lots of samples, from both regional and local Michigan breweries. Bundle up, because even beer can only warm you so much.
BREAK THE ICE IN SOUTH HAVEN
South Haven Area Chamber of Commerce
606 Phillips St., South Haven
Jan. 31 – Feb. 2, 5 p.m.
southhavenmi.com
It's nowhere near warm, but this spring break town is up and ready for business. The 2020 Ice Breaker festival has something for everyone — ice skating, curling, snow sculpting, wagon rides and frozen fish throwing competitions are just the tip of the iceberg. Combined with warm chili and pub specials, this festival makes South Haven a real-life winter wonderland.
TAKE THE CHILLY CHALLENGE
JW Marriott
235 Louis St. NW, Grand Rapids
Jan. 9 – Feb. 20
facebook.com/grrunningtours
Embrace Mother Nature and everything she can whip up as you trek the streets of Grand Rapids during this free, seven-week series hosted by Grand Rapids Running Tours. With a different tour theme every Thursday, from landmarks and legends to architecture and African American history, participants will learn about our fair city while taking in the brisk fresh air. Complete the entire series and you'll not only be a little wiser, you'll also score a $25 JW gift card.
STAY IN A MICHIGAN YURT
Muskegon State Park
3560 Memorial Dr., North Muskegon
midnrreservations.com
Located in that sweet spot between glamping and roughing it, yurts offer outdoorsy adventure with a few comforts of home. There are eight yurts in Michigan, the closest a short drive away in Muskegon State Park. The elevated, tent-like structure has a sturdy wood base and is covered in canvas, with a skylight for late-night stargazing. Amenities include beds, table and chairs, wood-burning stove, firepit, and outhouse. Book early if you want to stay in the summer months.
AFROFEST: MICHIGAN'S LARGEST AFRO PARTY
Kalamazoo Institute of Arts
435 West South St., Kalamazoo
Feb. 22, 6:30 p.m.
facebook.com/publicskool
Spend an evening celebrating Black History Month and African American culture at AfroFest. Grab a drink, dine on soul food, browse the art gallery, shop with vendors who support the black community and, most important: dance, dance, dance. DJ Conscious will be spinning R&B, hip-hop, and reggae favorites all night long. Guests are encouraged — but not required — to wear natural hair and authentic African prints or retro hip-hop and '70s attire. Nothing costume-y, please!
CHANNEL YOUR INNER VIKING AT THE NORDIC FIRE FESTIVAL
Lincoln Park
620 W. Shepherd Street, Charlotte
Feb. 28-March 1, $10-30
michigannordicfirefestival.com
During the last weekend in February, as winter slowly winds down, Michiganders can channel their inner Viking with spear throwing, ale and mead guzzling, horn blowing, and more. At the Michigan Nordic Fire Festival, expect plenty of revelry, including belly dancing and fire performances, an open archery range, blacksmithing and mead-making classes, and hordes of demos from wire-weaving to nail-binding. Bring your weapons, as long as they're "peace tied," and bring the kids, too
MOTOR CITY NIGHTMARES HORROR EXPO AND INTERNATIONAL FILM FESTIVAL
Novi Sheraton
21111 Haggerty Road, Novi
April 24 – 26, $20+
motorcitynightmares.com
Oh, the horror! Fans of all things frightful can gather at this annual April event to get their fear fix. This all-weekend party features celebrity guests, characters, workshops, roundtables, guest panels, vendors, contests and photo ops, plus afterparties and an international film festival showing flicks in the horror, fantasy, and sci-fi genres. Meet a favorite star and get their autograph or learn about the horror craft from the experts — and don't forget to come in costume!
ENJOY WINTER IN EASTERN EUROPE
GROW Café + Bistro
302 Culver St., Saugatuck
Feb. 14 – 16, $75
grow-food.com
In Saugatuck, GROW understands Michigan's love/hate relationship with winter. We're hardly the only ones who have to deal with the treacherous season, however: In Eastern Europe, they manage to make it through winter with vodka, cured meats, pickled vegetables, pierogi, soup and more. GROW will be highlighting — and elevating — those Russian and Polish staples with a five-course tasting menu featuring five wines and five house-infused vodkas.
ENTER NIGHT VALE
Fountain Street Church
24 Fountain St. NE, Grand Rapids
March 28, 7 p.m., $30
fountainstreet.org
Night Vale is a town where glowing clouds hypnotize the residents; where The Faceless Old Woman Who Secretly Lives in Your Home runs for mayor; where radio interns die at an alarming rate. In short, it's a town you probably don't want to go to, except through the magic of podcasting. Welcome to Night Vale takes you there and now the show is coming here to Fountain Street Church, to tell you all the strange, spooky tales in person. You've been warned.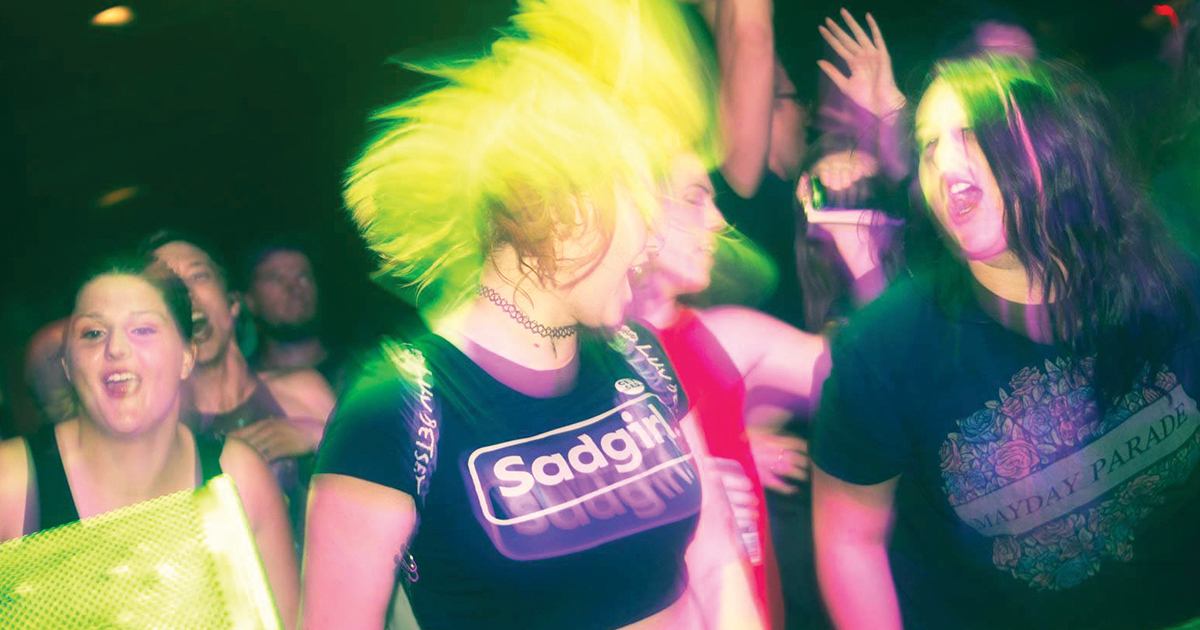 GET SAD
The Pyramid Scheme
68 Commerce Ave. SW, Grand Rapids
Jan. 17, 9 p.m., $10
pyramidschemebar.com
Why do we fall? So we can learn to pick ourselves up. Get Sad is a dance party that embraces Alfred Pennyworth's wise words with a night of extremely cathartic emo music. A generation was changed by the emotional music of bands like Fall Out Boy, My Chemical Romance and American Football. Now, that generation is old enough to have a few drinks, get nostalgic and dance all night with strangers in a bar. This show also features a special set by local artist FADE.
GET RAD
Epic Center
359 S. Kalamazoo Mall, Kalamazoo
March 6 – 8
midwestradfest.org
Chances are, you've never seen moves like this before. The Midwest Regional Alternative Dance (RAD) Fest is an incredibly innovative dance festival that holds no equal in the area. At any given performance, you'll see people move their bodies in ways you didn't know were possible, while conveying powerful emotions and telling a story. The festival brings together more than 300 dancers from all over the world for live performances, screendances and master classes.
ACHIEVE TERMINAL VELOCITY ON A LUGE
Muskegon Winter Sports Complex
462 Scenic Drive, North Muskegon
msports.org
"Created by an Olympian, open to mortals." OK, you might not hit terminal velocity, but 30 mph ain't bad! One of only four luge tracks to exist in the United States is actually in Muskegon — and the best part is, it's safe for even you to use. Sign up for a 2½-hour session and you'll receive all the training you need and plenty time to hit the hill. Then you can spend the rest of your day at the Winter Sports Complex skating through the woods, snowshoeing and sledding.
TIME TRAVEL AT RAY'S DRIVE-IN
20 N. Beacon Blvd., Grand Haven
raysdrivein.com
When you've nailed it on the first go, there's really no reason to ever change. Ray's Drive-In was a smash when it opened in 1960 with a limited menu of signature "beefburgers," crinkle fries, milkshakes, shrimp and fish. All they've added in the last 60 years is chicken, which is why we love it. Perfect for a pre-beach meal, eating at Ray's is a jaw-droppingly affordable blast to the past and you don't even need a DeLorean.
BONE THUGS-N-HARMONY
20 Monroe Live
11 Ottawa Ave. NW, Grand Rapids
Feb. 8, 7 p.m.
20monroelive.com
What do Tupac, Notorious B.I.G., Eazy-E and Big Pun all have in common? They're all legendary rappers, yes. But also: Bone Thugs-n-Harmony is the only group ever to work with all four of them while they were still alive. Not only that, but the Grammy Award-winning hip-hop group is still around to this day with all its original members, nearly 30 years later. Now they're coming to 20 Monroe Live to lay down classics like "1st of tha Month" and "Tha Crossroads." This is your chance to get back to your roots.
DINNER IN A MOVIE
Studio Park
123 Ionia Ave. SW, Grand Rapids
studioparkgr.com
The movie starts at 7, but you get out of work at 6, which isn't enough time to comfortably head to a restaurant. I guess it's just fast food again, right? WRONG. At Studio Park, you can show up to the movie right before it starts, sit down in your giant heated reclining seat that's basically a bed, open up the Celebration app and order food to be delivered directly to you. The most amazing part is that the food is actually great — I've had it! Scarf down a quesadilla while the trailers roll, and you'll be satisfied before the movie even begins.
GAME NIGHT, FOR ADULTS
Craft Beer Cellar
404 Ionia Ave. SW, Grand Rapids
City Built Brewing
820 Monroe Ave. NW, Grand Rapids
Growing up, we all loved game night with the fam. Now that we're adults, there are two problems: First, Monopoly just doesn't hold the same appeal anymore. Second, it's hard to convince friends to stay home when you could go out and grab a beer. Craft Beer Cellar and City Built Brewing both solve those problems, with game nights that let you drink at a discount while playing grown-up board games that immerse you in a different world and put your mind to the test. Head to their Facebooks, find a date, grab a pint and make new friends
SURPRISE YOURSELF WITH LOCAL THEATER
All it takes is one great local theater production to make you realize what you've been missing out on. There's something about sitting in a smaller theater with incredibly passionate, talented and human actors that a huge Broadway show just can't beat. From Barn Theatre's whirlwind of a summer season to Actors' Theatre's incredibly poignant, relevant productions, we're blessed with a bounty of amazing shows that will turn you into a theater junkie with a single trip. If you need help, check out Revue Arts and we'll guide you to great upcoming shows.
EXPERIENCE THE MAGIC OF STRINGS
You may think you don't like symphonic music, but you're wrong. Every single one of us has at least been affected by a powerful soundtrack when watching one of our favorite movies — and going to see the symphony is no different. In fact, it's better: When you're in that auditorium with the instruments, hearing the music swell and watching the bows glide across the strings, you can't help feeling it all. If you don't believe us, start with an introductory show like Up, the movie scored live by Grand Rapids Symphony, or West Michigan Symphony's Mardi Gras in Muskegon show.
CATCH A MURDERER
Henderson Castle Inn
100 Monroe St., Kalamazoo
hendersoncastle.com
The knives are coming out, the body has been found; now, it's time to solve the mystery. Henderson Castle is a haunted historical estate whose murders are as frequent as its dinner parties. You're invited to take part in both with the castle's monthly murder mystery dinners. Bring a big appetite for food and truth alike, because after the feast is over, it's time to get to work solving a murder most foul. Who knows? It might even be you who did it!
SEE HOW SMART YOU REALLY ARE

You may have used the blacklight to find the hidden code inside the book, which opened a combination lock, giving you a key that opens the safe, but there's still a dozen clues to go and only 40 minutes left on the clock. Escape rooms aren't a passing fad — they tap into our competitive nature and inherent curiosity, giving you an hour to prove how smart you really are. It may seem corny at first, but once the door locks behind you, it's an exhilarating race against time that everyone should experience once. Just head to any escape room near you.
FIND A NEW DIVE BAR
Many of my most memorable nights of all time have come from simply saying, "Are there any bars around here we haven't been to?" There are dozens of dives you've never heard of, tucked in corners all around the city, and they're all amazing. Some have become our go-to on the weekend when we're tired of the crowds and $15 cocktails. Just to be clear: Your goal is to blend in and be respectful, not barge in like a tourist. The drinks are cheap, the bartenders are honest, and the regulars will get used to you after an hour or so. Bring cash.
FLOAT ALONG THE MUSKEGON RIVER
Wisner Rents Canoes
25 W. Water St., Newaygo
wisnercanoes.com
You do not know bliss until you've found yourself halfway through a four-hour tubing trip, floating down the Muskegon River with the sun beating down, tunes cranked and your friends nearby. This is the essence of summer, especially when you have a cheap beer in hand, and Wisner makes it inexpensive and easy.
TRY THE MANY NEW DRINKERIES IN HOLLAND
Holland is having a moment, what with Tulip City Brewstillery, Poquito No. 1, Obstacle, Sperry's Moviehouse and more all opening there recently. That alone makes the beachfront town worth a visit, not to mention the amazing Brewery 4 Two 4, the classic New Holland Brewing Co., the beloved Big Lake Brewing and many more. Wherever you are in West Michigan, it's a short drive for a perfect day trip full of beer, cocktails and food.
WARM UP IN THE WINTER WOODS
One of the greatest joys I discovered last year was walking through incredibly quiet, serene woods with loved ones in winter — no snowshoes required. When the grey season starts to feel like it's beating you down, simply taking time to get out and walk around in nature is a revelation. And barring a polar vortex, you will heat up, we promise! Provin Trails, Aman Park, Reeds Lake and Grand Ravines Dog Park are a few trails perfect for tromping through the woods, year-round.
COOK YOUR OWN MEAT
Emonae Korean BBQ
6246 28th St. SE, Grand Rapids
facebook.com/emonaekoreanbbq
It might seem counterintuitive, but we actually love doing certain things ourselves at restaurants. We like to have control over the situation, along with the option to customize. That's the appeal of the bloody mary bar as well as Korean barbecue. They'll slice, season and marinate the meat, of course, then you can get to cook it to your liking right at your table. It's a unique unlike any other, especially when you factor in all the amazing sides they give you! Just leave your "Kiss the Cook" apron at home.
CLIMB THROUGH THE TREETOPS
TreeRunner Adventure Park
2121 Celebration Dr. NE, Grand Rapids
treerunnergrandrapids.com
There's no better way to get close to nature than to climb, crawl, swing and zip right through it. At TreeRunner, you maneuver your way through the air up among the branches, like squirrels and monkeys. It's a test of balance, dexterity and bravery, but more than all that, it's just a dang good time. Tucked away in the woods behind Celebration! Cinema North, this is the ideal nature getaway for those looking to stick close to home.